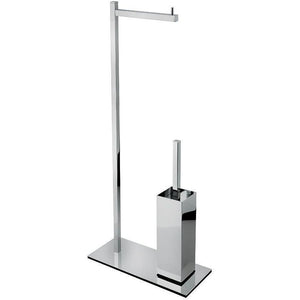 BA Quattro Standing Bathroom Towel Bar Rail Holder & Toilet Brush Holder Set. Created to bring everlasting beauty; this stylish Towel Rack is designed to increase the level of elegance in your bathroom. Keep your bathroom organized and tidy.
- Manufactured in Italy.
- Material: Brass.
- Color: Polished Chrome.
- Type: Floor Standing.
- Shape: Rectangular
- Dimension: 11.8 W x 7 D x 24.1 H in.