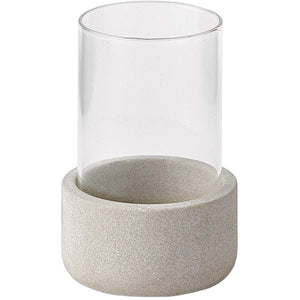 Impala Round Sand Stone Bath Toothbrush Holder Standing Toothpaste Tumbler. The accessories in the Impala series are perfect for creating a natural, calming mood in your bathroom. These accessories are made out of sandstone, which lends them a beautiful and wholly natural colour. The polished structure of the coating means the products are water resistant and makes them unexpectedly smooth to the touch. With their compact, round shape, the accessories are simultaneously rugged and subtle.
- Imported from Belgium
- Color: Beige
- Material: Sandstone, Glass
- Type: Free Standing
- Shape: Round
- Dimension: 3.1 W x 3.1 D x 4.6 H in.
The Impala toothbrush holder consists of a sandstone holder that supports a drinking glass. The combination of glass and stone creates an attractively light and natural look. The glass is easy to clean or replace.