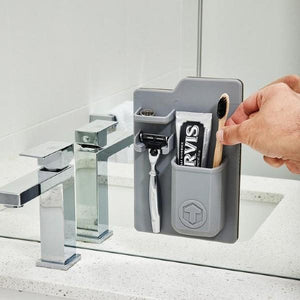 THE HARVEY toothbrush and razor holder is a great alternative to a traditional shower shelf. Made out of antibacterial material so it will never grow mould or need cleaning. It's the perfect shower storage solution! Our toothbrush holder sticks instantly using our patent pending silicone compound. Works on shiny surfaces: glass, mirror, tiles. Custom drainage system allows for water to drain and dry. Why get a toothbrush stand that takes up more space on your counter or bathroom shelf when you can use your wall to create organised storage.
To install, simply remove the protective backing sheet, stick the product to a clean, dry and shiny surface and then organise your toiletries. The products require no tools, no glue or permanent mounts. They're removable and reusable and leave no residue.
Shower mirror pictured is sold separately. Shop !
Dimensions:
Measures  21.5 x 14.6 cm
Pairs well with