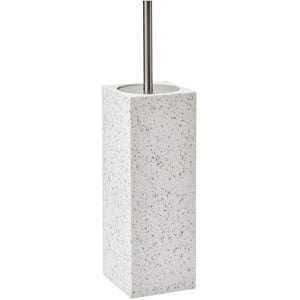 Quartz White Terrazzo Rectangular Standing Toilet Brush Holder Cleaner Set. Stone and wood: two products of nature that combine to create a warm, natural look & feel in your bathroom. The accessories in the Quartz series are made from stone chippings mixed with cement, which we see in original terrazzo floors, combined with beech wood. Each of the products is handmade and fashioned into a smooth, square-shaped block.
- Imported from Belgium
- Color: White, Polished Stainless Steel
- Material: Terrazzo, Stainless Steel
- Type: Floor Standing
- Shape: Square
- Dimension: 3.7 W x 3.7 D x 15.4 H in.