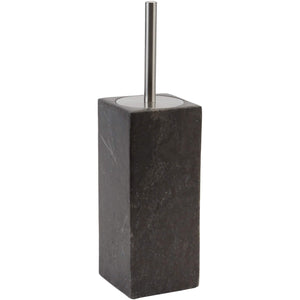 Hammam Dark Gray Marble Rectangular Standing Toilet Brush Holder Cleaner Set. Bringing the tranquillity and well-being of a genuine Hammam into your home is what you do with the Hammam series from Nova Bath Collection. The products from the Hammam range are handmade which makes each of them a special part of your bathroom, toilet or kitchen. The anthracite marble used for this series, mostly in combination with stainless steel, gives it a rustic and authentic appearance. Thanks to its subtle design, the toilet brush holder from the Hammam series stands discretely next to the toilet. The holder is made from heavy marble and the brush is finished in stainless steel.
- Imported from Belgium
- Color: Dark Gray, Polished Stainless Steel
- Material: Marble, Stainless Steel
- Type: Floor Standing
- Shape: Rectangular
- Dimension: 3.7 W x 3.7 D x 15.4 H in.