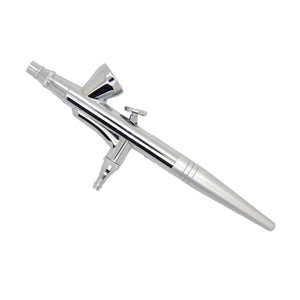 Features:
- Excellent system for all levels of users.
- Ideal for cosmetic, crafts and hobbies.
- Quite and durable mini compressor. 
- Portable light weight and easy to carry around.
- Made with high quality precision components that enable the airbrush to work efficiently while providing exceptional atomization and accurate spray control.
Airbrush:
- Multi-Purpose High Performance Airbrush.
- Single action trigger air control.
- Nozzle: 0.4mm
- Gravity Feed: 2cc Fluid Cup 
- Durable stainless steel.
- Applications: Illustration, Commercial Art, Custom Automotive, Cake Decorating, Cosmetics, Temporary Tattoos, Crafts and Hobbies.
Air Compressor:
- High quality, Durable, Light-weight and Portable
- Suitable for airbrush dia. 0.2~0.5mm,especially perfect for makeup, cosmetic ,nail painting .
- It can start with pressure, and continuous work
- Electronic control pressure adjustment
- With airbrush holder
- From Luxurious complete kit to most simple kit available.
- Motor: DC 12V
- AC transformer: Input AC100~240V   50/60HZ  
- Output: DC 12V  1.6A
- Air flow: 7.5L/min  
- 3 speed Pressure Adjustable                     
- Max pressure: 25PSI 
- Working pressure:15-25PSI       
- Working style: Continue 
- 0 to 25 psi airflow range with airbrush air flowing
  0 to 25 psi is our useable working pressure. Our makeup sprays wonderfully and safely in the 5 psi range. The extra flow in mostly used for doing extra quick color changes, and sometimes for runway or stage.
  Some compressor companies choose to present their highest (static) pressure psi, that occurs only when the air flow is stopped. That is an inflated number which is not a helpful comparison for spraying makeup.
Available Color:
White, Pink, Black, Deep Purple
Friend, we have US plug and EU plug, please leave a message for us, or we will send out the plug according to your country's standard.
Package includes:
1 X Air Brush
1 X Air Compressor
1 X Air Hose
1 X AC Transformer
1 X Instruction for Compressor
1 X Storage Case ( the packing box in the picture )