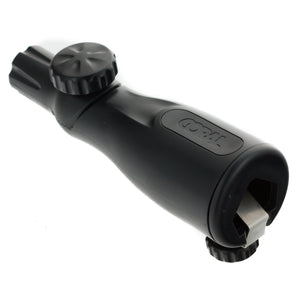 Highlights
Do you need a paint-brush holder for greater reach? Would you prefer to avoid the expense and hassle of a ladder? Do you want to use a standard screw-end extension pole?
Work safer, faster, and more easily than balancing over a ladder. Accurately paint at distance and at many angles with this versatile paintbrush holder.
Paint stair-wells, ceiling edges, guttering and other hard to reach places with ease. Produced with a study, long lasting design.
Feel confident painting at distance. Start by sliding your brush handle into the holder and securely clamp. You'll then attach the holder to your extension pole, before adjusting the working angle.
Why wait? Choose the safe and easy way to paint hard to reach places.
Description
Take a look at this Brush and Tool Extender from Coral Tools. Created as a good painting accessory for when you are painting areas without a ladder such as around ceilings and stairwells. Featuring a secure, 14 position locking mechanism giving you the advantage of working with difficult and reverse angles. This means you'll be assured of a good result when painting hard to reach areas! You can expect to receive a paint brush and tool holder / adapter. Made with a plastic body suitable for most handles with a maximum handle width of 37mm. The next time you're working at length, avoid the worry and make sure you have this extension pole paint brush holder. Order yours now.
Detail & Disclaimer
| | |
| --- | --- |
| Item name: | Coral Essentials Brush and Tool Extender |
| Item number: | 50300 |
| Item barcode: | 5053521503005 |
| Inner pack quantity: | 6 |
| Inner pack barcode: | 15053521503002 |
| Outer pack quantity: | 144 |
| Outer pack barcode: | 25053521503009 |
Errors and omissions excepted (E&OE). Product packaging and material may contain more and/or different information from the website, including the product description and other information. Always read labels, warnings, and directions and other information provided with the product before using a product. All measurements are approximate. Colours may vary.
Given the variety of factors that can affect the use and performance of a product, the user is solely responsible for evaluating the product and determining whether it is fit for a particular purpose and suitable for user's method of application.