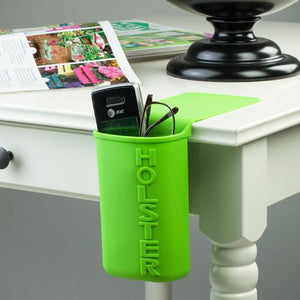 The Lil' Holster ANY is the perfect solution for where to store your dish brush, or all of the odds and ends we lose track of every day.

Now you can stow your glasses, remotes, phones, and more in one place for safe keeping. The Lil' Holster Any comes in a wide array of colors to compliment any home decor, and makes finding those hard to find items a breeze!
SIZE
Length - 11"
Width - 3.25"
Depth 1.75"
DETAILS
A handy silicone holder for small household objects
Conveniently attaches to any smooth, non-porous surface
Easy to place, move, and clean
Small holes in the bottom allow wet objects to drain and dry
Heat resistant to 250°F
Dishwasher safe
Keeps personal items safe and sanitary while traveling.
CARE INSTRUCTIONS
Clean product with a lint-free cloth and rubbing alcohol or rinse with water. 
Let product dry completely and place on clean, dry surface. Once in position, it's okay to get the product wet.
Some household cleaning solutions may affect the performance of the product.
It is recommended to periodically remove your product and clean it.
Test surface for adhesion before placing objects in the pocket.
Sharp objects may cause damage.
Do not place photographs on the product. Properties of photo paper may cause it to bond with silicone.
If product gets stuck to any surface, use a hair dryer to heat the surface and remove.