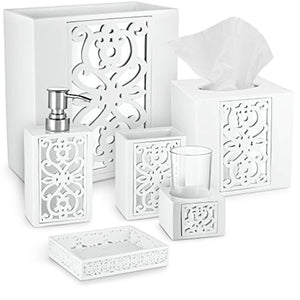 FULL BATHROOM ENSEMBLE SETS: These 6-piece complete bathroom decorative shower set includes a lotion dispenser, cup tumbler, bar soap dish, toothbrush toothpaste holder, tissue box cover, and a trash can for your garbage and rubbish.

DECORATE YOUR BATH: With an enchanting mix of color and an eye-catching relief pattern, this bath vanity set complements any modern bathroom that will wow your guests men and women.

DESIGNED TO LAST: The bath accessories 6 pc.set is made using quality resin that lasts for ages even when exposed to the humid conditions of your bathroom.

ACCOMMODATES MULTIPLE USERS: These sets add a functional touch to secondary and master bathroom décor by meeting the needs of multiple users.

AMAZING GIFT IDEA: Bundle this 6 Piece Bathroom Accessories Set with other items from the Mirror Janette collection to create the perfect bathroom set. Click 'Add to Cart' now!