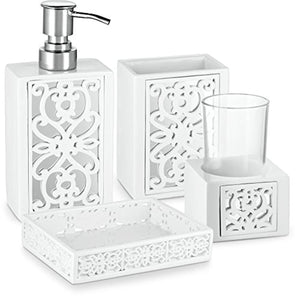 FASHION-FORWARD BATH ACCESSORY the Mirror Janette Collection sports for a contemporary feel. This bath accessory set is sure to elevate the look of any bathroom decor and also add functionality! Plus, this is a fail-proof gift idea for spa lovers!

DURABLE RESIN LUXURY SET this 4-Piece Bathroom Accessory Set is made of durable resin that's guaranteed to outlast competing products. Our quality resin bath accessories will resist to constant use, keeping their look just as spectacular and luxurious over time.

COMPLETE FEATURED SET most competitors offer incomplete sets or sell each accessory individually. With our collection, you'll get all accessories that your bathroom needs to be fully functional: 1 lotion/soap dispenser (3.3 x 7.1 in diameter), 1 toothbrush holder (3.4" x 2.24" x 4.33") 1 tumbler (2.87 x 4.33 in diameter) and 1 soap dish (1.18" x 5.2" x 3.74")

MULTIPLE USERS the Mirror Janette Collection has been specifically designed to fit the needs of multiple users. This set is just perfect for any modern master or secondary bathroom, and will definitely make a bold statement and a strong impression!

MULTIPLE USERS need a new bath accessory set in your secondary bathroom? The pieces in this collection are large enough to accommodate the needs of multiple users and make a strong impression that will last! Backed by a LIFETIME GUARANTEE, this is totally risk-free buy; so order with confidence. CLICK the Orange button to Order Now!