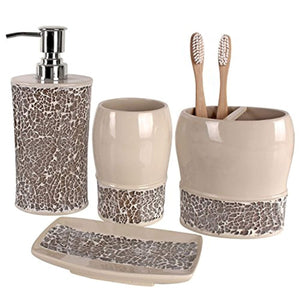 TOP-NOTCH CONSTRUCTION; the Broccostella 4-Piece Bath Accessory Set stands out through the high quality of the resin used for manufacture. Each piece of the collection is carefully crafted to provide durability and outshine all other bath accessory sets!

BATH ACCESSORY WITH INTRICATE DESIGN; the Broccostella collection is a design enigma and a beautiful combination of exquisite delicacy and boldness. The pieces are delicately curved and dazzlingly accented with crackled glass for a truly contemporary look

ULTRA-MODERN BATHROOM DECOR; thanks to their intricate, standout design, the bath accessories in the Broccostella collection would be very much at-home in an ultra-modern bathroom decor. Use them to add visual impact to a traditional bathroom and subtly redecorate it!

FULL SET; there's nothing uglier than having bathroom accessories with distinctive designs and feels. Much to your delight, this collection has everything your bathroom needs to be functional: 1 lotion/soap dispenser (7.75" x 3.25" x 2.5:) 1 toothbrush holder (4.5 x 4.5 x 2.25) 1 tumbler (4.5 x 3.25 x 3.25) and 1 soap dish (1 x 5.75 x 3.35)

METAL PUMP; the soap/lotion dispenser uses a sturdy, metal pump that's super easy to use, adding extra glam to any bathroom decor. Along with the soap dish, your guests can now choose how they want to wash their hands!