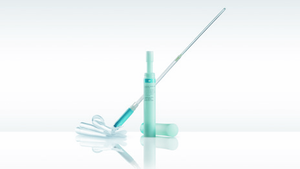 by Coloplast Corporation
Coloplast SpeediCath Male Compact Set with Integrated Collection Bag
SpeediCath Compact Set is ready to use out of the plastic container.  
Just twist the lid, open the lid, and unroll the urine collection bag.  
The catheter pulls out to be a full length male catheter with Coloplast's unique 2 tubes in 1 design.  The outer tube pulls out to the appropriate French size from the larger inner tube.  This allows the catheter to be compact, yet still full size.
With its compact design, it is small enough fit in a pocket or bag and the green case looks like a toothbrush holder.
Simple and intuitive. Can be used at home or out discreetly.
A unique and sufficient amount of lubricant is already coating the catheter so you don't have to carry a separate lubricant.
The catheter can be inserted without touching the probe body.
Item: 28422   Male Compact Speedicath   size: 12Fr (actual catheter size)   length: 13.2"