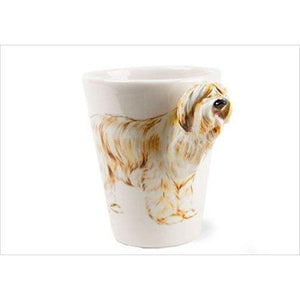 Details: The Briard's long, wavy almost goat-like hair has helped earn it the nickname 'A heart wrapped in fur'. Featured on a hand painted and handmade ceramic mug, the Briard guarded flocks in France and also protected its owner from wolves.
Features:
Blue Witch brand have achieved world renown due to their uniqueness and striking detail.
Our Briard Coffee Mug is individually handmade and hand painted by a talented artist. Each brush stroke perfectly highlights the character design.
Dishwasher safe and microwave friendly. The colour will never fade.
Product Dimensions: 10cm x 8cm. Capacity: 200ml / 8oz.
Our mugs are versatile and useful. They can also be used as a unique vase, plant pot, pen, sweetie or toothbrush holder or as a standalone decorative piece.
Brand: Blue Witch
Color: Brown
Publisher: Blue Witch
EAN: 5055277302994
Package Dimensions: 5.9 x 5.9 x 5.3 inches