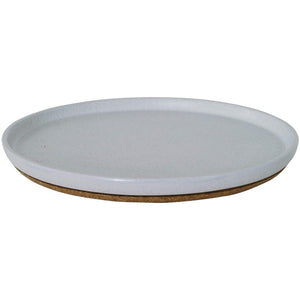 Arona Ceramic and Cork Bath Vanity Countertop Guest Towel, Organizer Tray. Cork is back! Neutral, natural with a little nod to the seventies. Made from durable, tough type of ceramic in conjunction with a layer of natural cork on the underside, the Arona accessories each have a sturdy yet serene look & feel. The type of ceramic used for Arona has a somewhat robust and rough appearance. However, when combined with the grey shading and cork it creates a lovely sense of calm in the bathroom. All items are fitted with discreet rubber feet to prevent direct contact with moisture.
- Imported from Belgium
- Material: Ceramic, Cork
- Color: Gray, Brown
- Type: Free Standing
- Shape: Round
- Dimension: 11.8 W x 11.8 D x 1.2 H in.
The Arona tray is made from ceramic, finished off with natural on the underside. This round bowl can easily be used in conjunction with the other Arona accessories including the soap dispenser, beauty box and toothbrush holder, although it also makes a great mood item. It also makes a great holder for soaps or guest towels.