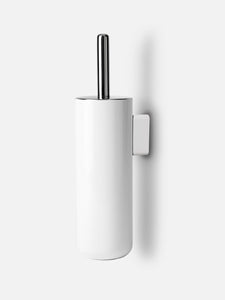 The MENU Bath Series by Norm Architects continues to expand to meet new interior needs – and create new possibilities for using our spaces more intelligently and efficiently. The Toilet Brush, Soap Pump, and Toothbrush Holder, originally created in freestanding versions, are now available in wall-mounted editions in both black and white, freeing up floor and counter space.
In creating the Bath Series, Norm Architects set out to transform the bathroom into a blissful respite where we can relax and refresh. The new, easy-to-mount editions add a new level of convenience to the bath space, making tidying a breeze and reducing floor and counter clutter for a cleaner look. In public spaces such as hotel, office, or restaurant bathrooms, the mounting capability also ensures that these essential objects stay put and out of the way – but always within easy reach.
Norm Architects' love of functional minimalism shines through each bathroom accessory, with the objects responding to real-life needs while maintaining their appealing, modern expression. Light, uniform lines and rounded bases unify the elegant pieces and add beautiful focal points to some of our most important spaces. With thoughtful, functional details, the designs are both hygienic and user-friendly.
The polished steel handle provides a comfortable grip and the brush head can be replaced as needed, while the interior plastic holder can easily be taken out and cleaned.
Designed by Norm Architects
Materials: Stainless Steel, Powder Coated Steel, Plastic
Dimensions: 4"W x 15.6"H x 4.5"DIA
Menu believes in making design matter. Design matters when a product meets a real need and when it is useful, timeless, and made from honest materials. Design matters when it's original in shape, function, and composition. And design matters when it's produced in a community in which it makes a difference. Menu believes in making design matter - through passion, originality, and responsibility.
 *This item is excluded from sale events and not available for additional discounting or promotional offers.