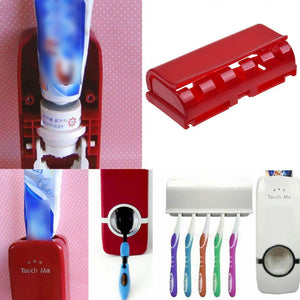 Features:
Automatic Toothpaste Dispenser + Brush Holder Set
Material: Plastic
Toothpaste Dispenser Size: approx. 15.6 x 6 x 5.7cm
Brush Holder Set Size: approx. 11 x 3.5 x 5.2cm
Excellent for home use in toilet or bathroom
No batteries required
No more wasted toothpaste
One-touch automatic squeeze appropriate amount of toothpaste
Can mostly hand up 5 toothbrushes
Come with attached adhesive pads, can stick to the wall
A practical and convenient equipment set to every family
User Guide:
Clean the toothpaste dispenser ,dip it in warm water for 2 hours ,then clean it with soft brush, Don''t use cleaner or chemical medicine which is harmful for health .
Bonding surfaces must be clean, dry, smooth, can not have oil.
Use a clean cloth or paper towel to bonding surfaces (tile, mirror) clean, and preferably with a hair dryer to dry the surface moisture.
To achieve good bonding effect, must exert some pressure on tape and adhesive surface, make good contact with adhesive tape and glue surface, Do not use it for serious uneven surface.
Double-sided tape with tack, but the maximum strength is required 72 hours, during which time, please do not make structural operations, the use of the product within 24 hours of required hand to suppress.
After the glue with a hair dryer to improve the adhesive tape and the heating temperature was about 50-70℃. Heated for about 10 minutes, and increasing the pressure.
What's Included:
1 x Auto Toothpaste Dispenser
1 x Brush Holder