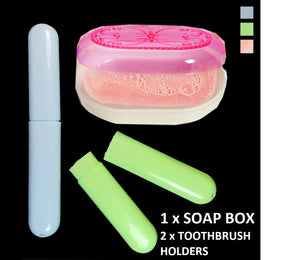 3PC Portable Soap Box Toothbrush Holders Travel Case Plastic Container Protector !

These set of 3 traveling containers are a must in every trip!
Package includes 2 portable toothbrush holders and 1 White soap box case to keep your soap bar dry and within easy reach.
Soap case measures approximately 5.17" L x 3.61" W x 1.97" D
Toothbrush holders measure approximately 8.5" L x 1.20" W x 0.82" D
Toothbrush colors include: Green, Pink, and Blue. NOTE - We cannot offer color choice at this point.
Made of plastic material, ventilated base in all containers to promote faster drying.
Design to drain all excessive water and keep the soap/toothbrush dry.
Perfect accessory for traveling; keep your soap and toothbrushes clean and sanitary.