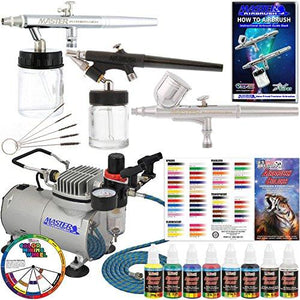 Brand: Master Airbrush
Color: Assorted
Features:
Professional Master Airbrush Multi-Purpose Airbrushing System with 3 of Master Airbrushes best selling & user friendly airbrushes. Includes bonus How-To-Airbrush Manual & Guide Booklet by Master Airbrush.
Premium Master Airbrush Model TC-20 High Performance 1/6 hp Air Compressor with air filter water trap with pressure regulator along with an airbrush holder for 2 airbrushes.
3 Types of Master Airbrushes: Model G22 dual-action airbrush with a 1/3 oz. gravity feed fluid cup and 0.3mm tip, Model S68 precision dual-action siphon feed airbrush with a 0.35 mm tip, 3/4 oz. siphon bottle, plus a Model E91 single-action siphon feed airbrush with a 0.8mm tip and 2 - 3/4 oz. siphon bottles.
U.S. Art Supply Primary Colors Water-Based Acrylic Airbrush Paint Kit (6 Colors in 1 oz. Bottles plus Reducer and Cleaner). 6 Opaque colors included: bright sapphire blue, grass green, bright yellow, bright red, deep black and white. Bonus double sided color mixing wheel and cleaning brush set.
100% Satisfaction Guarantee: Buy with confidence, if you're not satisfied with this airbrush at anytime within the first year of purchase or the compressor at anytime within the second year of purchase, we'll provide a refund or replacement.
Publisher: Master Airbrush
Details:
3 Airbrush Professional Master Airbrush Multi-Purpose Airbrushing System Kit with 6 Primary Opaque Colors Acrylic Paint Set - G22, S68, E91 Airbrushes and Air Compressor
Complete System Includes:
Master Airbrush Model G22 Airbrush Set

Master performance multi-purpose high performance dual-action airbrush with a 1/3 oz. gravity fluid cup and a 0.3mm needle & nozzle. Spray from hairline up to 1-1/2" wide patterns.

Master Airbrush Model S68 Airbrush Set

Master performance multi-purpose precision dual-action siphon feed airbrush with a 0.35 mm tip, 3/4 oz. siphon bottle and a 1/6 oz. color cup.

Master Airbrush Model E91 Airbrush Set

Single-action external mix siphon feed airbrush set with a 0.8mm tip, 2 - 3/4 oz. siphon bottles and has an 1/8" air inlet.

Master Airbrush Air Compressor Model TC-20

Professional high performance 1/6 horse power single-piston airbrush air compressor with air pressure regulator with gauge & water trap filter.

U.S. Art Supply Primary Colors Water-Based Acrylic Airbrush Paint Kit (6 Colors in 1 oz. Bottles plus Reducer and Cleaner)


6 Opaque colors included: bright sapphire blue, grass green, bright yellow, bright red, deep black and white.

6 Foot braided air hose with 1/8" fittings
Compressor mounted airbrush holder: Holds 2 airbrushes
5 Piece Mini Cleaning Brush Set
4" Diameter Color Mixing Wheel
U.S. Art Supply Acrylic Airbrush Paint User Guide and Color Chart
How-To-Airbrush Manual & Guide Booklet by Master Airbrush
UPC: 848849073805
EAN: 0848849073805
Package Dimensions: 14.7 x 12.9 x 6.8 inches