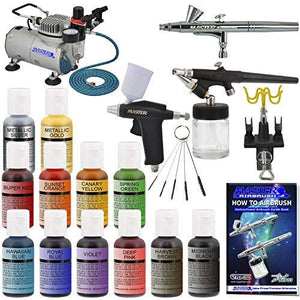 Brand: Master Airbrush
Features:
Professional Master Airbrush Multi-Purpose Airbrushing System with 3 of Master Airbrushes best selling & user friendly airbrushes along with a set of 12 Chefmaster airbrush food colors.
Premium Master Airbrush Model TC-20 High Performance Air Compressor with air filter water trap with pressure regulator along with an airbrush holder for 2 airbrushes. Also includes a clamp-on airbrush holder for 4 airbrushes.
3 Types of Master Airbrushes: Model G25 dual-action airbrush with a 1/16 oz. gravity feed fluid cup and 0.2mm tip, Model G70 trigger style gravity feed airbrush with a 0.3mm tip and a 3/4 oz gravity fluid cup, plus a Model E91 single-action siphon feed airbrush with a 0.8mm tip and 2 - 3/4 oz. siphon bottles.
12 Color Chefmaster airbrush food coloring set in 0.7 ounce bottles. Edible colors are highly concentrated with superior strength and are the brightest and truest colors available. Made in the USA with high quality FDA approved ingredients, and are Certified Kosher.
Great airbrush system for beginners and students, as well as for advanced cake decorating artists. Includes bonus set of airbrush cleaning brushes and a How-To-Airbrush Manual & Guide Booklet by Master Airbrush.
Publisher: Master Airbrush
Details:
3 Airbrush Master Airbrush Cake Decorating Airbrushing System Kit with Set of 12 Chefmaster Food Colors, Gravity & Siphon Feed Airbrushes, Air Compressor
Complete System Includes:
Master Airbrush Model G25 Airbrush Set

Master performance multi-purpose precision dual-action gravity feed airbrush with a 1/16 oz. gravity fluid cup and a 0.2 mm needle & nozzle. Spray from hairline up to 1" wide patterns.

Master Airbrush Model G70 Airbrush Set

A universal precision trigger style gravity feed airbrush with a 0.3mm tip and a 3/4 oz gravity fluid cup. Spray up to 2" wide patterns.

Master Airbrush Model E91 Airbrush Set

A single-action external mix siphon feed airbrush set with a 0.8mm tip, 2 - 3/4 oz. siphon bottles.

Master Airbrush Air Compressor Model TC-20

Professional high performance 1/6 horse power single-piston airbrush air compressor with air pressure regulator with gauge & water trap filter.

Chefmaster Airbrush Food Coloring Set (12 Colors in 0.7 Fluid Ounce Bottles)

12 of the most popular airbrush food colors: midnight black, super red, deep pink, sunset orange, canary yellow, spring green, hawaiian blue, royal blue, violet, harvest brown, metallic gold, metallic silver.
Made in the USA with FDA approved ingredients, and are Certified Kosher.

6 Foot braided air hose with 1/8" Fittings
Compressor mounted airbrush holder: Holds 2 airbrushes
Universal Clamp-On Airbrush Holder: Holds up to 4 airbrushes
5 Piece Mini Cleaning Brush Set
How-To-Airbrush Manual & Guide Booklet by Master Airbrush
UPC: 848849073140
EAN: 0848849073140
Package Dimensions: 18.1 x 14.8 x 8.6 inches