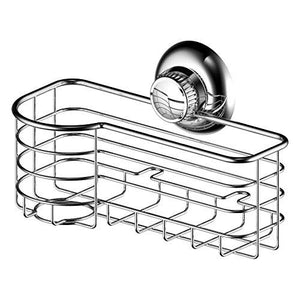 SUPER STRONG SUCTION CUP - Simply press the suction cup against a clean flat surface and twist the knob until it is fully tight

GUARANTEED NOT TO RUST: Basket is made from High Quality SUS304 Stainless Steel - Guaranteed Rust Proof for 5 Years. Premium Quality ABS chrome-plated rubber suction cup

EASY INSTALLATION: No screws, no nails, no tools, no glue, no damage. Easily attached or removed

CANNOT MAINTAIN SUCTION ON: Marble, porcelain, nano tiles, plaster, and wood. Easily attaches onto any nonporous, non-textured tile or glass surface

BASKET SIZE: 7.1 x 3.3 x 2.12 inches / SUCTION CUP SIZE: 2.25 inches
How to Make Suction Cups Stick Better
1. Select your surface carefully. Avoid porous, rough-textured surfaces, and opt instead for glass, tile or stainless steel.
2. Clean the surface and the suction cup. Wipe up all dust and dirt. Use alcohol as a glass and surface cleaner to remove all grease, oils, and fingerprints.
3. Wipe cleaner off with paper towels to avoid getting fabric fibers on the cleaned surface.
4. Moisten the surface of the suction cup with soap water.
5. Loosen the rubber base until it is flat by turning the knob counter-clockwise.
6. Press knob lightly to exhaust the air.
7. Press the cap onto the wall firmly.
8. Twist the knob clockwise to lock when pressing until fully tight.
9. Allow the suction cup to set for 24 hours before adding any weight.
100% RISK-FREE SATISFACTION GUARANTEED
ORDER IT NOW