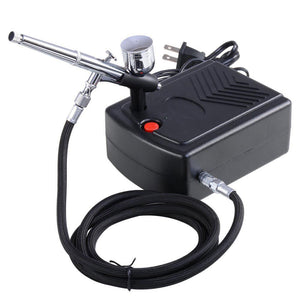 This Dual-Action Airbrush Kit with Air/Fluid Control Knob allows you to control the air brush easily. 7cc Gravity Feed Fluid Cup with lid for easy spraying fluid and easy cleaning. Removable Needle and Nozzle Caps help you to spray the full range of spraying and stippling effect. Built-in teflon O-ring for nozzle cap and better for corrosion resistance. Come with a small Nozzle Spanner for fetching out the nozzle of the air brush when you need. Ideal for large art work, spraying tanning, large art illustrations, tattoo applications, body beauty &skin care.
Features:
Air Brush:

0.3mm Nozzle.
Durable stainless steel.
Dual-action trigger Air/Fluid Control:
Only Air Spray: Press the Air/Fluid Control Knob down vertically.
(Perfect for blowing dry the spraying surface before and after spraying.)
Air and Fluid Spray: Press the Air/Fluid Control Knob down vertically and pull it back.
One 2cc Eye Dropper for dropping ink or other fluid easily.
Portable Storage Case for the storage of air brush, eye dropper and nozzle spanner.
Fit for Color Fluid: Watercolor Pigments, Inks and Dyes, Acrylics, Automotive Urethanes, Lacquers and Enamels. (Not Included)

Mini Air Compressor:

High quality.
High efficiency.
Light weight.
Low noise and Oil free.
Working pressure adjustable.
Please read the instruction manual before using.
Specifications:
Air Brush:

Nozzle 0.3mm
Fluid Cup 7cc
Air Brush Size 5-5/8" W x 3-1/4" H x 1" W
Nozzle Wrench 1-5/8" L x 3/8" W
Eye Dropper 2cc
Storage Case Size 7-3/8" L x 4-1/4" W x 1-1/2" H

Air Compressor:

Working Pressure 15-50 psi
Air Flow 10.5 liters per minute
Input Power AC100-240V, 50/60Hz, 1.6A (with US standard plug)
Compressor Size 5-1/4" L x 4-1/8" H x 2" W
Power Cord 5 Ft
Air Hose 5 Ft (with two 1/8" connectors)
Package Content:
1x Air Brush
1x Nozzle Wrench
1x 2cc Eye Dropper
1x Air Brush Holder
1x Air Compressor
1x Air Hose
1x Storage Case for Air Brush
1x Instruction for Air Brush
1x Instruction for Compressor