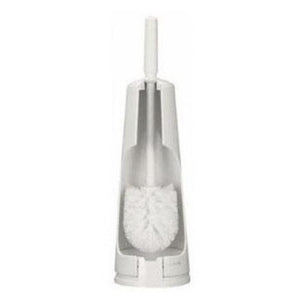 This sleek white Brabantia Toilet Brush is here to make one of life's dirtier tasks much easier, not to mention stylish! The discreet holder allows the toilet brush to be hidden away, and also features a concave inner base to catch water. Brabantia's design features a notched top that suspends the brush, allowing for quick drying.
The brush is made from durable plastic with tough plastic bristles spread around in a 360° dome shape, which makes it perfect for reaching every last inch. Best of all, the holder itself is easy to clean and is the perfect addition to any bathroom.
Brabantia have crafted this toilet brush from the highest quality materials, and guarantee it against manufacturing defects with a 10 year warranty.
Features:
- Corrosion resistant design is ideal for the bathroom
- Easy to clean
- Brush holder is made from aluminium with poly coated finish
- 10 year manufacturer's warranty
Size:
12cm diameter x 42cm H