TRUFF Shares Two Game Changing Recipes for Super Bowl
Fire up for the Super Bowl with two hot recipes from TRUFF. Founded by Nick Guillen and Nick Ajluni , TRUFF spices up the bland hot sauce world. Resulting in a hot sauce that is able to enhance any foods flavor.
This sauce is a curated blend of ripe chili peppers, organic agave nectar, black truffle, and savory spices. Unlike the other hot sauces in the market, TRUFF uses a combination of ingredients.Whereas Sriracha or Tabasco is just spicy and full of chemicals, TRUFF reveals an earthy, umami like taste with a kick. Thereby becoming the preferred condiment for breakfast scrambled eggs, fries or even chicken wings. As described in TRUFFs chicken wings and steak recipes below perfect for game day.
Kick off Super Bowl Sunday (literally) with these delicious TRUFF recipes to add the right amount of heat to your Super Bowl spread.
Chicken Wings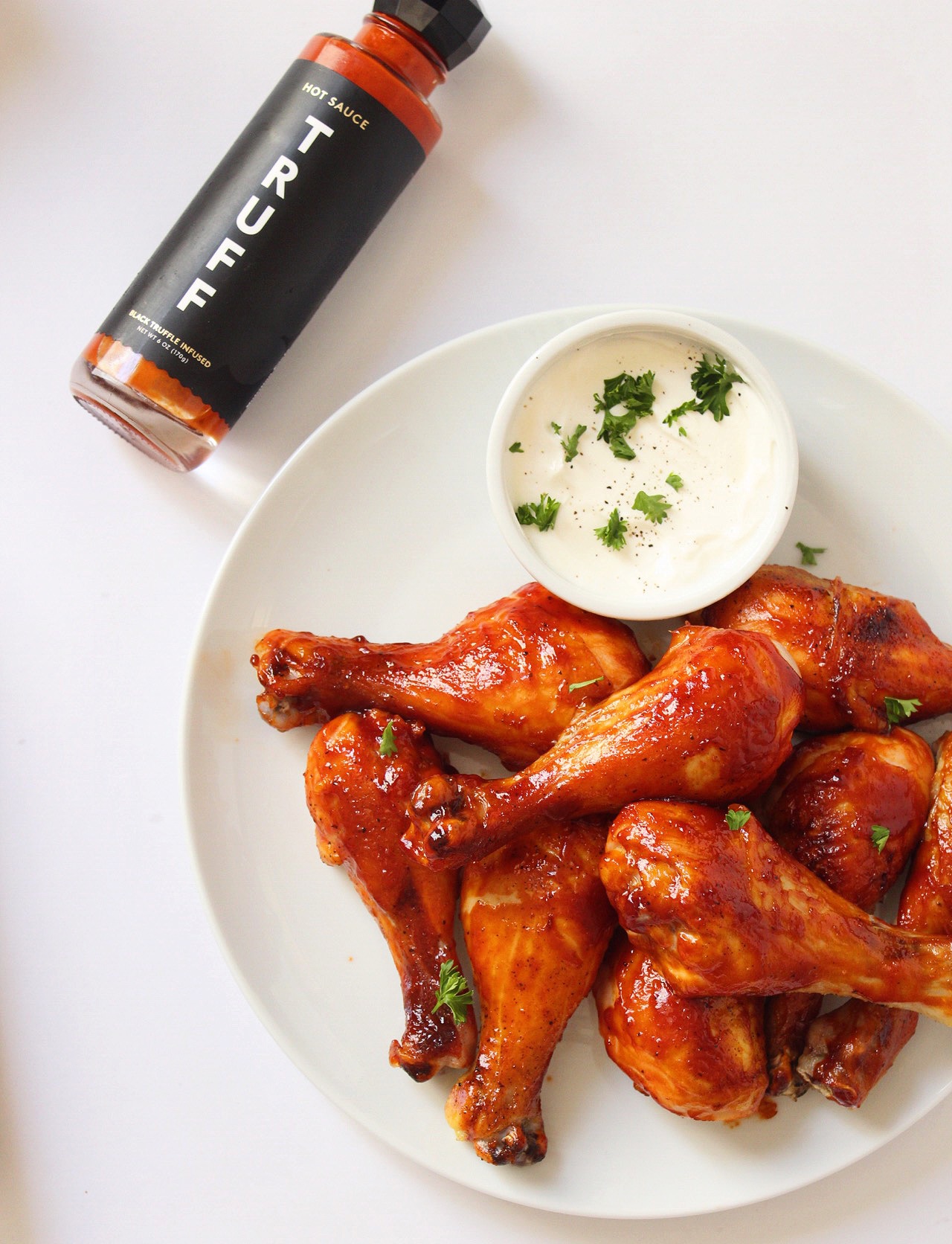 TRUFFalo wings are one of my favorite things to make during football season. Adding TRUFF in place of a vinegar based sauce helps elevate the mouth feel and provides an umami flavor profile to the wings. The liquid silk consistency is delicious! PRO TIP: Add a few drops of TRUFF to each wing before you place in oven. Co-founder, Nick Guillen
INGREDIENTS
2 lbs chicken legs
2 tsp salt
2 tsp pepper
1 tbsp vegetable oil
cup TRUFF hot sauce
cup BBQ sauce
1 tbsp honey
1 tbsp butter, melted
INSTRUCTIONS
Preheat oven to 375F. Add foil to a baking sheet then top with chicken legs. Brush chicken with oil and sprinkle with salt and pepper. Bake for 45 minutes to an hour so the skin is crispy and chicken is cooked through. Meanwhile, in a small bowl combine TRUFF, BBQ Sauce, honey and butter. Remove legs from oven and brush hot sauce mixture over each chicken leg. Adjust temperature to a low broil and place back into the oven for another 4 minutes of so (watching carefully so it doesnt burn). Remove from oven and serve with ranch.
Flank Steak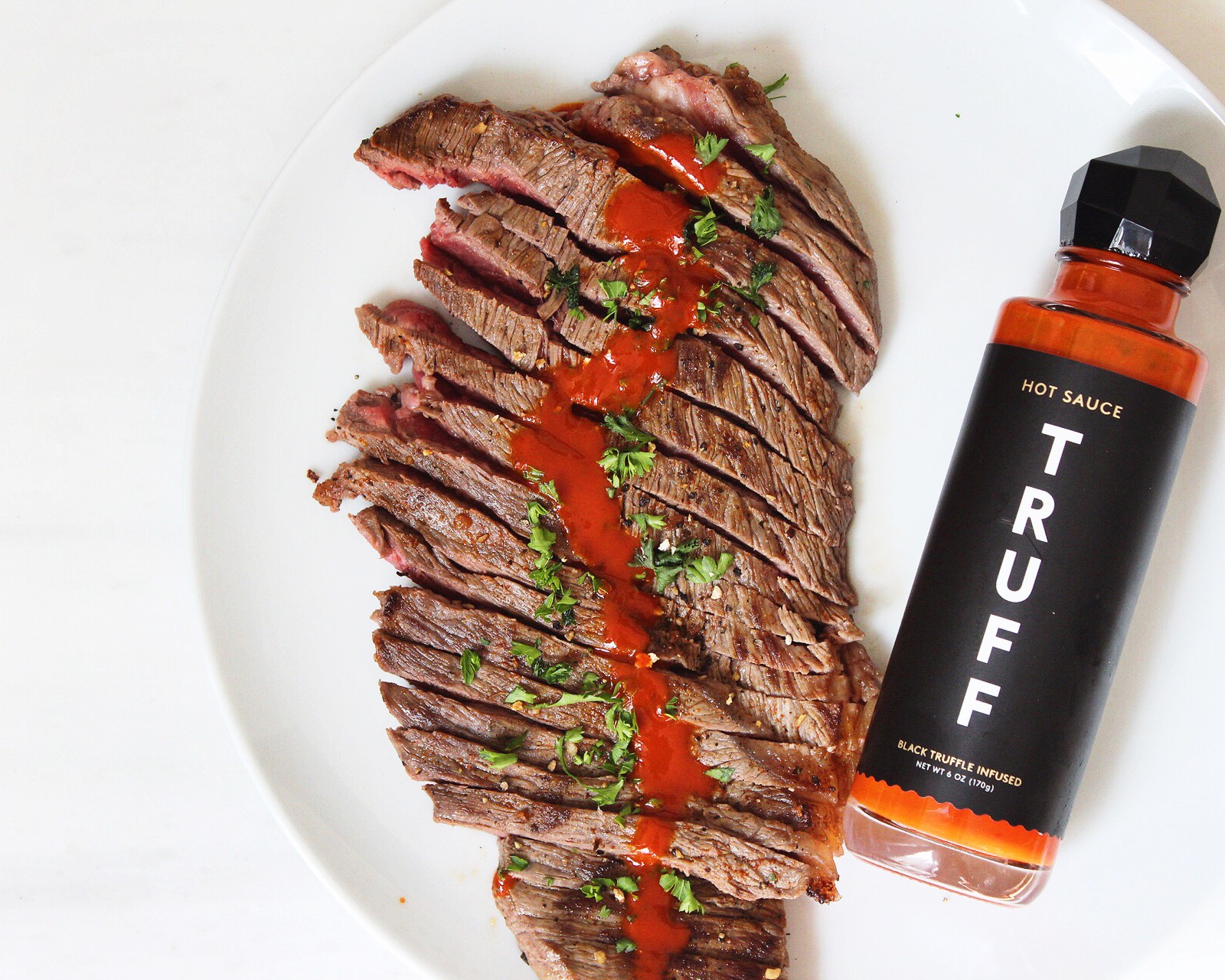 Always love a good steak. In this case we had to go the taco route even though it was a Wednesday and we are happy we did. SO tasty, tender and flavorful. And of course, 2 flour and 2 corn tortillas!- Nick Ajluni
INGREDIENTS
1-1 lb steak
1 tsp salt
1 tsp cracked pepper
tsp paprika
tsp chili powder
tsp onion powder
cup red wine vinegar
cup olive oil
1 tbs Dijon mustard
cup TRUFF Hot Sauce
Fresh parsley, chopped
INSTRUCTIONS
Add all seasonings in a small bowl and mix. Sprinkle seasoning on both side of your steak and wrap in plastic and place back in the fridge for at least 30 minutes. In a small bowl, combine vinegar, oil and mustard. Remove steak from refrigerator and brush with marinade. Cook steak either on the grill or stovetop to your liking. Drizzle with TRUFF and sprinkle with parsley. Serve inside tacos, on top of nachos or all by itself!
This post is sponsored by TRUFF
The post TRUFF Shares Two Game Changing Recipes for Super Bowl appeared first on Honest Cooking.