The Best Stocking Stuffers for Kids
These are the BEST Stocking Stuffers for Kids! From unique and educational games to books, treats, and toys to keep them entertained for hours.
As a kid, one of my favorite parts of Christmas morning was digging into my stocking and seeing what was inside.
It was the one thing I could open as soon as I got up and always included some candy, a piece of fruit, and a couple small wrapped gifts.
I never knew what to expect, which was always fun and exciting until the year my mom decided to put a fake cockroach magnet in as a joke. And she wonders why I hate bugs now.
This year, I thought Id put together the ultimate list of the best stocking stuffers for kids so no other kids have to receive one of those. Trust me, the laughs not worth the therapy bills!
Whether the kids in your life are into art, games, or silly and gross things (like cockroach magnets), this list has it all!

Helpful Stocking Stuffers
These are stocking stuffers that will help t make life a little easier and more enjoyable.
The bib with sleeves and book light are two of my personal favorites! A couple of my kids share a bedroom so the book lights are great for when ones ready to sleep and the others still reading away. The bib has been a laundry saver! I know this may look like overkill to some, but my kids apparently like to make eating a full body experience.
1. Hairbands and headbands
2. Book light
3. Gloves
4. Socks
5. Disney Frozen Flavored Lip Balm Gloss
6. Brush
7. Fun Flashlight
8. Book
9. Portable Night Light
10. Nail polish
11. Jewelry
12. Glow In The Dark Stars
13. Lock & Key Diary
14. Sunglasses
15. Detangling Brush
16. Play makeup
17. Barettes
18. Star Wars Watch
19. Toothbrush Holder with Hourglass Timer
20. Hi-Fi Noise-Reducing Ear Buds
21. Sleeved Bib
22. Art Smock
23. Frozen Peel and Stick Wall Decals
Ideas for Little Artists
These gifts will help inspire and entertain the little artist in your life. My daughter can spend hours on crafty things. In fact, she gets just as excited to go to Michaels as I do because she loves all things having to do with art.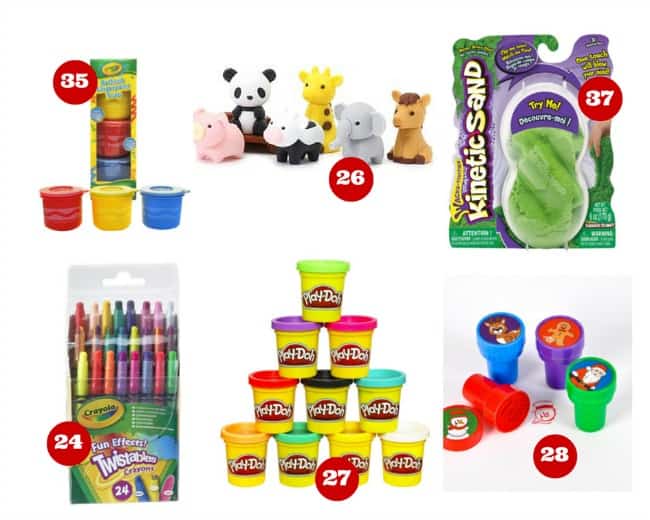 24.Twistable Special Effects Crayons
25. Angry Birds Pencils
26. Zoo Animal Erasers
27. Play-Doh
28. Generaland Holiday Stampers
29. Stickers
30. Color Wonder Markers and Paper
31. Coloring book
32. Modeling Clay
33. Silly Putty
34. Do A Dot Art Markers
35. Bathtub Fingerpaint Soap
36. Prismacolor Colored Pencils
37. Kinetic Sand
38. Melissa & Doug Rainbow Mini Scratch Art Notes
Entertaining Stocking Stuffers
I personally think some of the best stocking stuffers for kids are those that help to make learning fun. My kids absolutely love excavation toys where they can get a little taste of what it would be like to dig for fossils.
And no matter how many we have, lego are always on their Christmas lists so warn your feet now.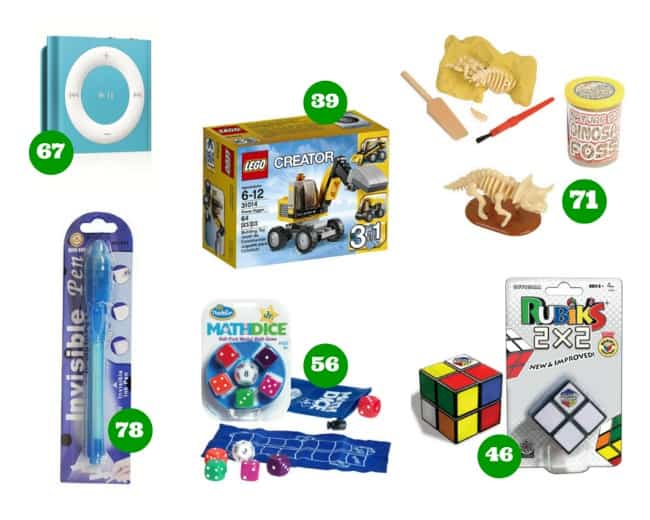 39.Mini Lego set
40.Hot Wheels
41.Slinky
42.Easy Magic Card Tricks
43.Harmonica
44. Disney Memory Game
45. Movie
46.Mini Rubiks Cube
47.Construction Vehicles
48.Hacky Sack
49.Wooden Trains
50. Finger Puppets
51.Bananagrams
52.Mad Libs
53. Highlights and Highlights High Five
54. Spy Gear Night Goggles
55. Frozen Jump Rope
56. ThinkFun Math Dice Jr.
57. Lets Go Fishin Game
58. Uno Card Game
59.Super Friends Little People
60. Rorys Story Cubes
61. Cats Cradle Book Kit
62. Pixy Cubes
63. Play Food
64. Super String Thing
65. Would You Rather & You Gotta Be Kidding Card Games
66. Dinosaur toys
67. iPod Shuffle
68. Super Mondo Inside-Out Ball
68. Melissa & Doug Family Dinner Box Of Questions
69. Mini Etch Sketch Doodler
70. Magformers
71. Dinosaur Fossil
72. Bank
73. Magnets
74. Old Maid, Go Fish, Crazy 8s, and Monster Match
75. Loom Rubber Bands
76. Tangle Jr.
77. Stacking Bath Cups
78. Secret Message Pen with Black Light
EdibleStocking Stuffers
Im not sure what other families do, but growing up our stockings always included some edible treats. I love these fun, festive ideas!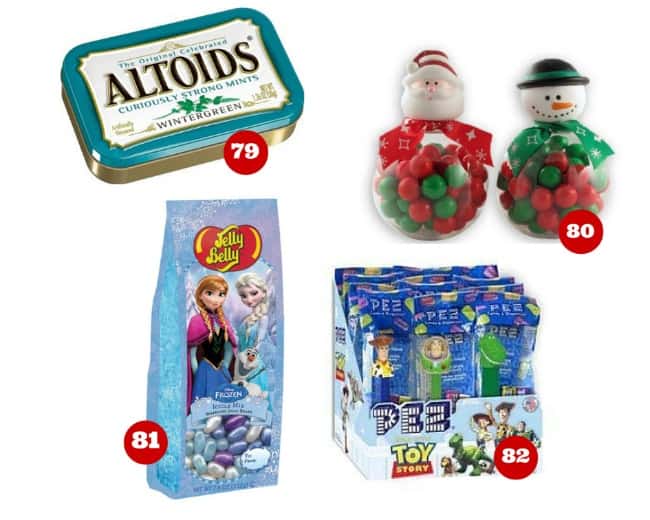 79. Altoids Curiously Strong Mints
80. Santa & Snowman Gumball Candy Stocking Stuffers or Ornament Set
81. Frozen Anna and Elsa Jelly Beans
82. Toy Story Pez Dispensers
Fun & Silly Suggestions
Last but not least, a list of the best stocking stuffers for kids wouldnt be complete without some silly suggestions!
My kids crack up for fake mustaches, and I thought the thumb war arena was hilarious! Dinosaur chopsticks look like a lot of fun to try, and the construction plate is a must-have in our house. My son has been using his for years and still requests it at almost every meal.
83. Flingshot Flying Monkey
84. The Famous Fart Whistle
85. Laugh-Out-Loud Jokes for Kids
86. Reindeer Antler Ring Toss Game
87. Mr. Moustachios Manliest Mustache Stickers
88. Nose Pencil Sharpener
89. Printable Special Treat Christmas coupons
90. Reindeer Rubber Duckies
91. Dinosaur Chopsticks
92. Hog Wild Pro Thumb Wrestler
93. Lego Star Wars Darth Vader Key Light
94. Reindeer Antlers & Light-up Blinking Nose
95. Dump Truck plate and utensils
96. Glow Sticks
97. Crazy straw glasses
98. Kaleidoscope
99. Knock-Knock Jokes for Kids
100. Christmas Ornament Grow Eggs
101. Silly Door Hangers Quick Sticker Kit
I hope this list helps you find some new and fun ideas for the kiddos in your life! Before you go, Id love to know how you do stockings in your home. Can they be opened whenever or is it a family affair? What do you usually put inside?
The post The Best Stocking Stuffers for Kids appeared first on Happy Organized Life.