Best White Trim Paint Colors: 12 Best White Shades
Best white paint colors for trim: Looking for the best paint colors for white trim, base, and moulding? Below, you will find the most popular white paint colors for trimwork from Benjamin Moore and Sherwin-Williams including recommendations on type of paint to use, painting application, and real life examples in homes.

BEST WHITE PAINT COLORS FOR TRIM
There is nothing better than a crisp white trim!
Trust me, I've painted almost all of the outdated oak trim in our house to fresh white paint and it is so satisfying! (One of the most common questions I get is "what color should I paint my trim?" Well, today I've rounded up the best paint colors collected from interior designers, architects, and other home decor bloggers.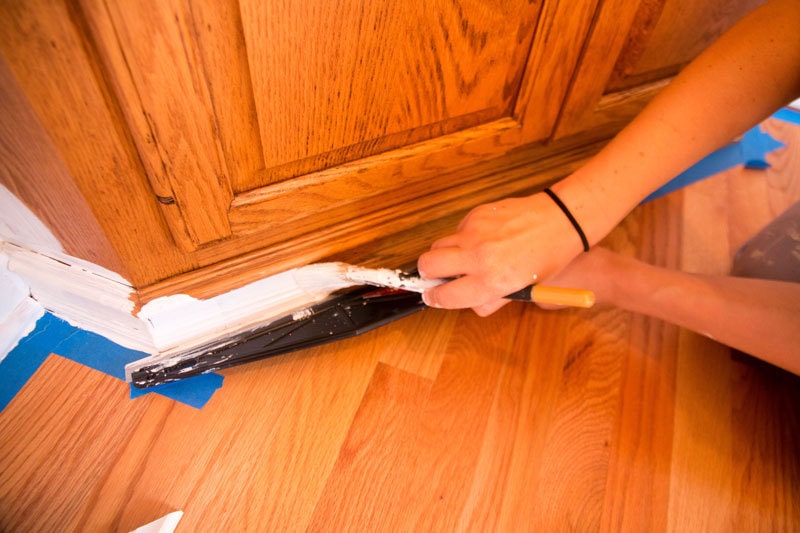 Related: How to Paint Wood Trim Fast
This post contains some affiliate links for your convenience.  Click here to read my full disclosure policy.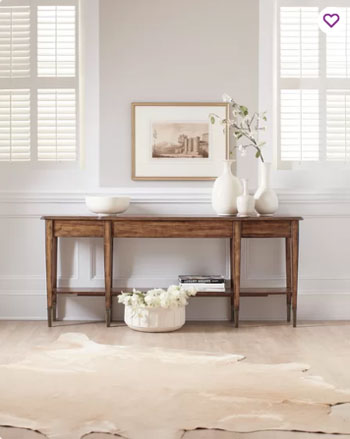 SHOP THE ROOM
These are foolproof picks and I'll share my go-to paint color as well as breaking them down into warm whites, true whites, and bluish whites colors.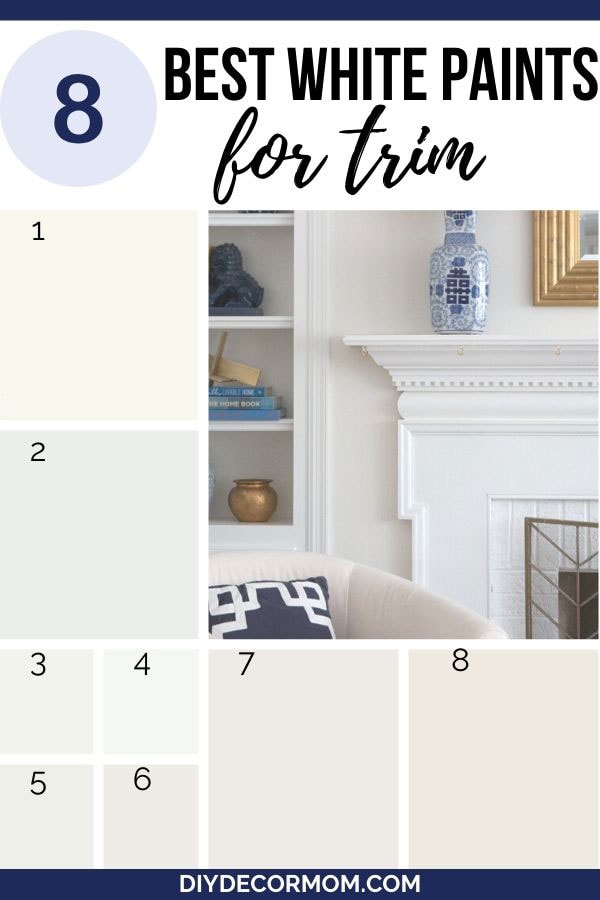 1- BM Simply White/ 2- BM Decorator's White/ 3- BM Super White/ 4- BM Chantilly Lace/ 5- SW Extra White/ 6- SW Pure White/ 7- SW Snowbound/ 8- SW Alabaster 
Related: 20 of the Best White Paint Colors (and how to choose!)
BENJAMIN MOORE TRIM PAINT:
I use Benjamin Moore paint in my home, but it is a personal preference. I truly believe that Sherwin-Williams and Benjamin Moore are of equal quality (that's why I share my paint recommendations from both vendors.) 
But, you certainly don't have to use the same paint color on your trim and your
Almost all of the paint colors listed below, I've done a comprehensive analysis on, so if you want to see more of the paint color and investigate its undertones and see more examples of it in real homes, just click on the link. 
Decorator's White
Super White
Swiss Coffee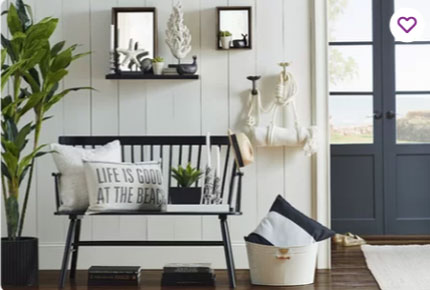 SHOP THE ROOM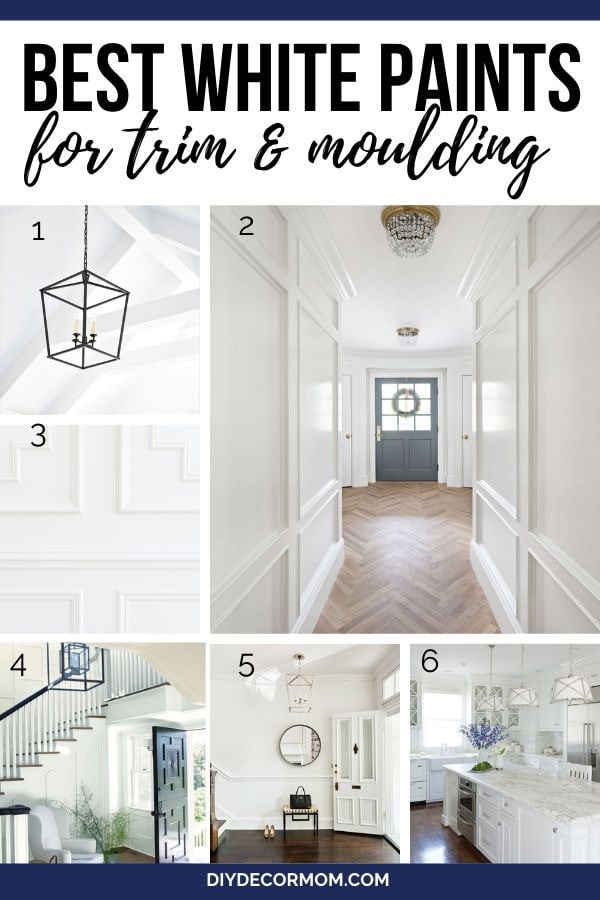 1- BM Decorator's White via/ 2- BM Simply White from The Fox Group/ 3- BM Dove Wing from Rachel Parcell/ 4- BM Chantilly Lace/ 5- BM Super White via / 6- BM White Dove At Home Arkansas.
Related: How to Paint Baseboards (even over carpet!)

BEST WHITE TRIM COLOR SHERWIN-WILLIAMS:
And here are the most popular white paint colors for trim and moulding from Sherwin-Williams. These are some of their bestselling paint colors, and many are included in my round-up of the best white paint colors: 20 of the Best White Paint Colors (and how to choose!)
Extra White
Pure White
Snowbound
Alabaster
High Reflective White
HOW TO DECIDE ON A TRIM AND BASEBOARD PAINT
Making a decision on something as big as painting all the trim in your house can be daunting. I recommend, you jot down these top contenders, get paint samples, and then bring them into your own home. Lay them up against your carpet, your hardwood floors, and even your walls. You'll want to see how the paint lies on different planes in your house. Move the samples from space to space so you can see them in a different light. 
I live in a colonial style home, so I chose to go with a slightly gray, and slightly warm white paint color–Benjamin Moore Simply White. It's an easygoing white paint color that goes with almost everything. 
If you have more traditional tastes, I would recommend warmer white trim colors such as:
Warmer White Trim Colors:
BM White Dove (we use this on our walls)
BM Swiss Coffee
BM Cloud White (we use this in our home as well on walls)
SW Alabaster
SW Snowbound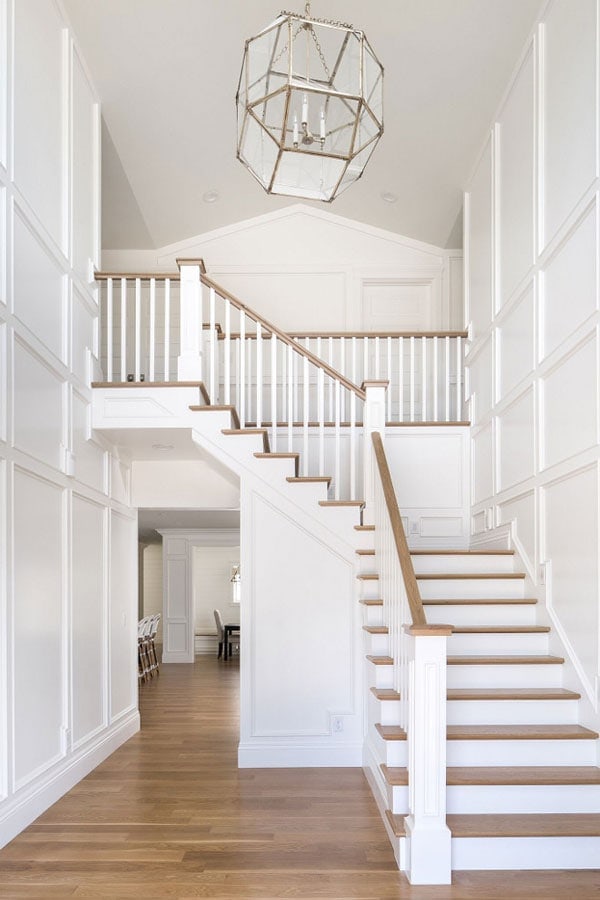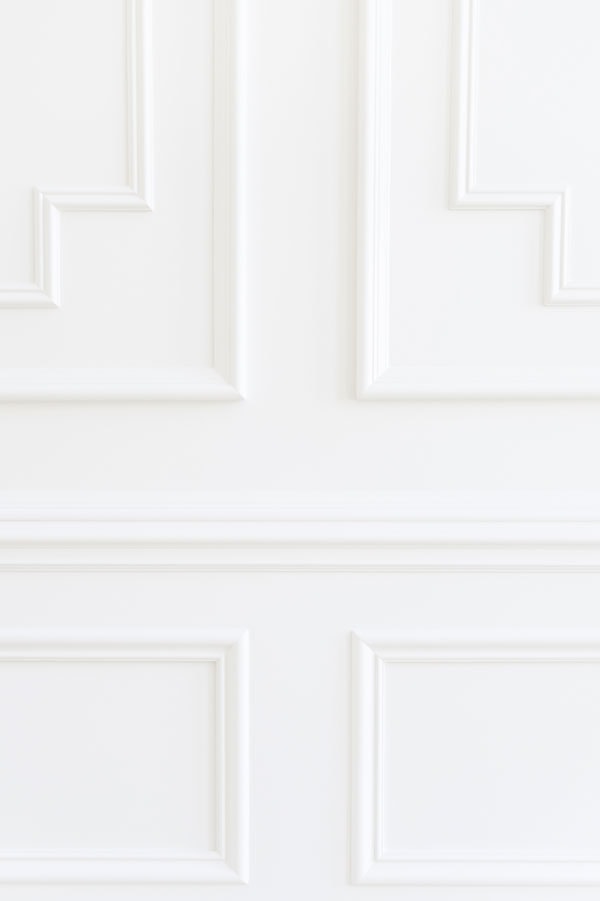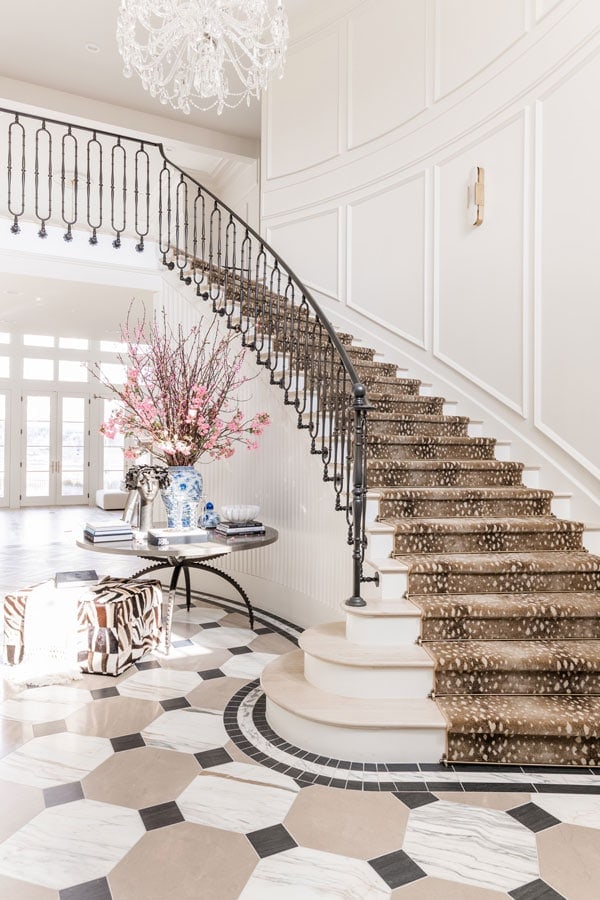 If you have more modern tastes and love cooler colors like blues and cool grays, consider cooler whites or "true whites." Slightly bluish colors will read cooler and more modern. 
Cooler Whites for Trim:
BM Decorator's White
BM Chantilly Lace
BM Atrium White
BM China White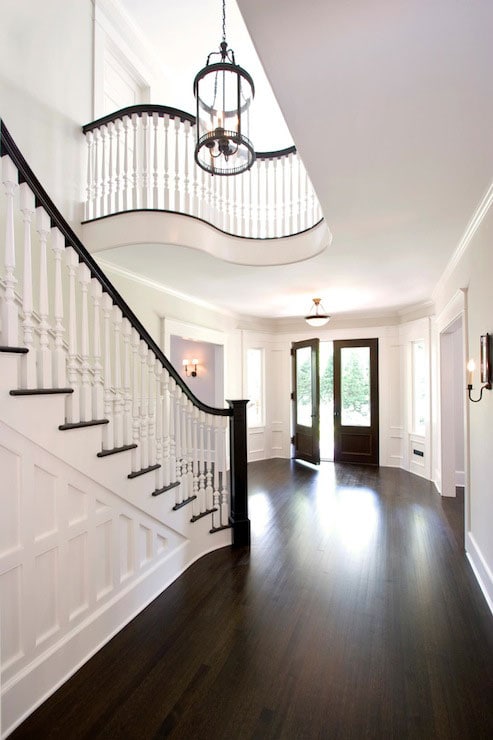 True White Paint Colors for Trim: 
Use these with caution–they can be very stark and are best either in new construction or quite modern homes. I find using more subtle colors–either cooler or warmer whites lends a more sophisticated effect.
SW Super White
SW Extra White
SW High Reflective White
SW Pure White
BM Super White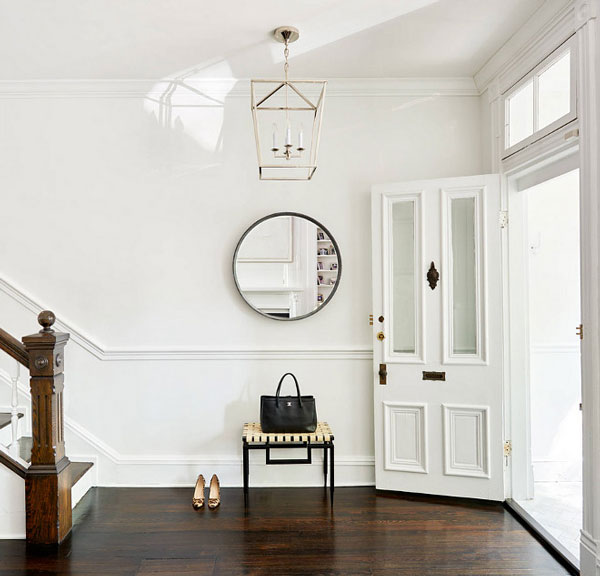 Related: White Kitchen Cabinet Colors
Below, you will find examples of the most popular white trim colors in a variety of houses with various hardwood floors and light conditions. What you will find is that these fantastic white paints from Benjamin Moore and Sherwin-Williams look fantastic in any house!
See how Chantilly Lace compares to the other popular white paint colors and see it in real homes in this comprehensive paint color analysis sharing Studio McGee's gorgeous kitchen.
Benjamin Moore's Simply White is what we use in our room, and what you see here in this gorgeous formal room by Studio McGee. Read more about how it compares and its undertones.
BM Swiss Coffee is a beautiful soft white as Studio McGee demonstrates in this formal bathroom. It works for both trim and walls.
Rachel Parcell shares her BM Dove Wing painted formal foyer with a stunning spiral staircase. See all her paint color choices below.
BM White Dove is one of my favorite paint colors that we use in our own home, and which Caitlin Wilson uses in the picture here. It works for both walls and trim. Read more about its undertones and how to choose if it's right for you.
The Fox Group shows this stunning foyer with BM Simply White paneling. It is a favorite color of theirs, and our favorite color for trim as it's what we use in our own home.
BM Cloud White is a warmer white paint color that Rachel Parcell uses on her stunning detail moulding shown here. Read more to see a full undertone analysis and my recommendations on how to use it in your home.
BEST MATERIALS FOR PAINTING TRIM
Primer

I recommend Zinsser Bullseye 1-2-3. Sherwin Williams waterborne alkyd primer is a good alternative as well.

Abrasive Hand Pad

 instead of sandpaper

Use this instead of sandpaper. Using sandpaper will rub off too much of the varnish

Paint

Benjamin Moore Semi-Gloss Natura in Simply White (what we use for all the trim in our house)

Paint Brush

–

use a 3″ angled trim brush

Paint Trim Guard

I use Red Devil 18″ Dual Edge Painter's Edge Guard- GAMECHANGER PEOPLE!

Painter's Tape

I use painter's tape on the hardwood floors, over the plastic window inserts, and around the shower. Otherwise, I just cut in by hand. But painter's tape is a necessity in every home and I never do a project without it.

Paint Cup

– the magnetic paintbrush holder on this is super helpful for doing trim work!

Drop Cloth

 and a damp rag for wiping the paint trim guard
Microfiber cloths and all-purpose cleaner or vinegar solution
FAQs ON WHITE TRIM PAINT
What is the best paint color for interior trim?
White is the best paint color for interior trim. Bold colored trim may come and go, but white is a classic! My favorite go-to is Benjamin Moore Simply White (warmer) or Benjamin Moore Decorator's White (cooler).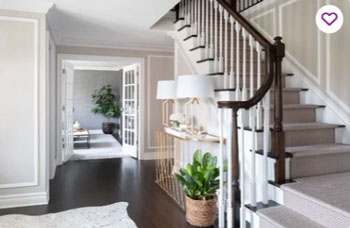 SHOP THE ROOM
How do I choose a trim color?
First pick up paint chips from your hardware store, then get some samples either from Samplize or making your own with paper and paint. Make sure to hold up your paint samples next to your carpet, your hardwood floors, wallpaper, and other walls in your house where it will be used. Painting trim is time-intensive so you want to make sure to pick the right paint color!
What is the best paint for trim?
Any semi-gloss works best from Benjamin Moore or Sherwin-Williams. Some people prefer a satin finish, but I prefer semi-gloss because it is just a little more robust and has a tiny bit more shine.
High gloss is gorgeous if you have perfect (and I mean perfect) trim. But I wouldn't recommend it unless you either have a professional who will repair your trim for you and or it's brand new. Every imperfection shows with high gloss. 
Semi-gloss is right in the middle of the road–it is more forgiving than high gloss but still very robust.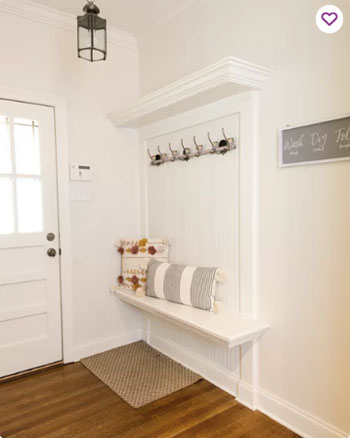 SHOP THE ROOM
What is the most popular white for trim?
Sherwin-Williams Simply White is their most popular white trim and Sherwin-Williams Pure White. 
What color to paint interior trim and doors?
Paint your interior trim and doors the same color (unless you are trying to make a statement.)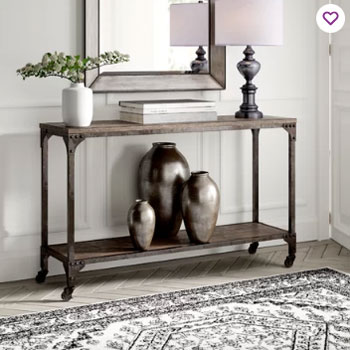 SHOP THE ROOM
Do trim and doors have to match?
They don't have to, but I recommend having them match in most of the cases. Painting a single door a color that contrasts with the trim is a nice statement (we painted our front door black and our garage door blue;) but, do it sparingly.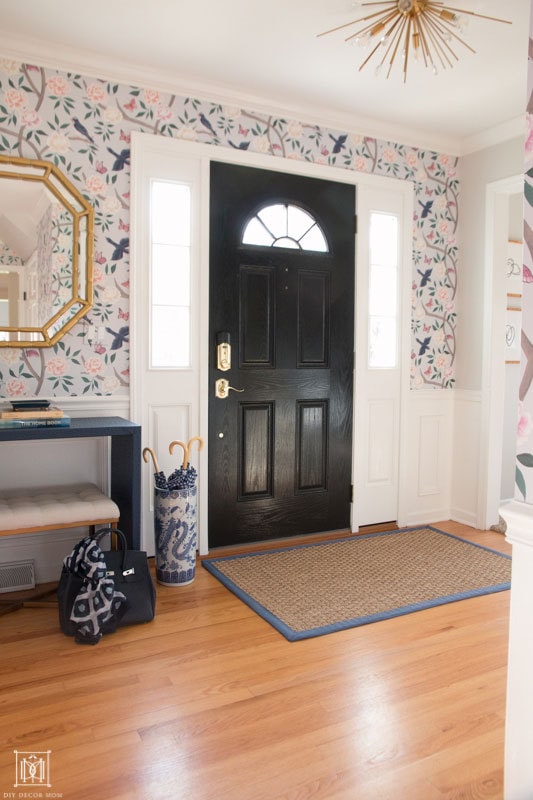 Related: How to Paint Fiberglass Door
What color should baseboards and trim be?
White in 95% of the cases. I love the painted color trim look but it really only works well in super high end homes and with high gloss. You need to make it look very deliberate and have a thick trim to pull it off.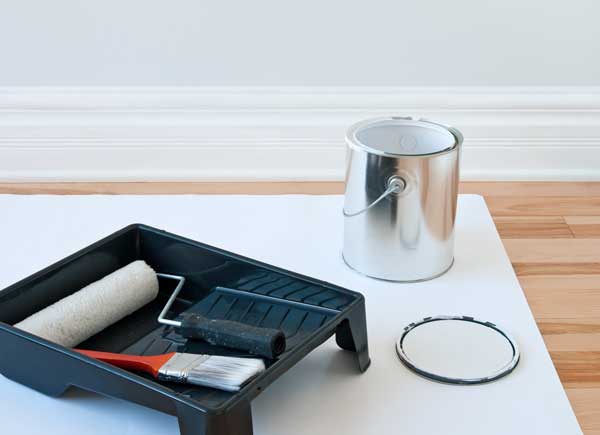 Related: How to Paint Baseboards (Even Over Carpet)
Do you paint walls and trim the same color?
You can–it's up to you. If you want to paint them the same color, use different finishes. Use eggshell on your walls if you have flat walls (use flat if you have textured walls), and use semi-gloss on your trim.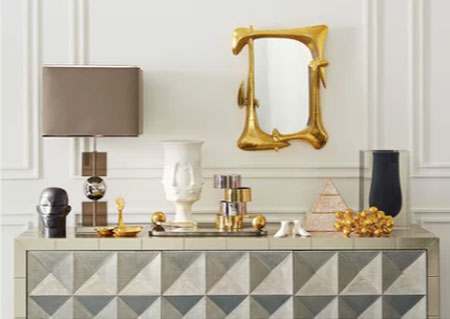 SHOP THE ROOM 
walls. Good white paint colors will go with a variety of paint colors. In our house, we use BM Simply White on both the trim and the walls; but, we've also paired it with BM Balboa Mist, BM Classic Gray, BM Cloud White, and BM White Dove.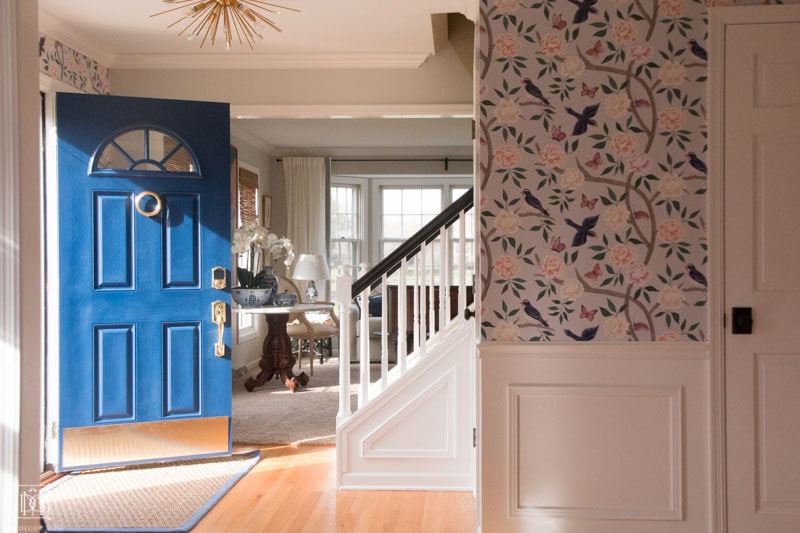 What is the brightest white paint? (and do you want it?)
BM Super White OC-152 and SW High Reflective White are the brightest whites. While you might think you want it, I'd caution in general to use something more subtle like a cool white or a warm white (listed above.)

The post Best White Trim Paint Colors: 12 Best White Shades appeared first on DIY Decor Mom.