A game of thrones: Flying business class on Scandinavian Airlines' new A321LR from Copenhagen to Washington
Recent advancements in aircraft technology mean that smaller aircraft can fly longer routes than you might realize.
While you may be accustomed to boarding a wide-body Airbus A380 or Boeing 777 for transatlantic flights between North America and Europe, some routes are now possible with much smaller and more fuel-efficient narrow-body jets with a single aisle. For certain airlines, this is an attractive proposition. Having to sell just 150-200 seats on an Airbus A321 is probably much easier than selling 400 on a Boeing 777, and airlines such as JetBlue and TAP Air Portugal are banking on that.
Some unique flights on narrow-body aircraft across the Atlantic have been possible, such as British Airways' now-discontinued service from London City Airport (LCY) to New York's John F. Kennedy International Airport (JFK) via Shannon Airport (SNN) in Ireland on a specially configured all-business-class Airbus A318, as well as La Compagnie, whose A321s only have business-class seats.
Related: AvGeek dreams do come true: British Airways' all-biz flight to New York
Other airlines once opted to use the Boeing 757 to operate to secondary cities where there was insufficient demand for daily wide-body flights. The Airbus A321LR is an even smaller aircraft by length than the 757, but can also fly nonstop between Europe and North America.
Nordic carrier Scandinavian Airlines took delivery of its first A321LR aircraft in December 2021. Configured with just 157 seats across economy, premium economy and business class, it is designed to fly medium-haul routes (the aircraft's range is up to 4,000 nautical miles) on what many passengers might assume to be a short-haul plane at first glance.
Following brief familiarization flights between its hubs at Copenhagen Airport (CPH) and Oslo Airport (OSL), SAS then rostered the A321LR onto longer flights from Copenhagen to both Washington, D.C.'s Dulles International Airport (IAD) and Boston Logan International Airport (BOS) starting in late March 2022.
Despite regularly hopping across the Atlantic on wide-body aircraft, I had never experienced the journey on a narrow-body jet. Would the low seat count provide a luxurious private jet feeling, or would eight-plus hours in a relatively small plane cause cabin fever?
I booked one of the first SAS A321LR flights from Copenhagen to Washington to find out.
Get the latest points, miles and travel news by signing up for TPG's free daily newsletter.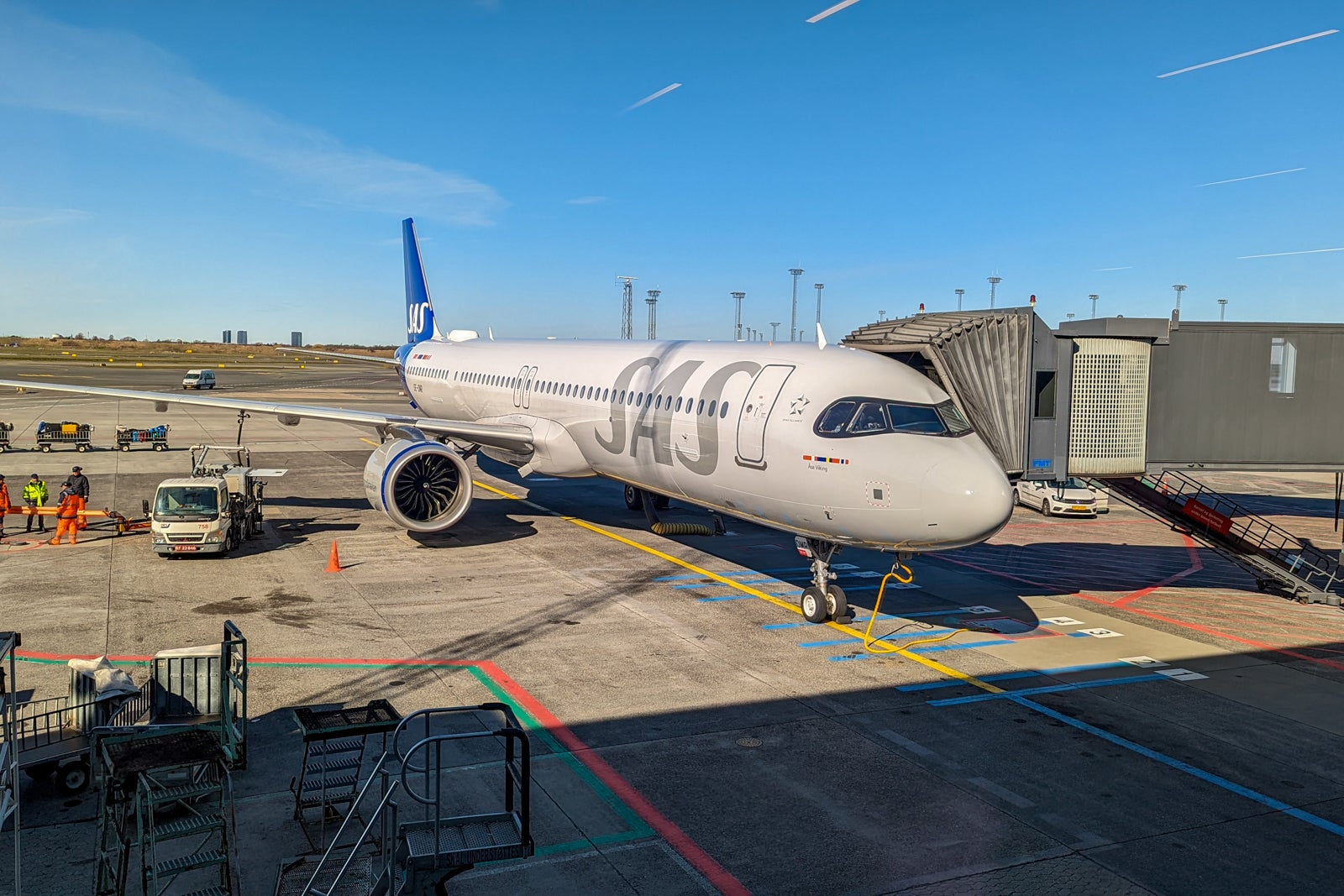 Booking
Award availability is still disappointingly sparse on this route in the premium cabins, and there were no options to redeem miles the week I traveled. If you do find the availability, you will need 70,000-77,000 United MileagePlus miles plus $40.50 in fees, taxes and surcharges, or 70,000 Air Canada Aeroplan points (60,000 if you fly Copenhagen-Boston) plus $71.50 in fees, taxes and surcharges per person from Europe to the U.S.
This flight operates fives times weekly (Monday, Wednesday and Friday-Sunday) over summer, increasing to daily from Nov. 1, departing Copenhagen at lunchtime for a midafternoon arrival into Washington. The return departs the same day around 5 p.m. (depending on daylight savings) and arrives in Copenhagen the following morning around 7.
The flight time is blocked out at just under nine hours eastbound and eight hours westbound.
For my dates, I found a cash fare available from my home airport of London's Heathrow (LHR) to Washington via Copenhagen in business class one direction and premium economy (or "SAS Plus" as the airline describes it) in the other direction for $2,295 total. This would allow me to try both products on the new aircraft — stay tuned for the premium economy review — and was a decent price in a rapidly recovering transatlantic aviation market.
I was able to select my seat in advance on the Scandinavian Airlines website at no extra cost and this was critical to the flight experience as you will see below.
Related: Flying the throne: TAP Air Portugal (A330) in lie-flat business from Newark to Lisbon
Ground experience
I landed in Copenhagen on my SAS flight from Heathrow just before 10 a.m. and was pleased to see my next flight to Washington was listed to depart just a few gates away at 11:45 a.m. in the same terminal building. With just under two hours to fill in between flights, I looked for directions to the SAS lounge, which I knew I could access with my business-class ticket.
I couldn't find any lounge signage anywhere, so I actually resorted to Googling the location of the lounge, which I discovered was near Gate C10. Then I hit the next bump in the road: There were no signs to Gate C10 anywhere.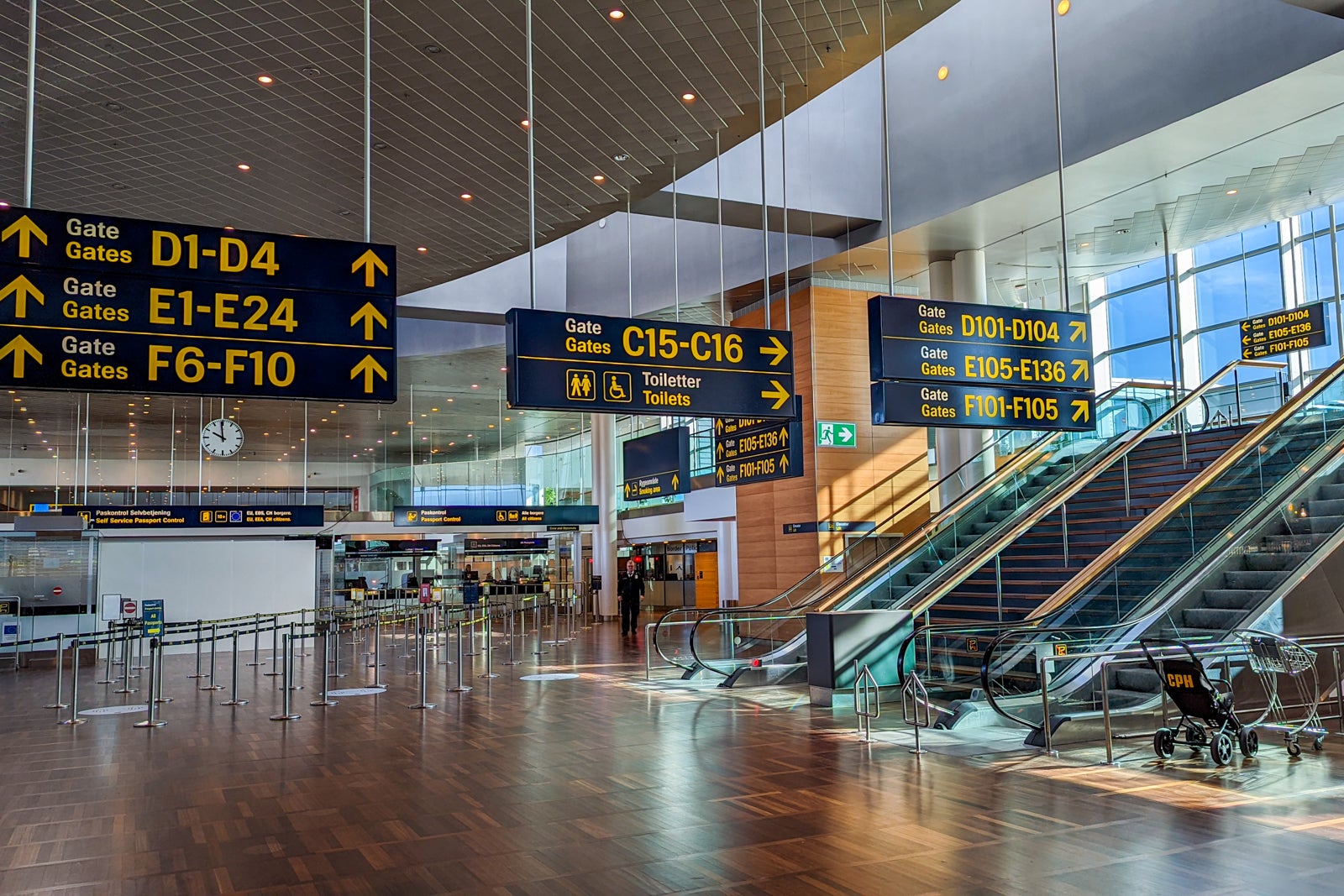 After much backtracking, time-wasting and confusion, I realized I needed to go through passport control and enter Denmark to reach the SAS lounge and then exit the country again to reach my gate. As a frequent traveler whose passport is quickly filling up, this meant an unwelcome two extra passport stamps just for a cup of coffee and a snack.
For the purposes of the review, I did just that, though, and found both the breakfast and lunch food options in the SAS lounge buffet were very meager and not what you would expect from a full-service airline's premium lounge in a hub location. I have fond memories of enjoying a feast of freshly grilled salmon in the SAS lounge in Oslo before the pandemic so was sad to see this had been replaced with the likes of peas, tinned corn and limp salads.
There was no hot food beyond soup available and it was not a lounge I would recommend arriving early for.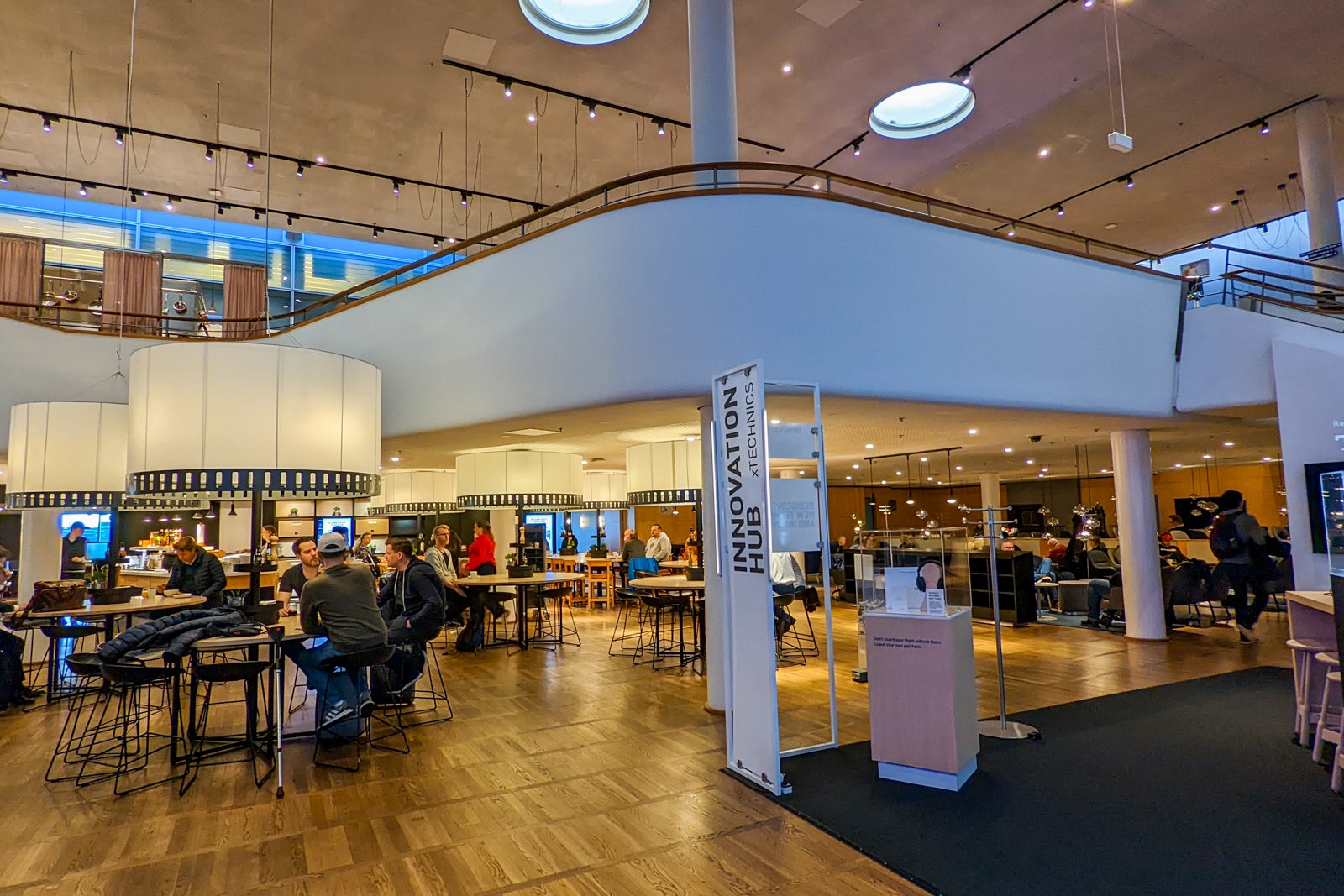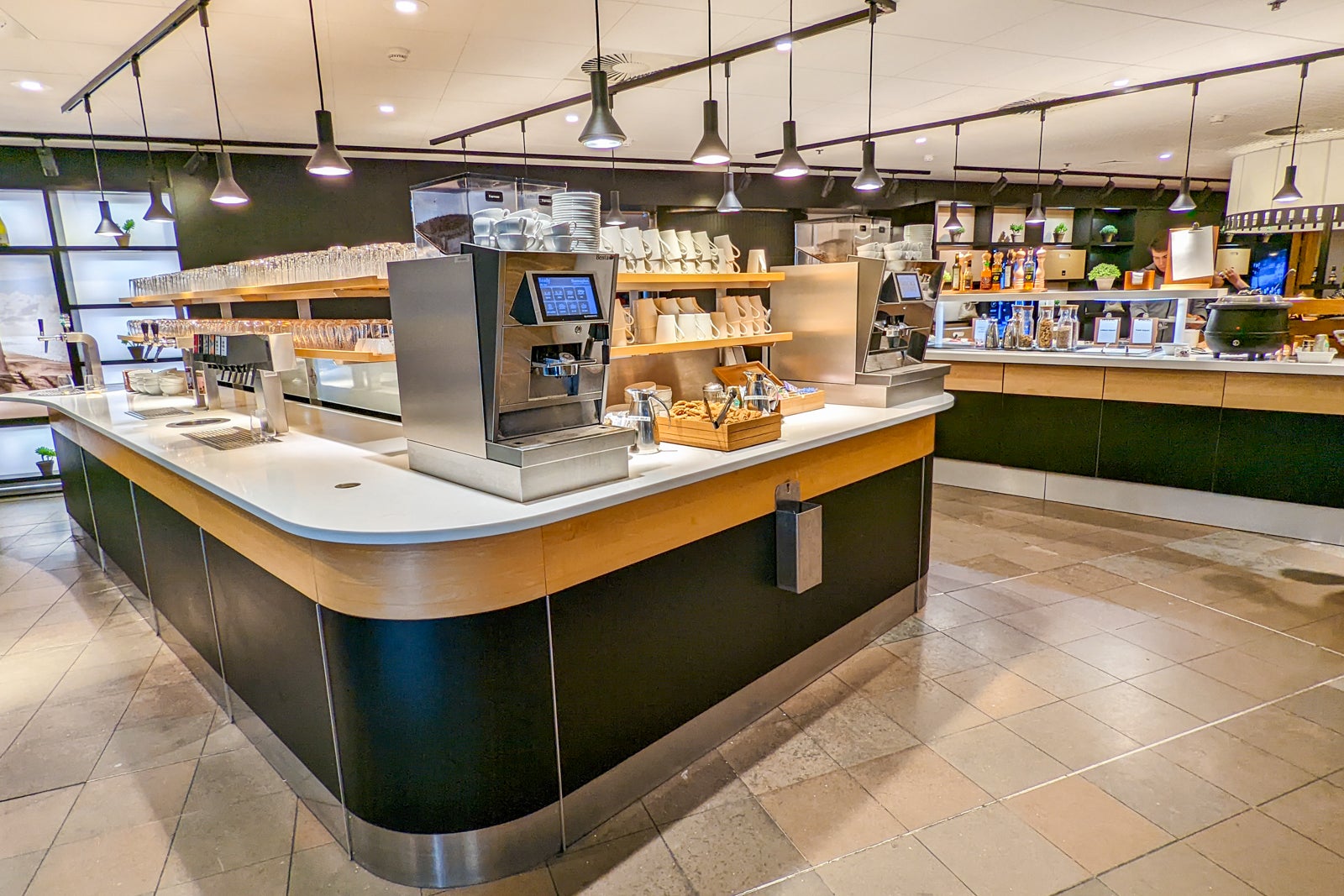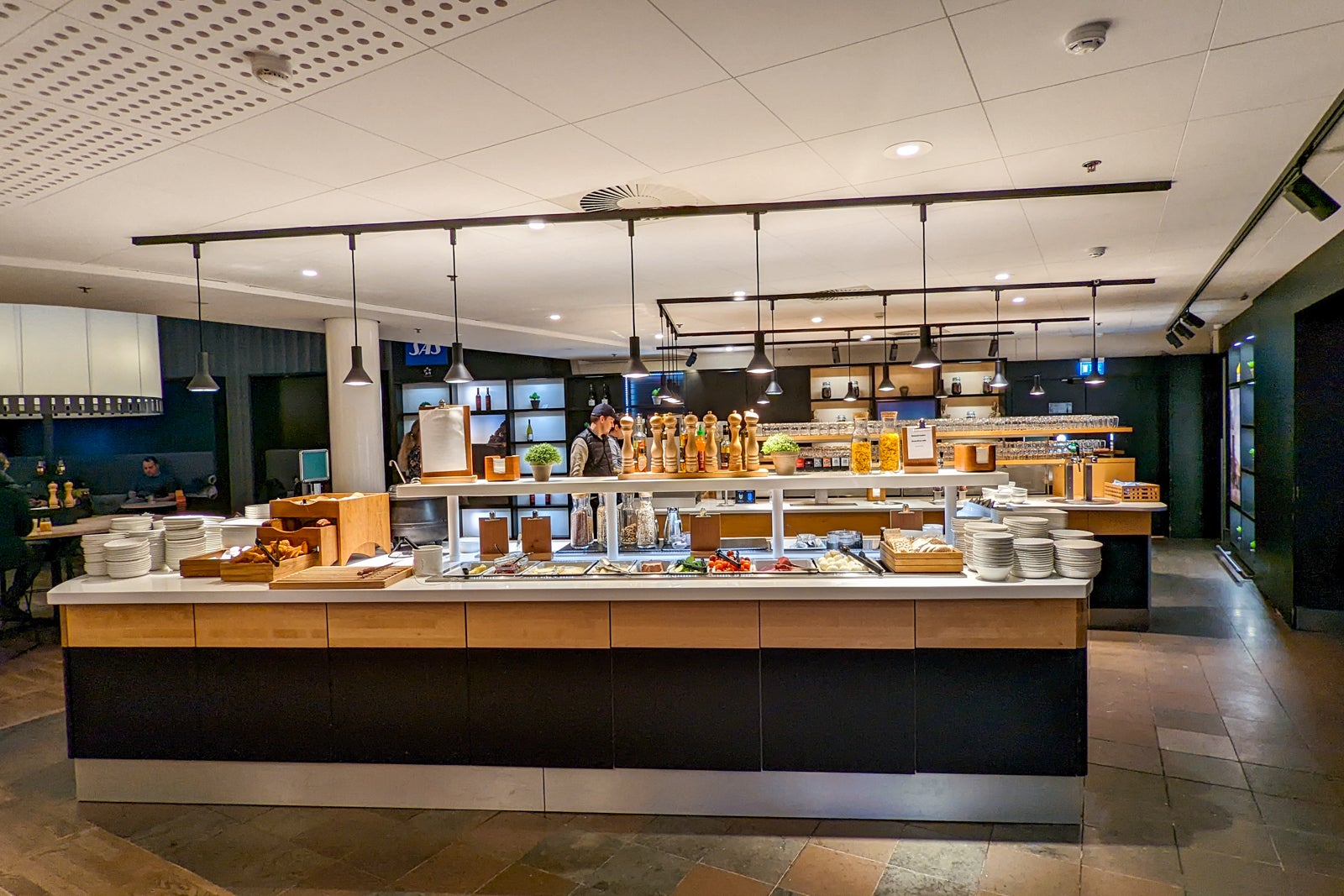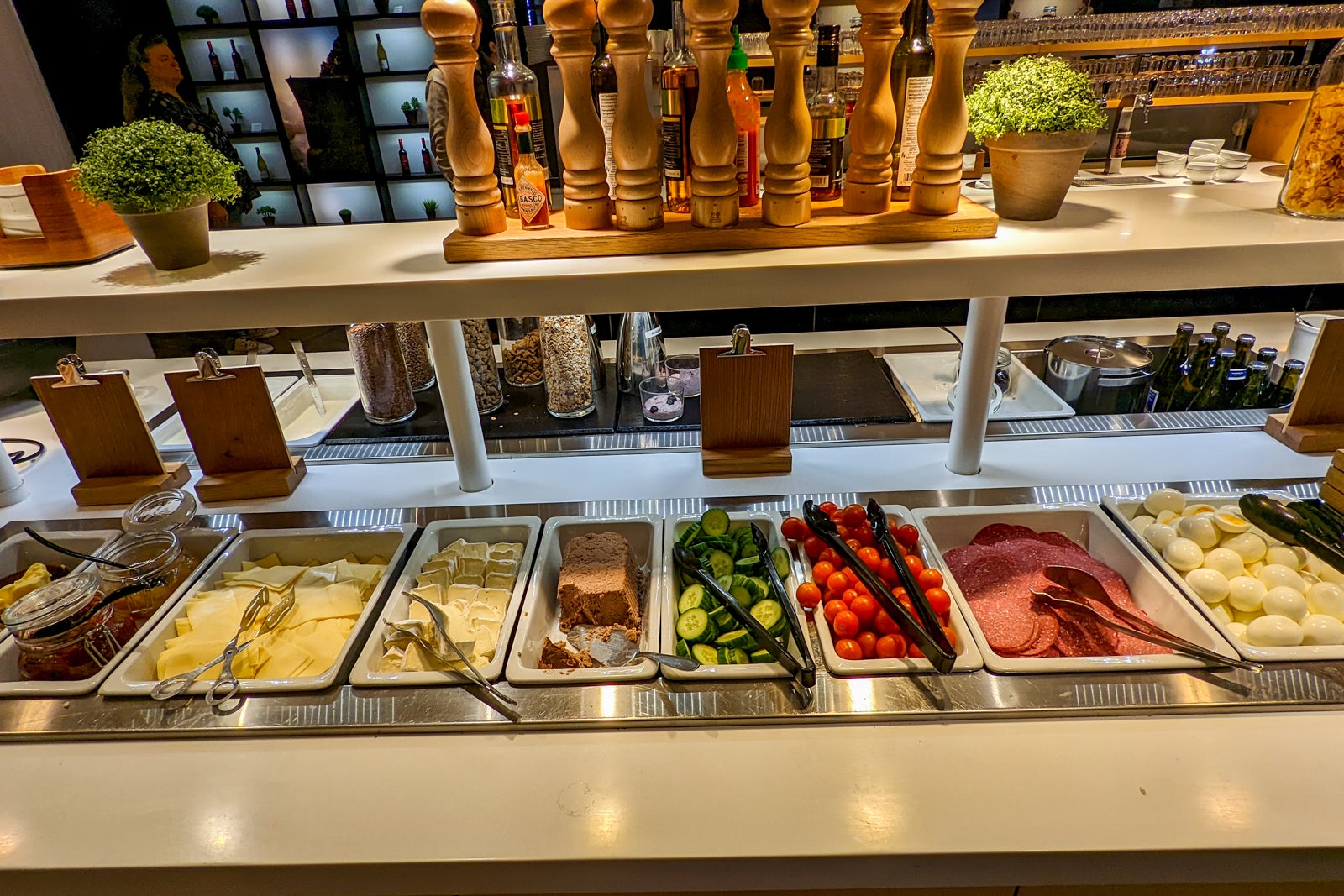 A much better option is the airside (meaning no immigrations process is necessary) Eventyr Lounge, which can be accessed with a Priority Pass membership and does not involve the hassle of going in and out of the country to reach it since it is near Gate C20. It is a beautiful light-filled space with high ceilings and huge windows providing breathtaking views across much of the airport apron, living plant walls and a warm and welcoming staff. The lounge has more substantial food and beverage options than the SAS lounge.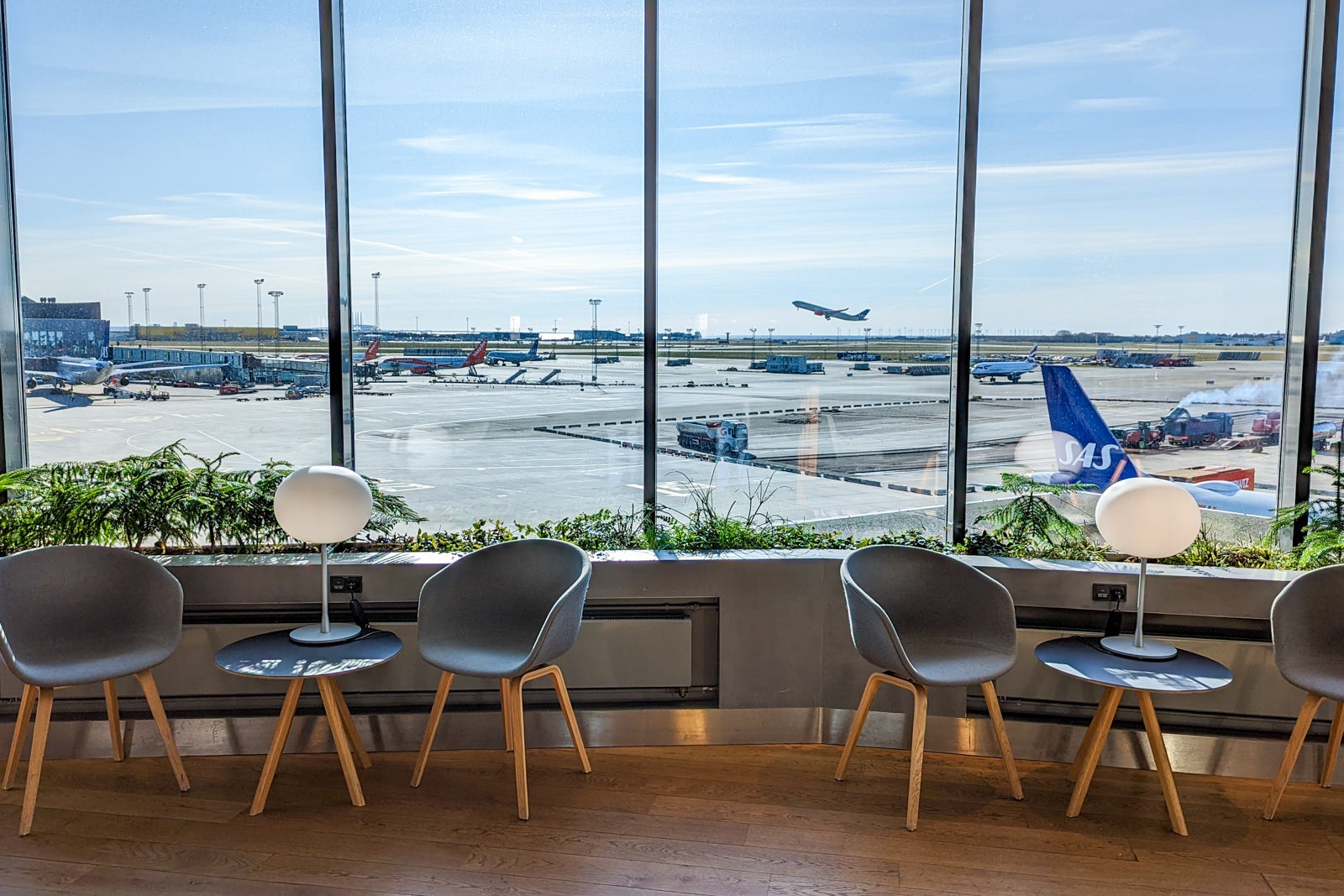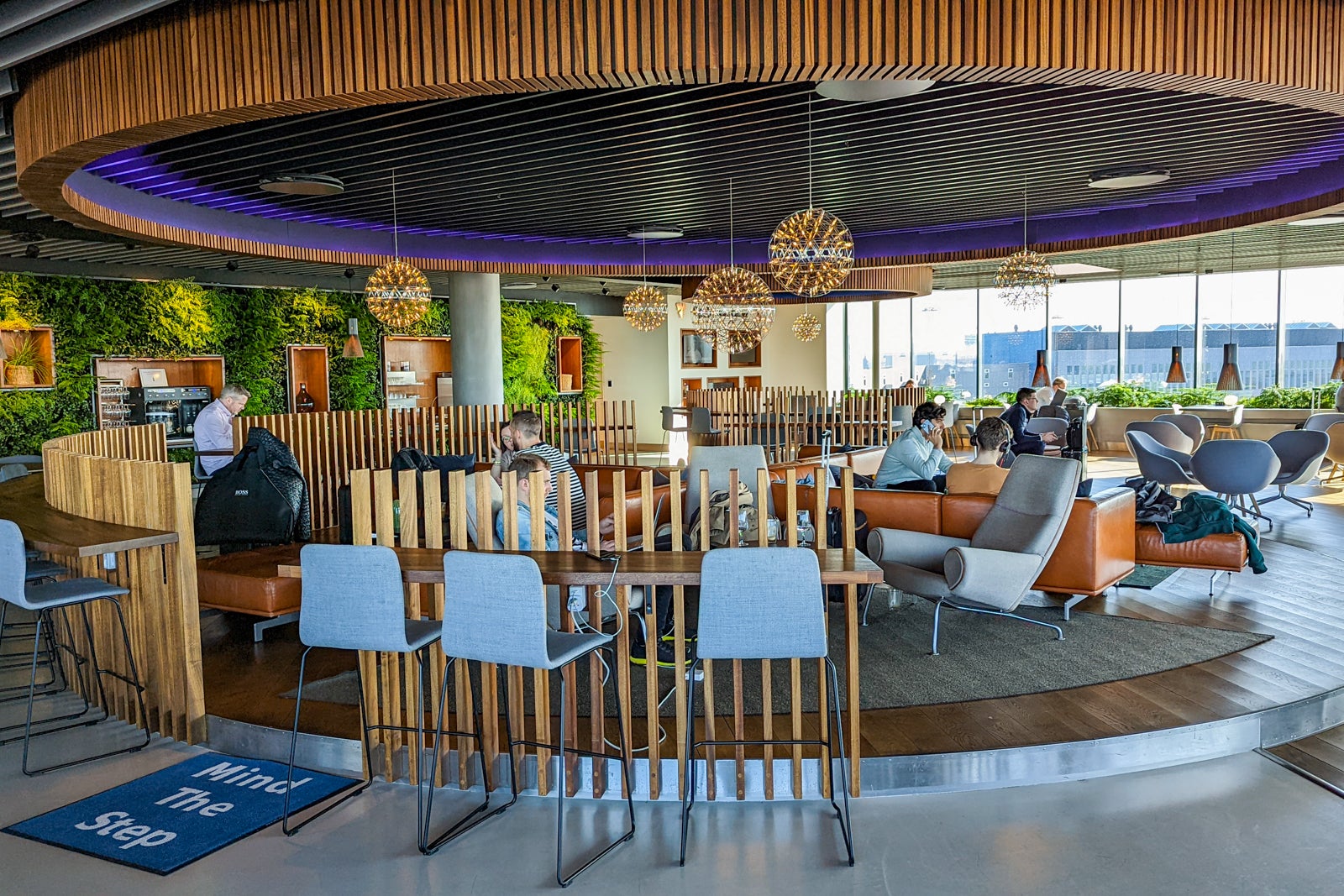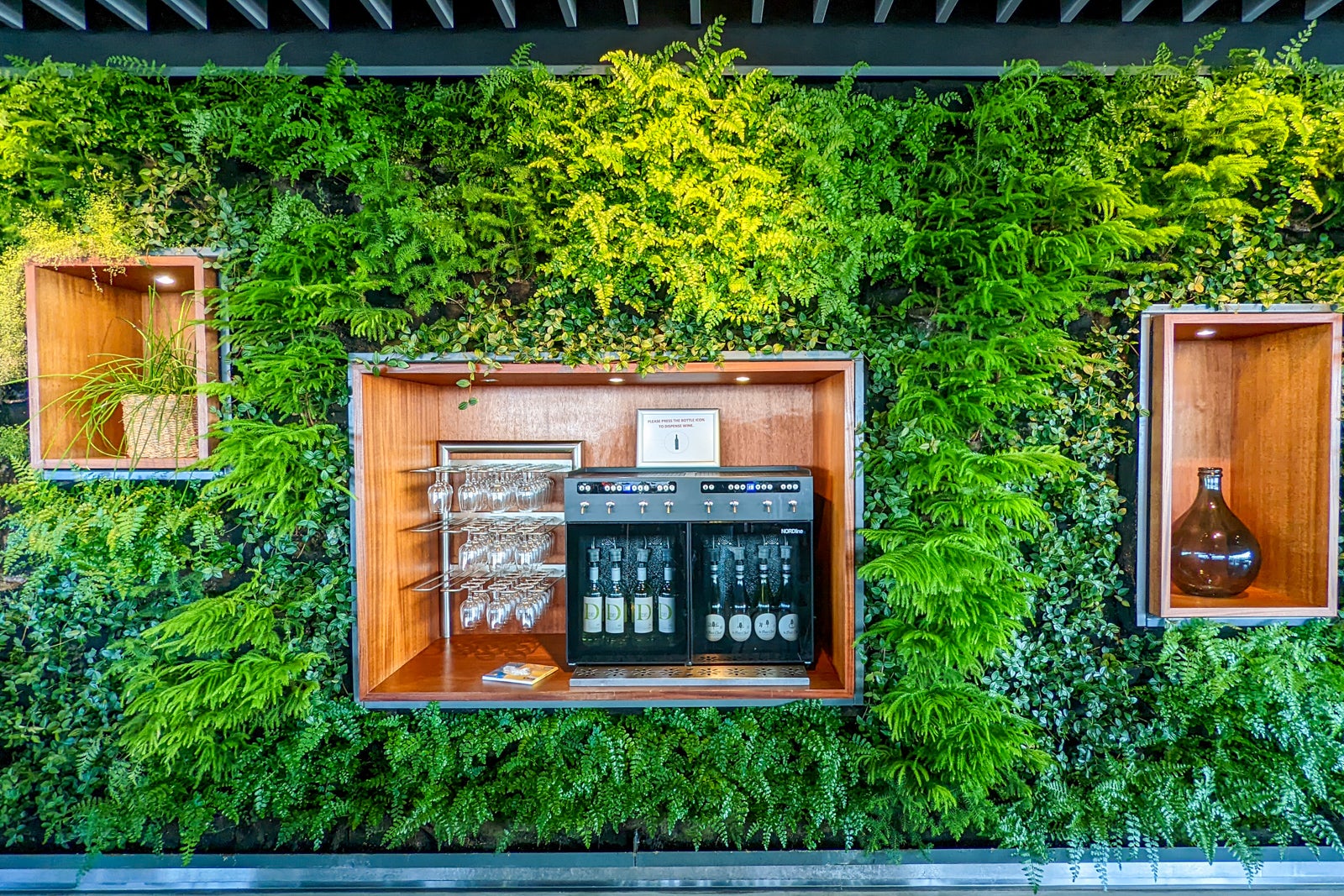 I arrived at my gate early to try and be one of the first to board. However, there were no announcements until just before boarding commenced at 11 a.m. when the gate staff advised passengers on the flight that if they didn't have a "docs OK" stamp on their boarding pass, they would need to approach the gate so entry documents could be checked before they would be allowed to board.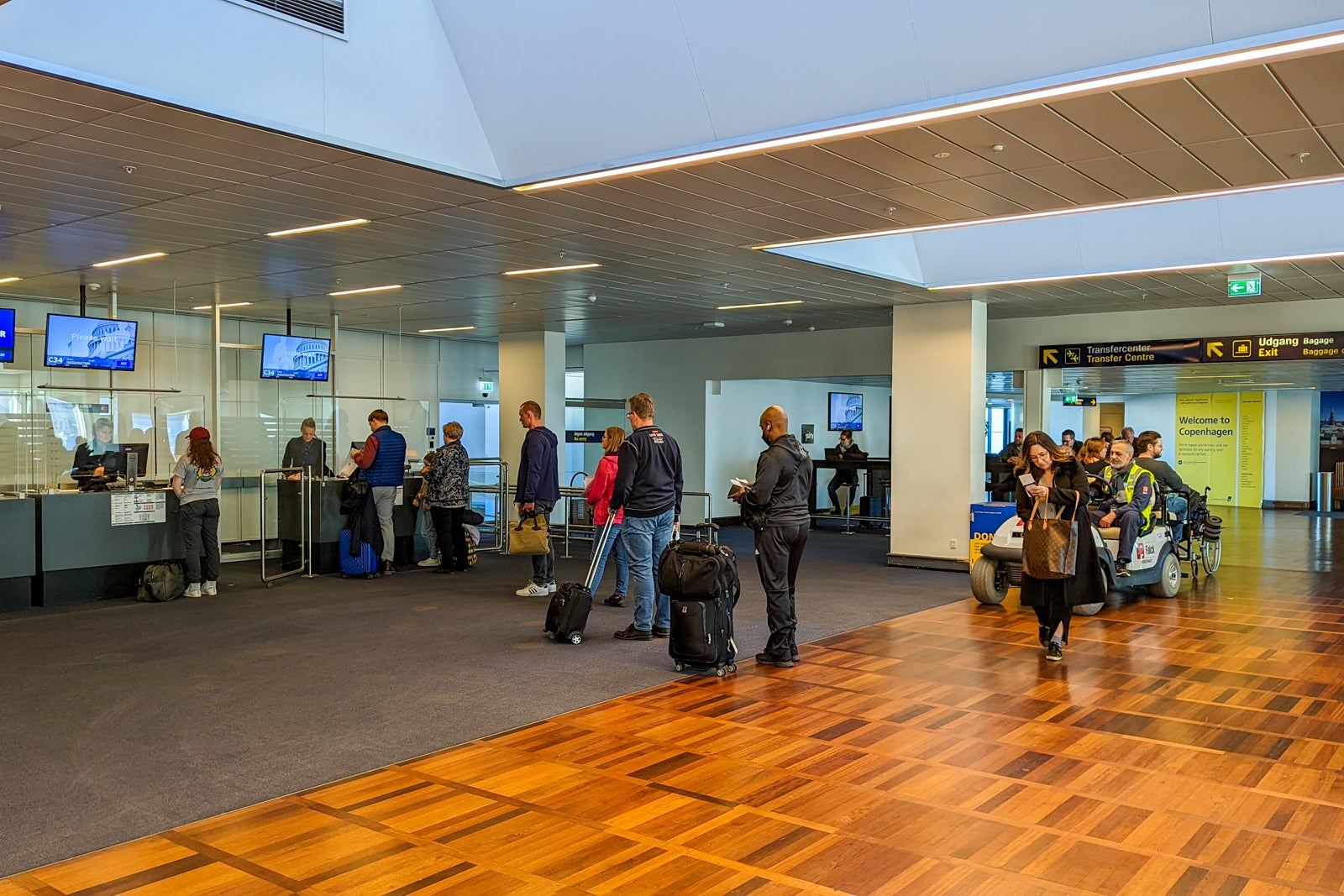 This caused dozens of passengers on the flight to line up to have their documents checked at once.
Moments later, a different gate agent announced the start of preboarding, creating a confusing crowd of those waiting to have their documents checked and those trying to board in the same space — it wasn't clear which was which.
To make matters worse, after boarding had commenced, the same gate agent announced that every passenger would need to have a printed, completed COVID-19 attestation for the United States to hand over as they boarded, regardless of how and when passengers had completed this attestation. If passengers like myself only had an electronic copy, they needed to complete another version by hand on the spot at the gate before they could board.
These forms were then collected during boarding with the SAS staff not even checking it had been signed but just dumping all the papers in a big pile on the desk.
Even with fewer than 150 passengers on the flight and a spacious gate area, this was a very disorganized process. I cannot imagine how this would go on a 300-plus-seat wide-body aircraft. Despite being at the gate well over an hour before boarding, I was one of the last business-class passengers to board.
SAS should announce document checks and hand out physical copies of the attestation much earlier, before calling passengers to board, to ensure a smooth boarding process.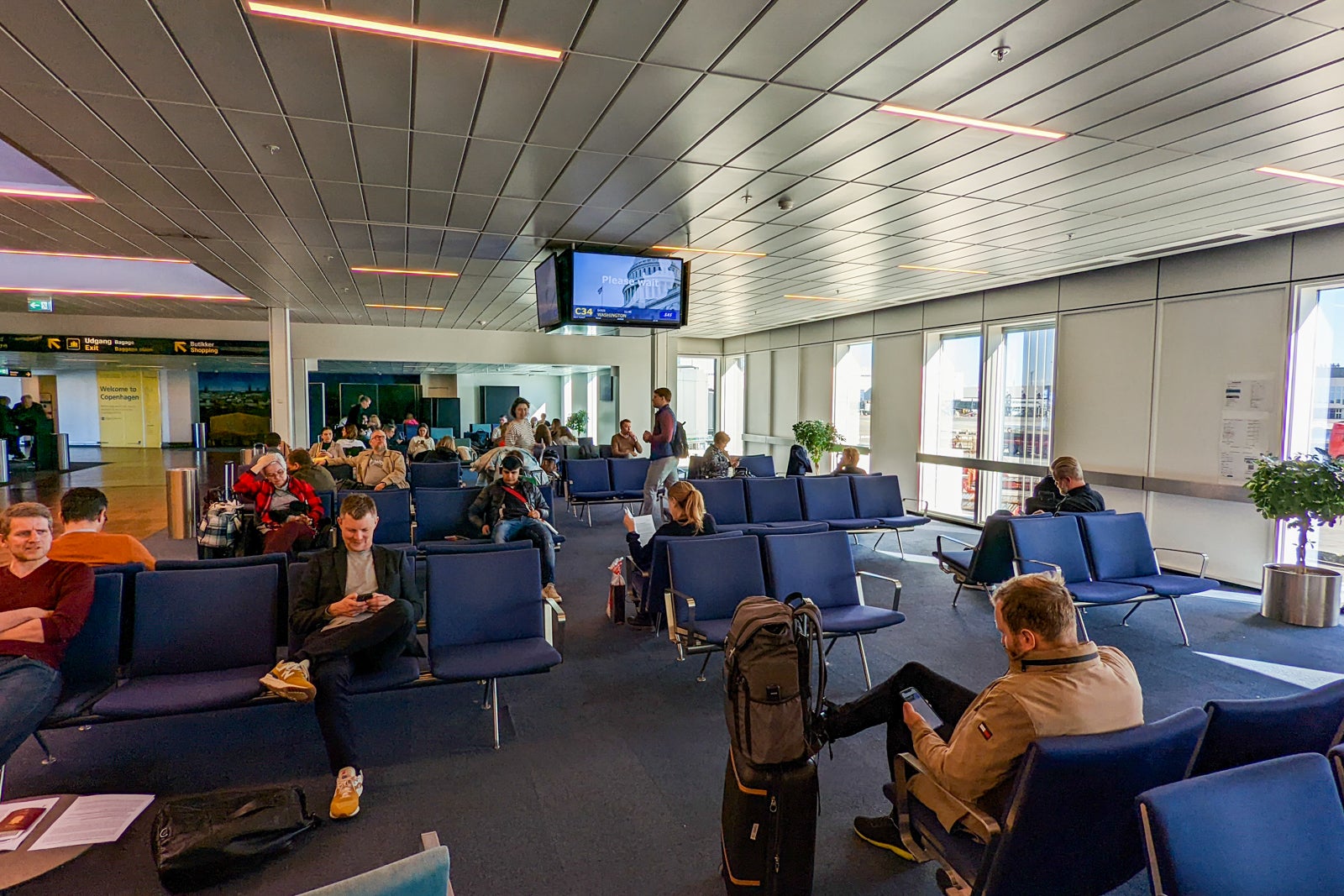 Cabin and seat
SAS has chosen the Thompson Vantage seat for its A321LR business-class cabin, with 22 seats spread across seven rows. Each seat is upholstered in a light gray and "SAS blue" palette and laid out in either a 2-2 or a 1-1 configuration in alternating rows.
Each seat is 24 inches wide and has 44 inches of pitch. This same style of seat can also be found on A321LR aircraft operated by Aer Lingus and TAP Air Portugal, and on Singapore Airlines' new B737-8 aircraft.
JetBlue also chose this seat for its original Mint business-class product though the airline has since upgraded to a more premium 1-1 configuration for its new transatlantic flights.
What this means, in reality, is that there are two very different types of seats in one cabin.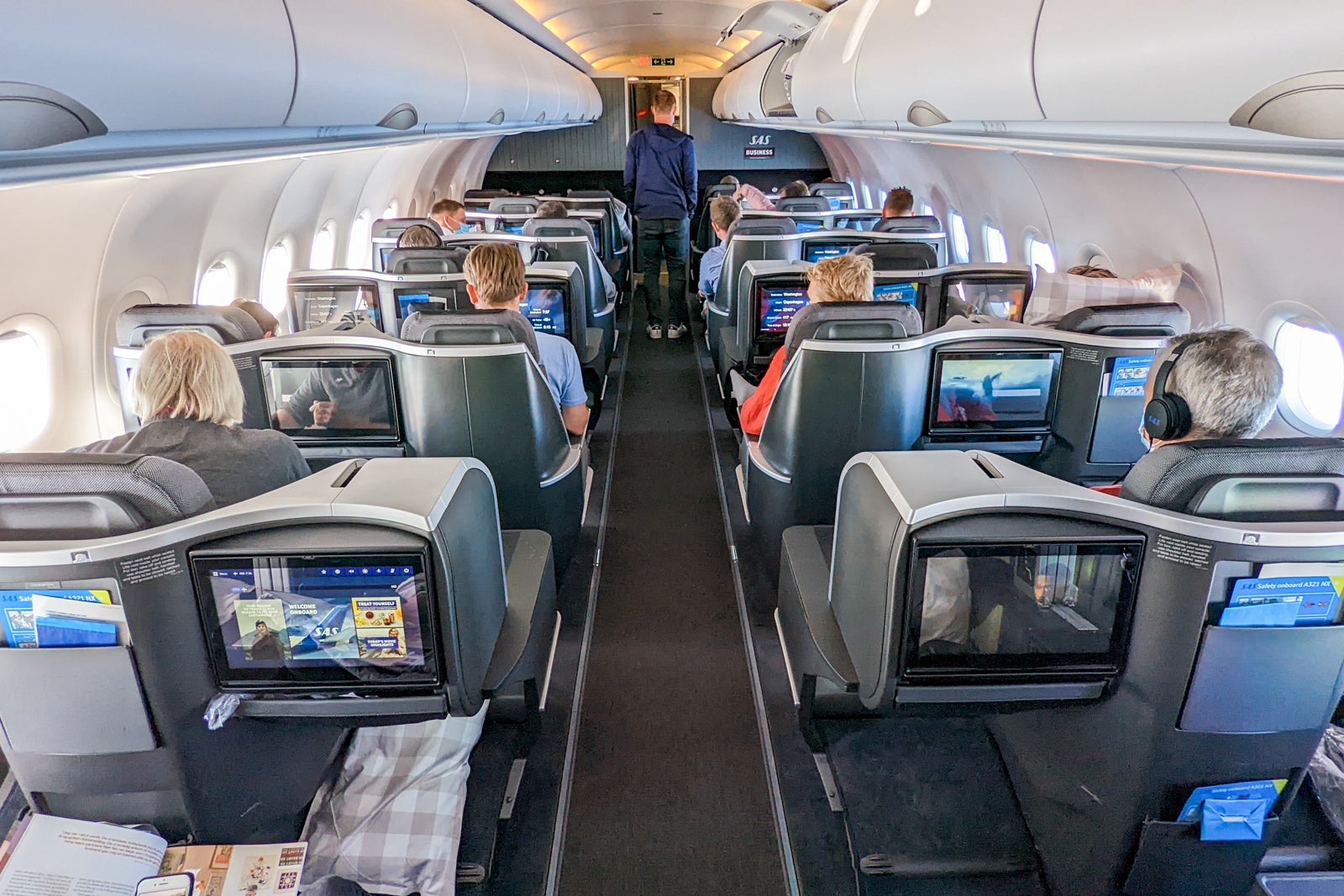 The odd-numbered rows have two seats close together on each side of the aisle. While intimate for pairs traveling together, both seats have virtually no personal storage space or privacy and the passenger in the window seat does not have direct aisle access.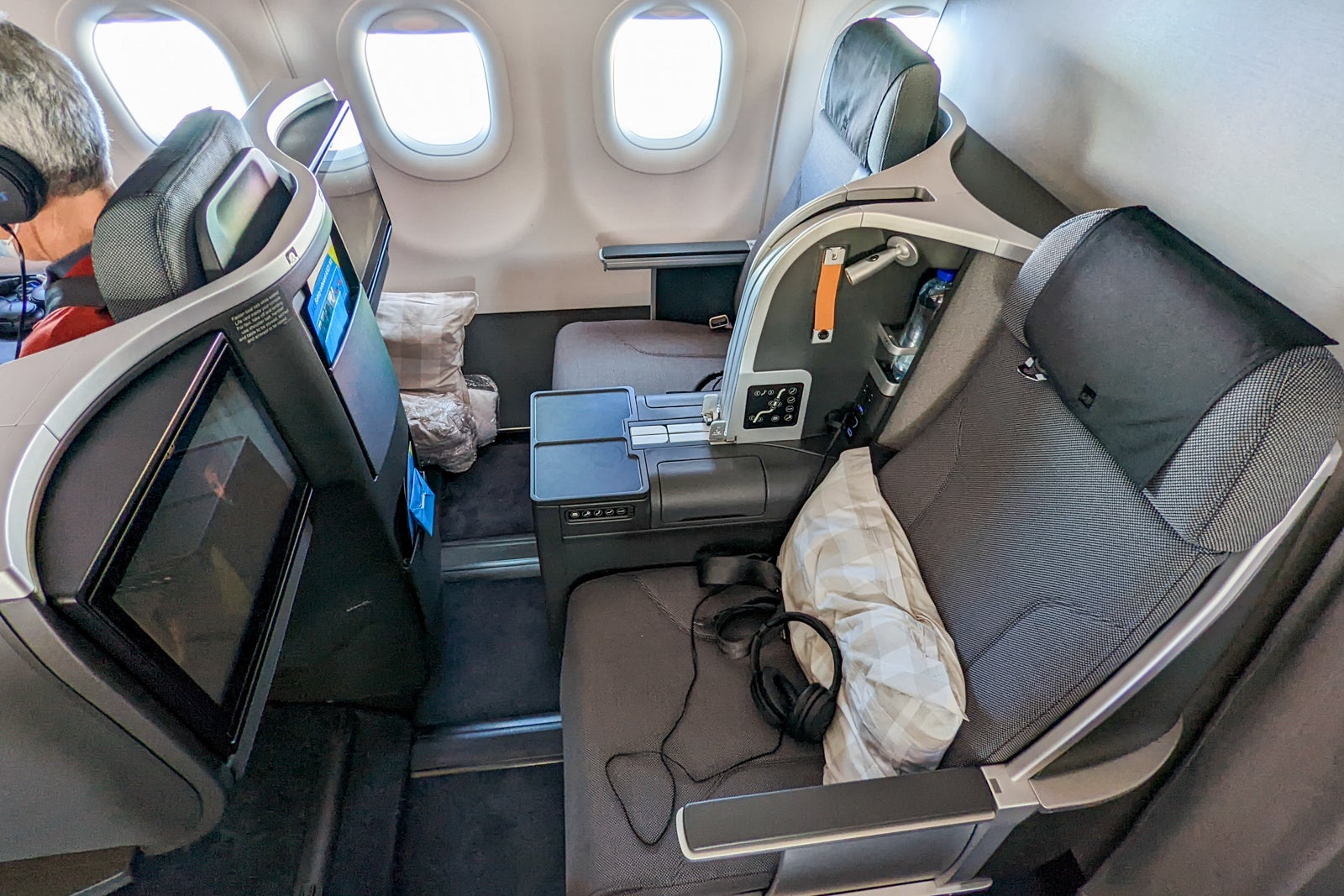 For a new plane in 2022, I do not consider this to be an enjoyable business-class seat for a transatlantic flight. Compare this with JetBlue, which is also operating similar-length transatlantic flights on a narrow-body aircraft — it has chosen a 1-1 layout for its Mint business class, which gives all passengers direct aisle access, storage and privacy.
In the even-numbered rows, with just one seat on each side of the cabin, there are what are informally known as "throne" seats. These are substantially better than the paired seats in front and behind, with plenty of storage, decent privacy, no seat neighbor and direct aisle access.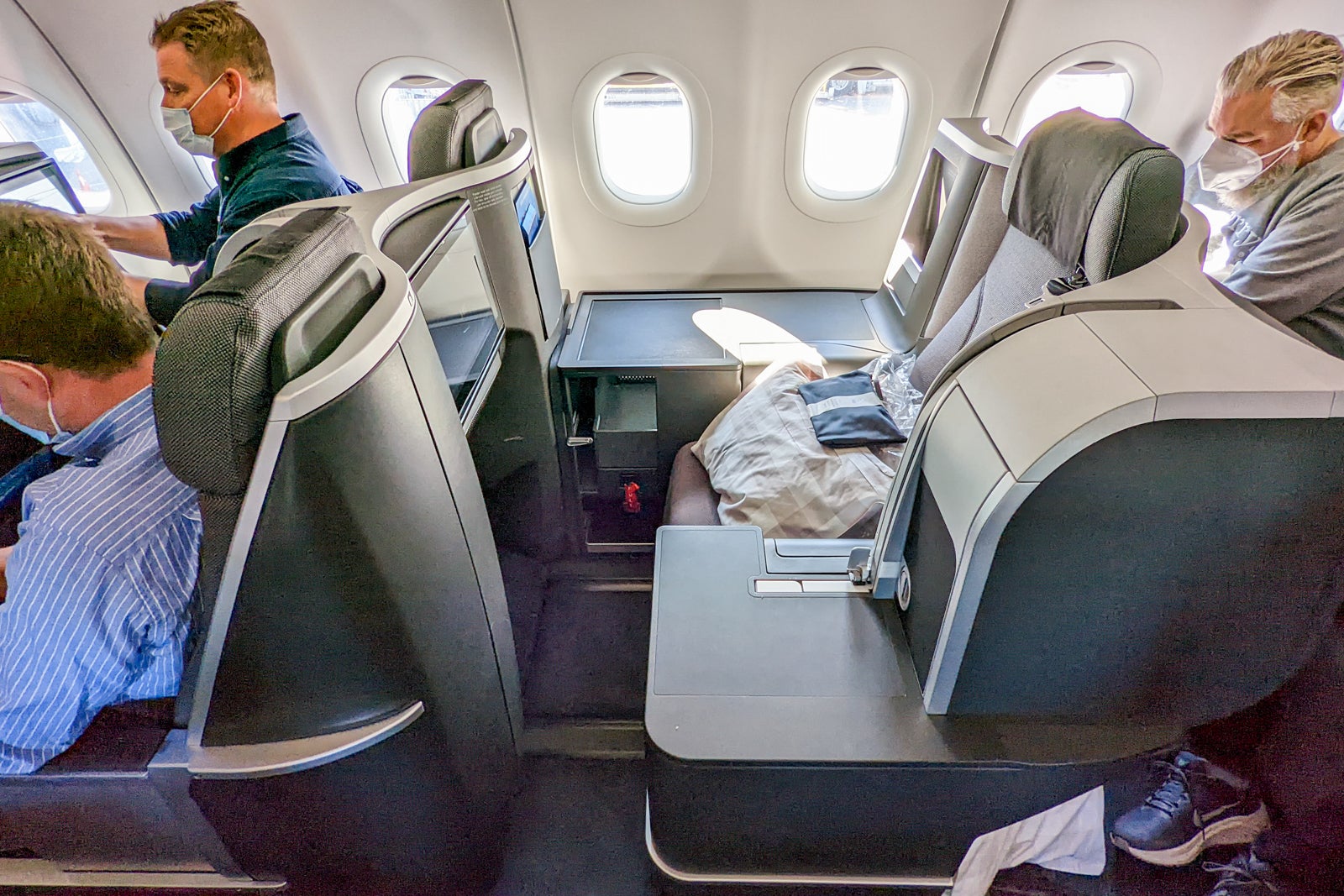 I had carefully selected a solo seat in row four and was extremely glad I did. SAS currently charges no extra fee to select one of these seats (and I have no Star Alliance elite status), which really surprised me.
These seats are inarguably better than the couple seats and I would gladly pay a $150 surcharge to assign myself one. I received a number of jealous looks from those stuck in the paired seats, especially passengers not traveling together, as I enjoyed my modicum of private space.
The seat contains a substantial number of storage options, including a big bin next to the aisle, which could easily fit a handbag or folded coat, a mesh pull-down pocket under the entertainment screen for lighter items like a phone or amenity kit, a document holder next to the window and some smaller cubbyholes for shoes under the window. Even as we were coming in to land I was still finding additional compartments around the seat and it took me quite some time to check I had gathered all my belongings before exiting the plane.
Charging plugs including USB ports were also available.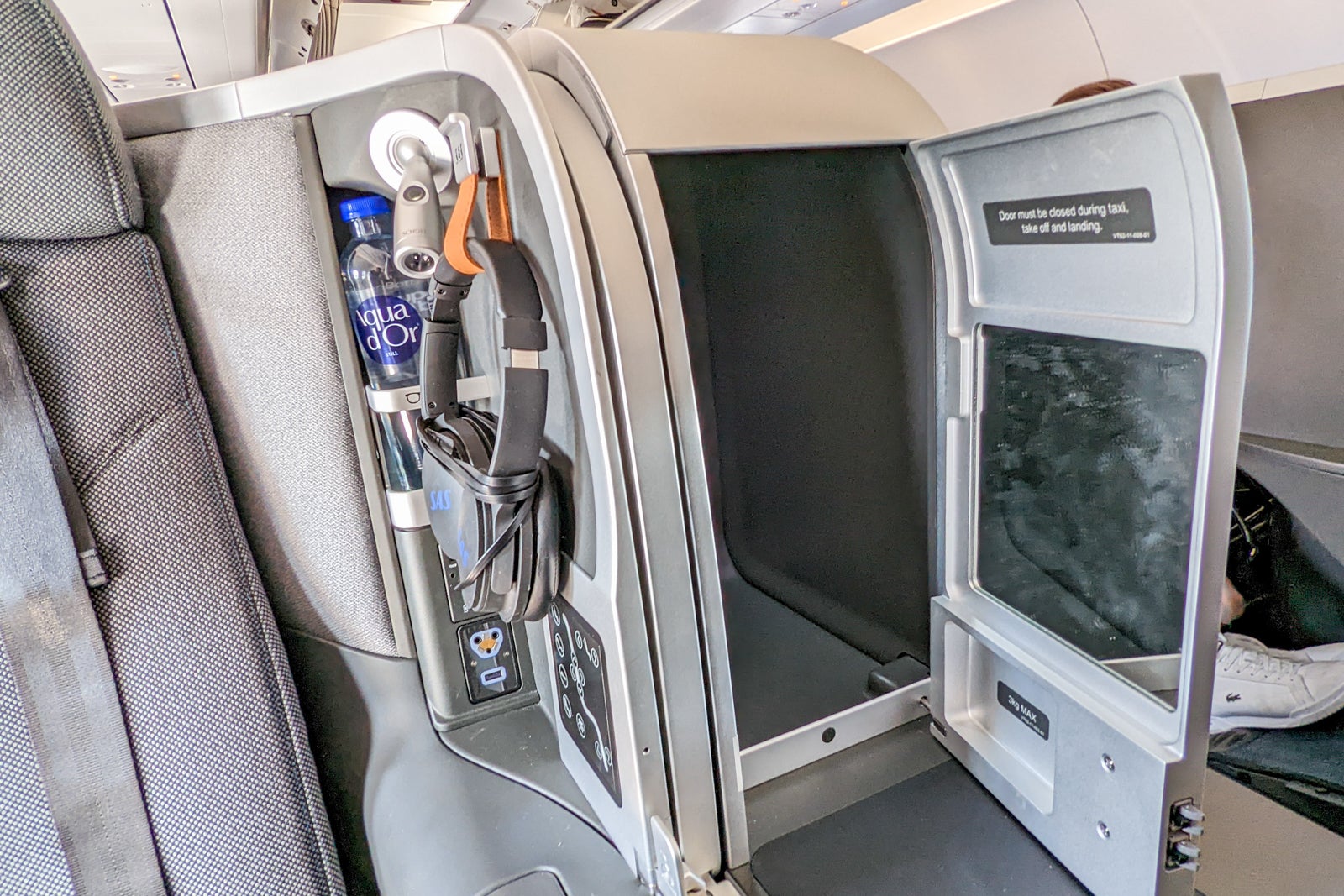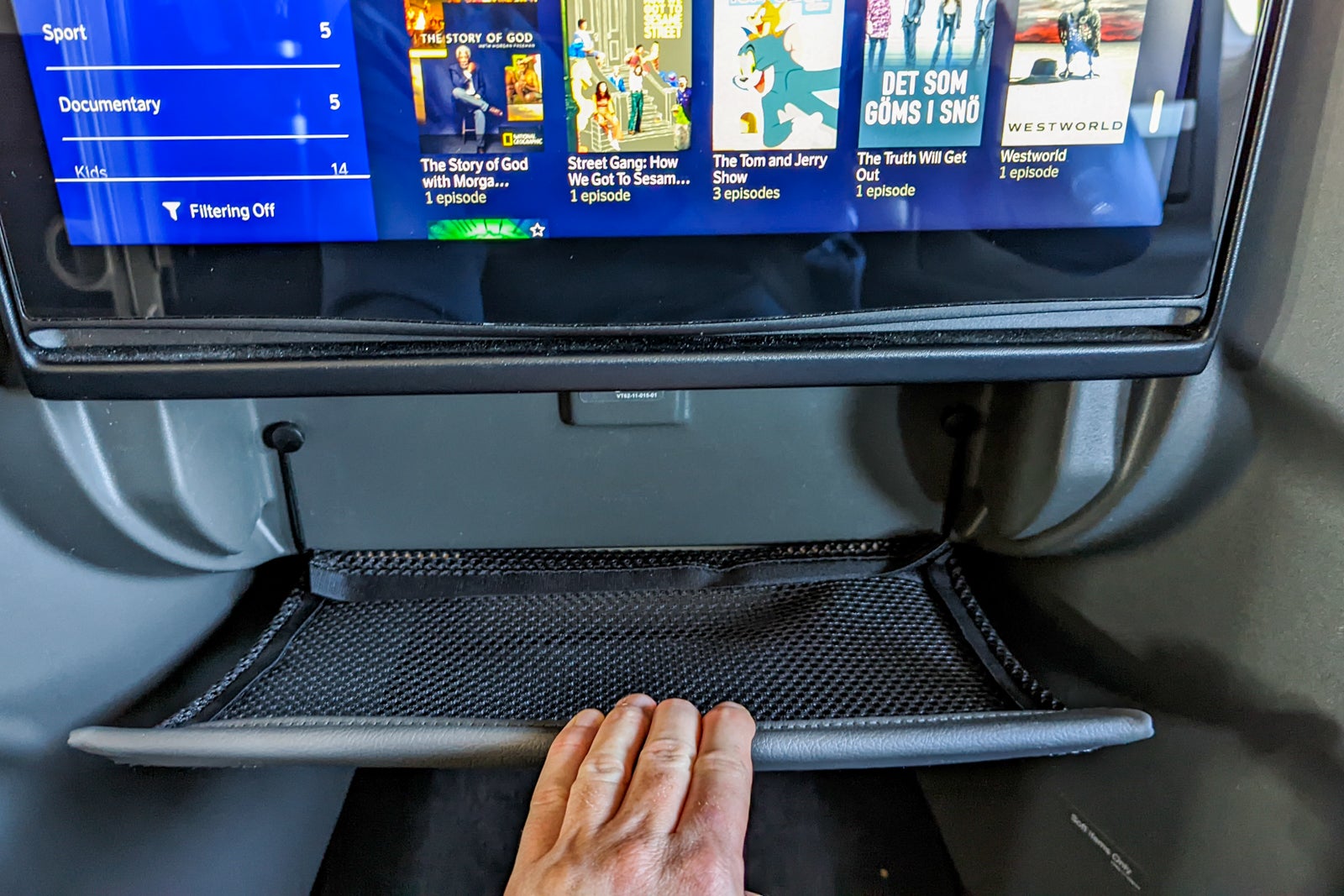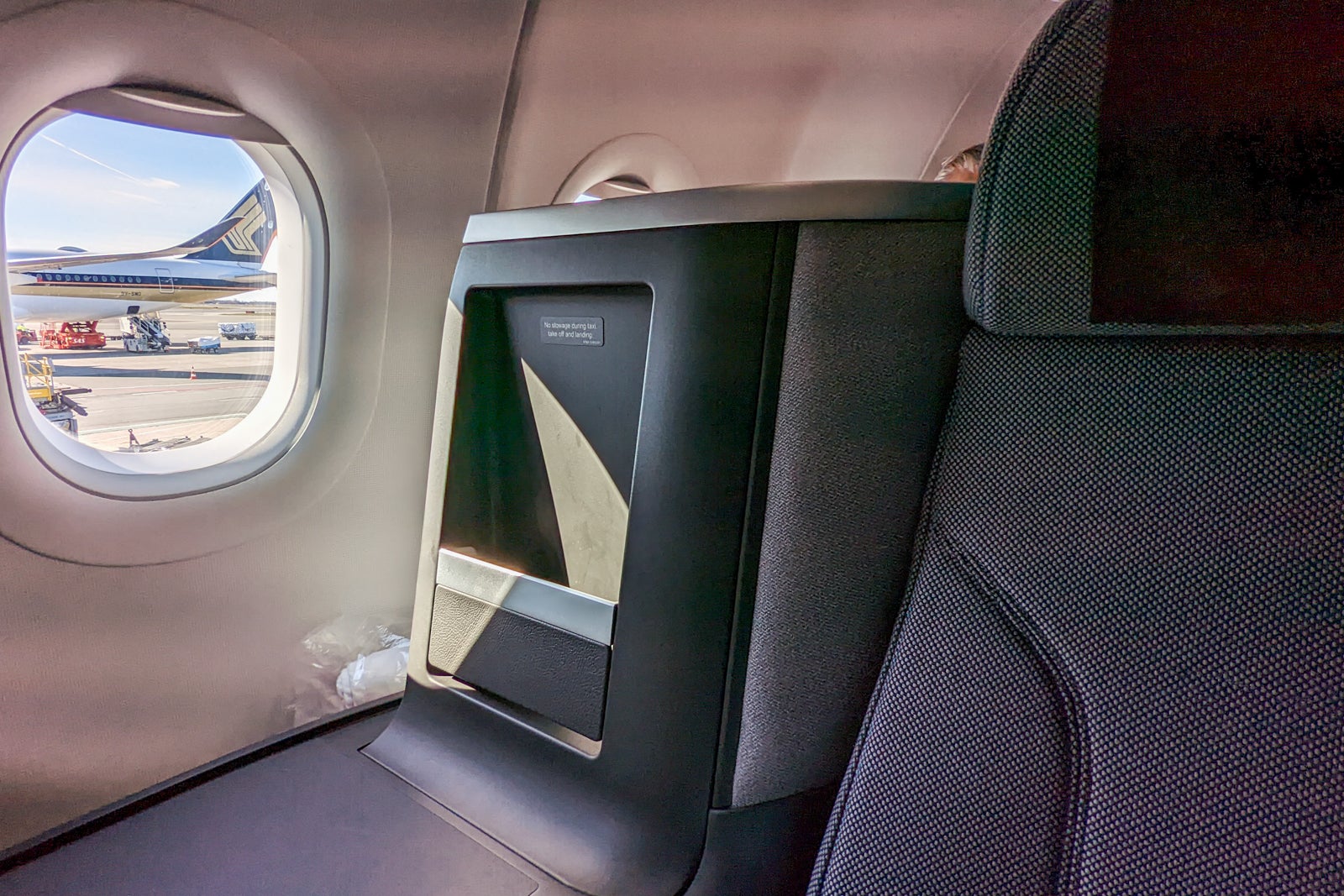 I reclined my seat fully flat for a quick midflight nap — the mattress pad was a luxurious feature for a daytime flight.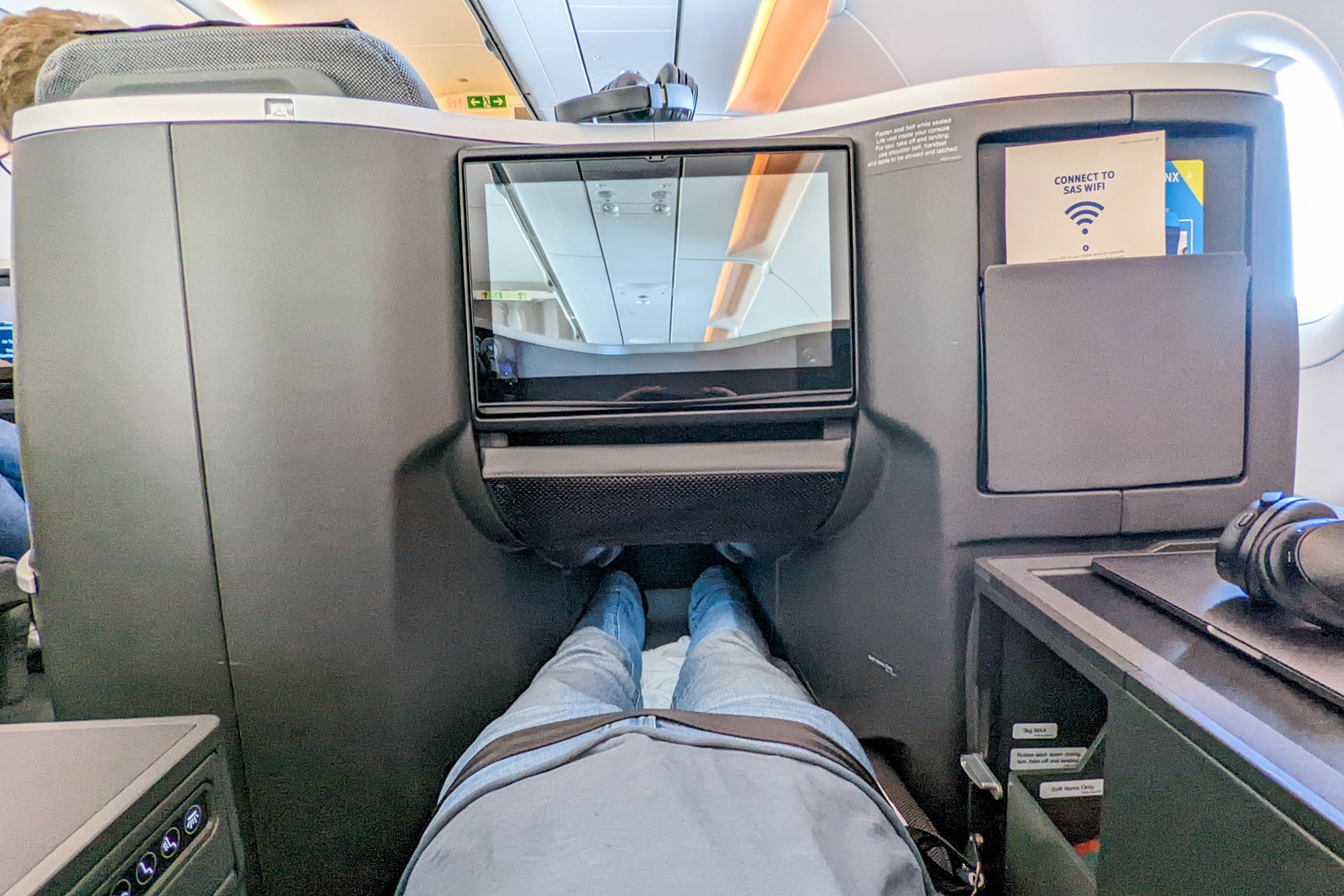 My 6-foot-tall frame and large feet managed to fit in the foot cubby without any issue and I don't think I would have any problem getting a good night's sleep on an overnight flight in this 76-inch lie-flat bed.
Amenities
Awaiting me on my seat was an amenity kit, mattress pad, comforter and pillow for this daytime flight. The checkered design of the bedding was a homely nod to Scandinavian design from Swedish premium bed manufacturer Hastens.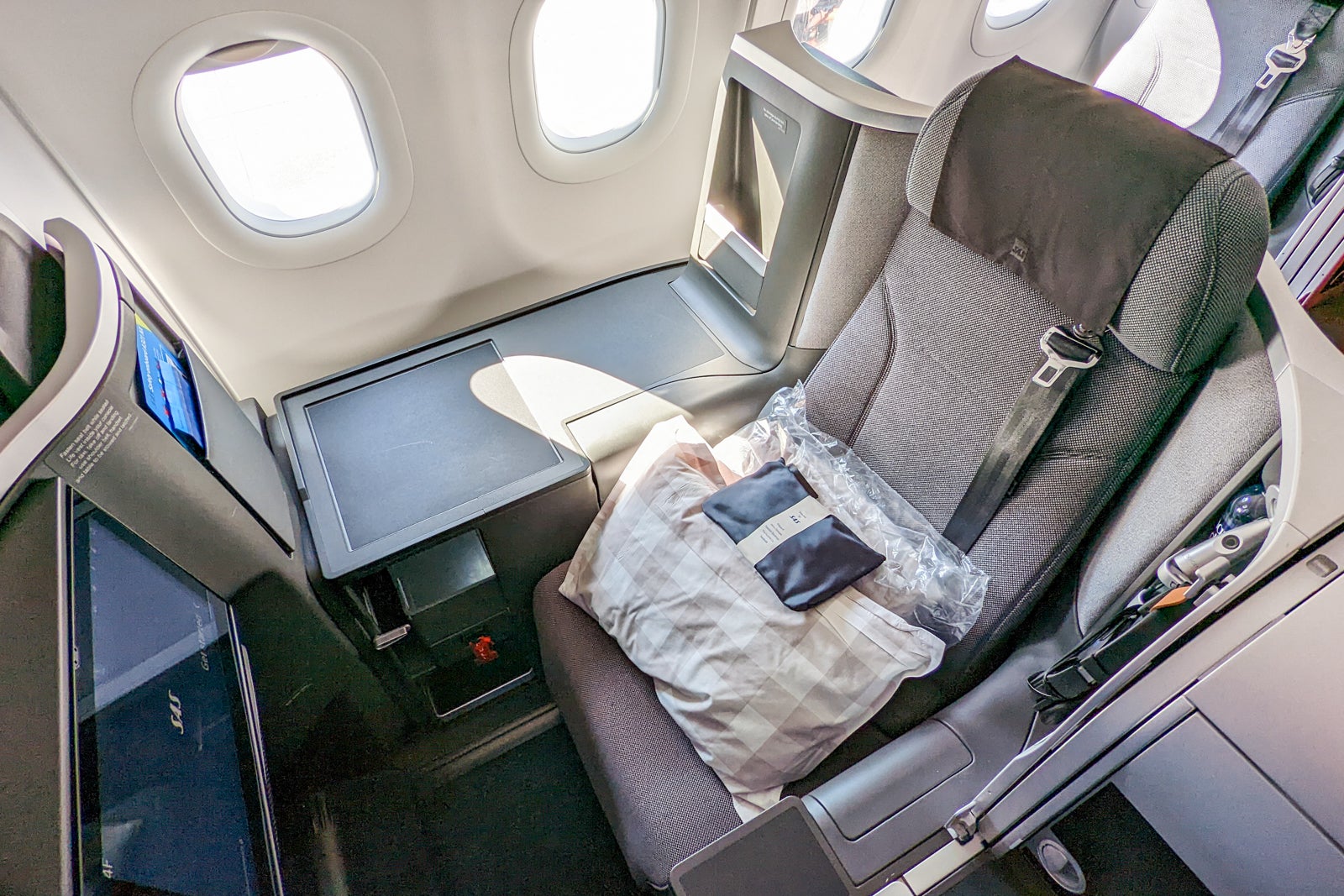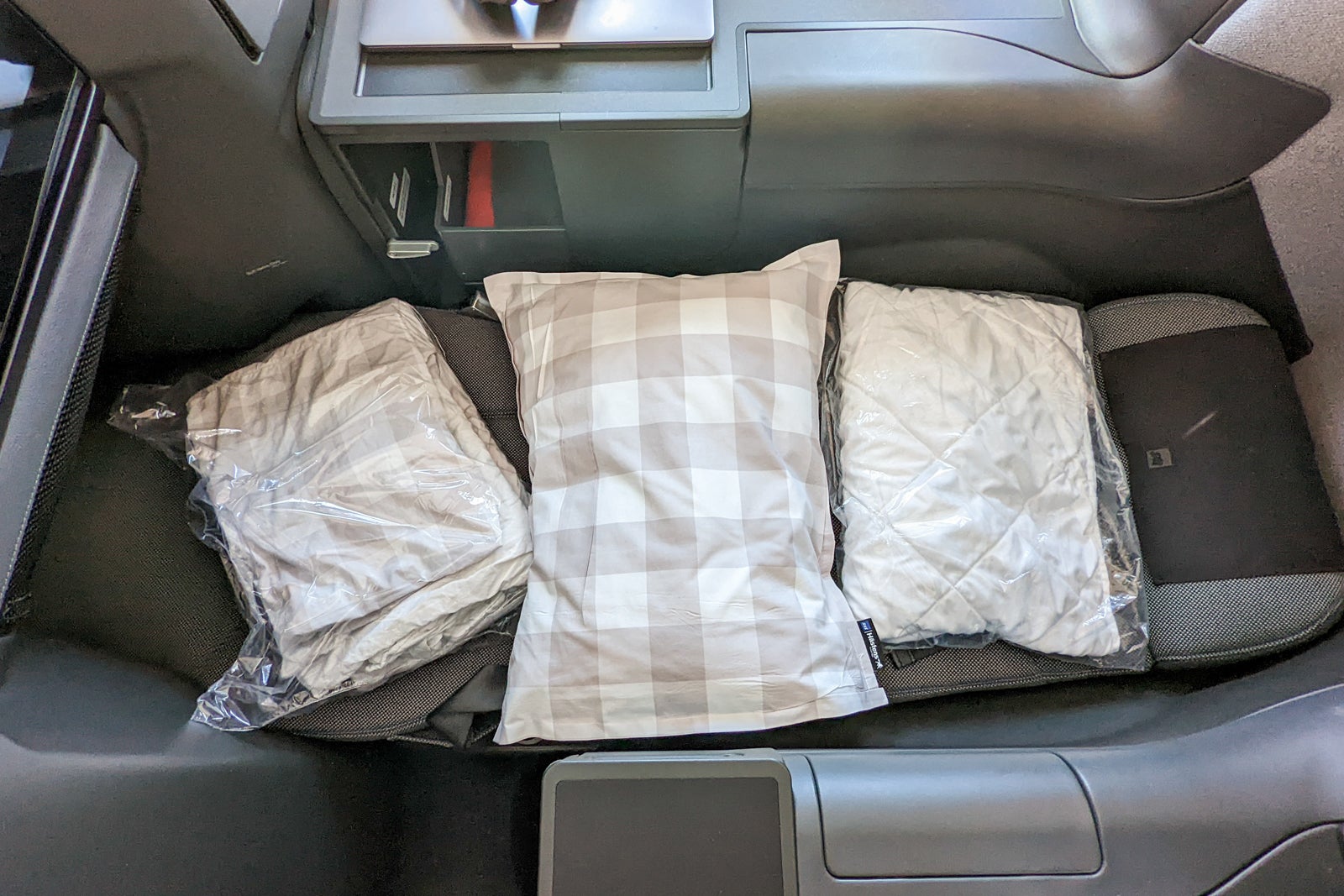 The amenity kit was stocked with Verso face moisturizer, a mint-scented lip balm, earplugs, sleep socks, an eye mask and a sustainable Humble Brush vegan bamboo toothbrush — I didn't know other toothbrushes might contain animal products.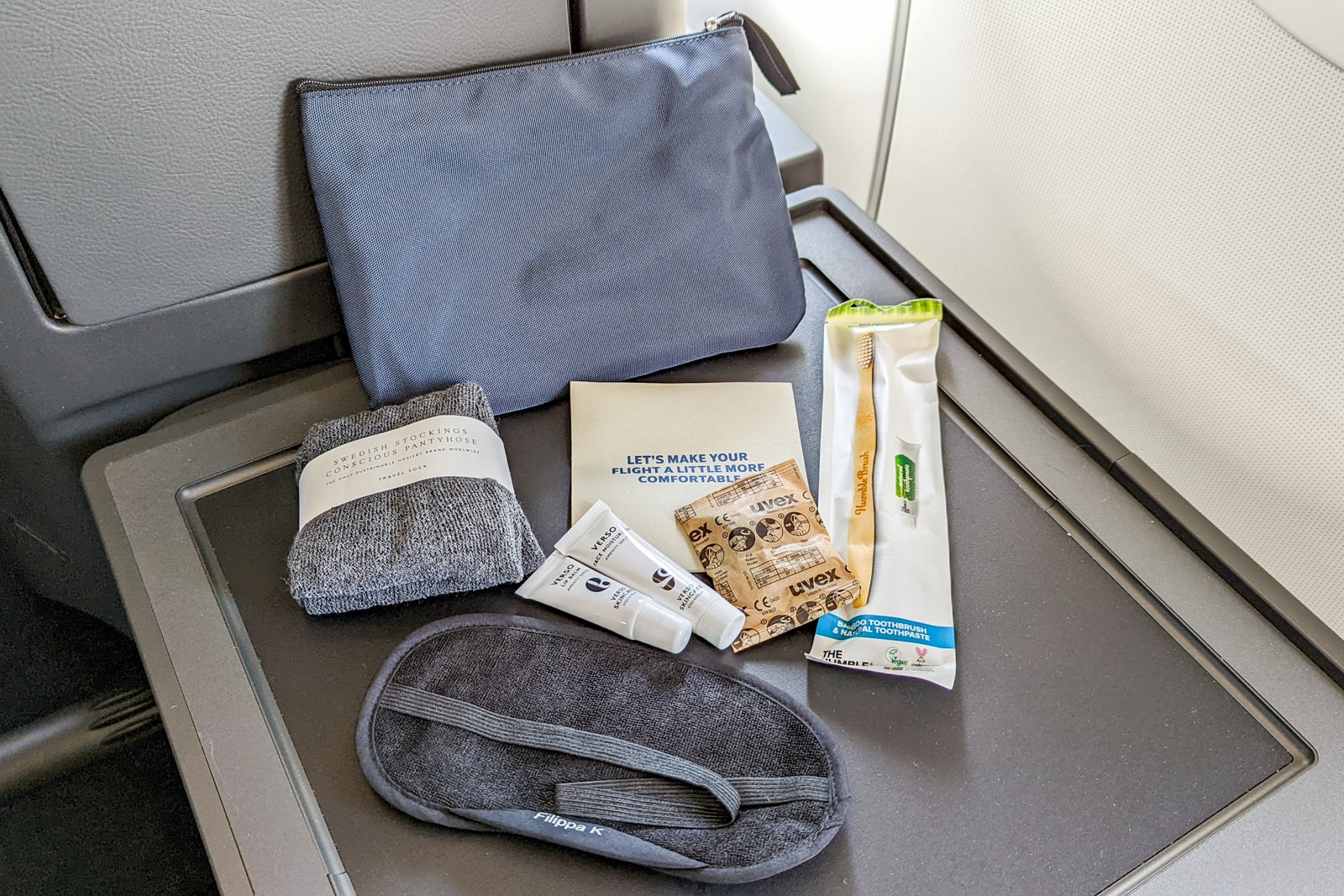 The SAS-branded noise-canceling headphones were good quality and there was also a bottle of water waiting for me at my seat when I boarded. There was a crisp new 16-inch touchscreen with a choice of 57 movies or 87 television shows.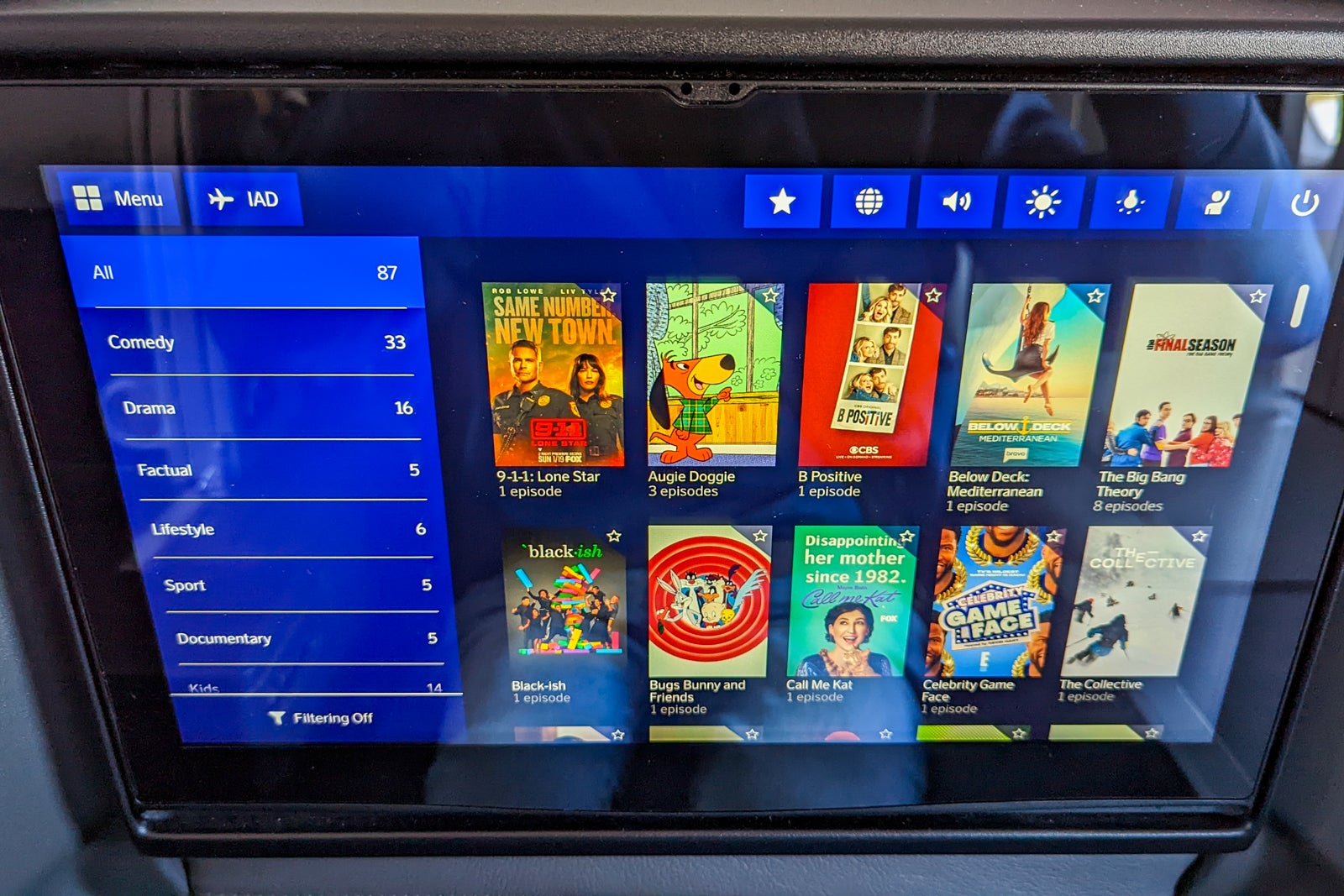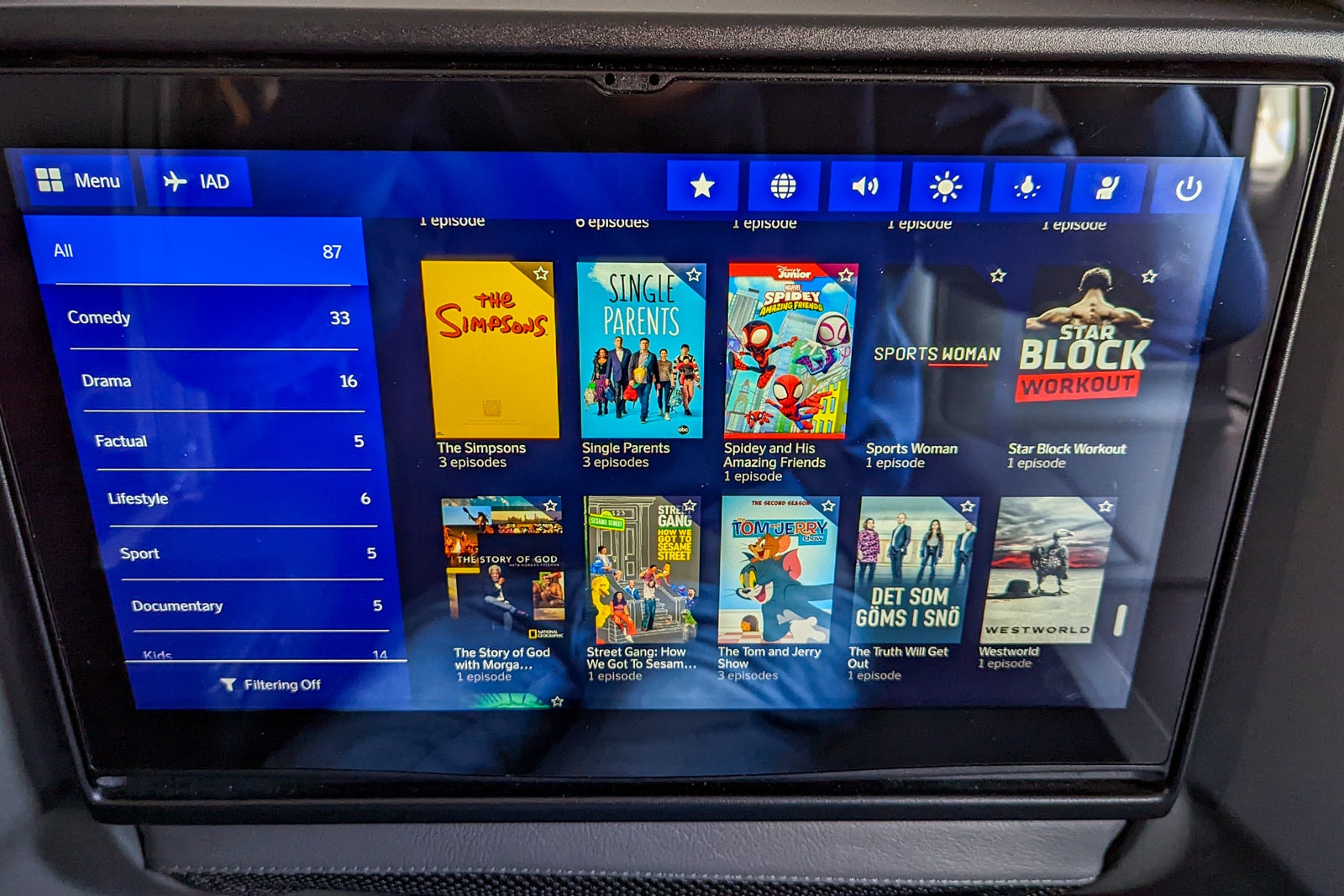 The screen and some seat features could also be controlled with a remote hidden in a small compartment next to the seat controls, but there were so many storage compartments at my seat I didn't find the remote until the end of the flight.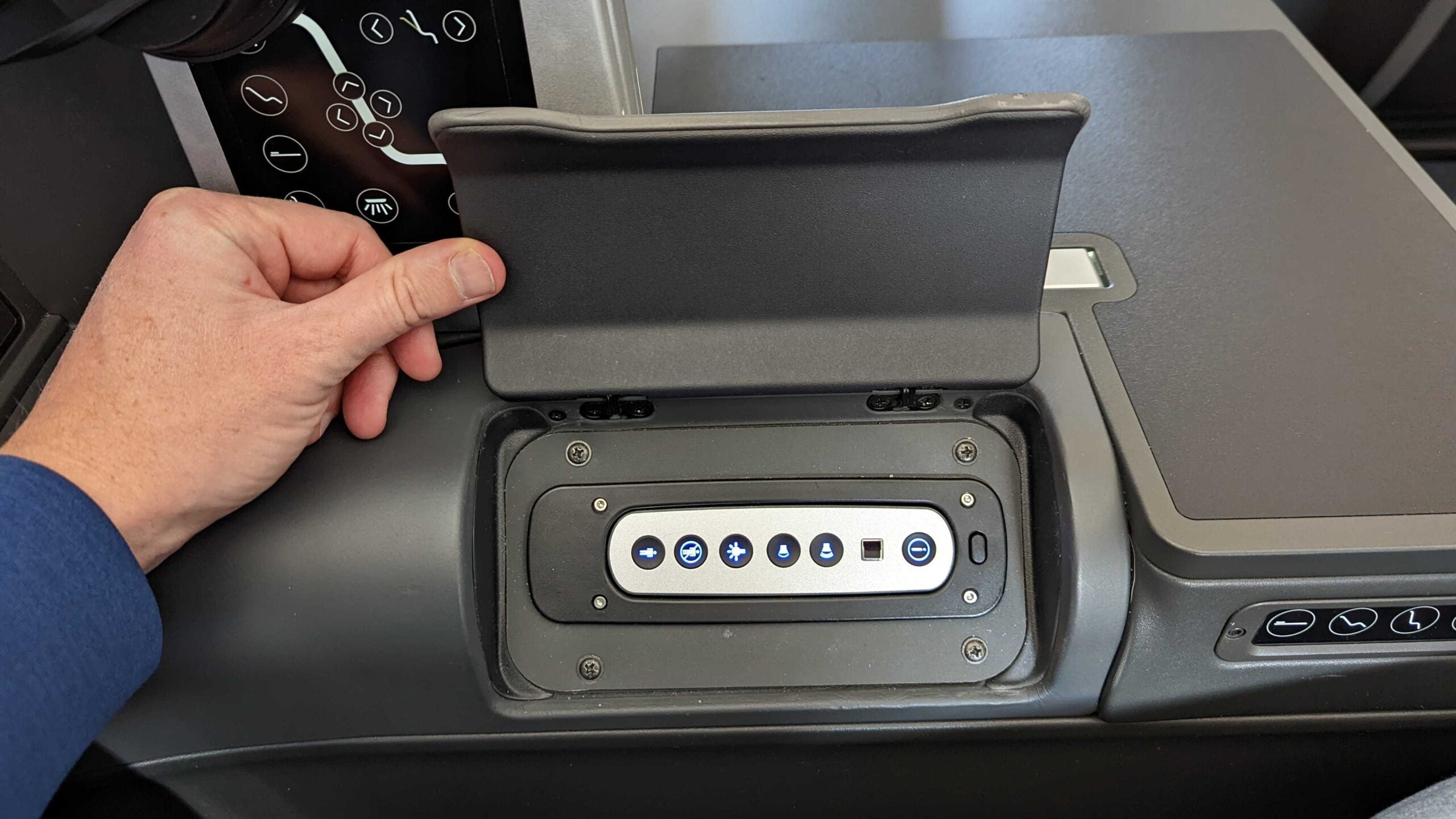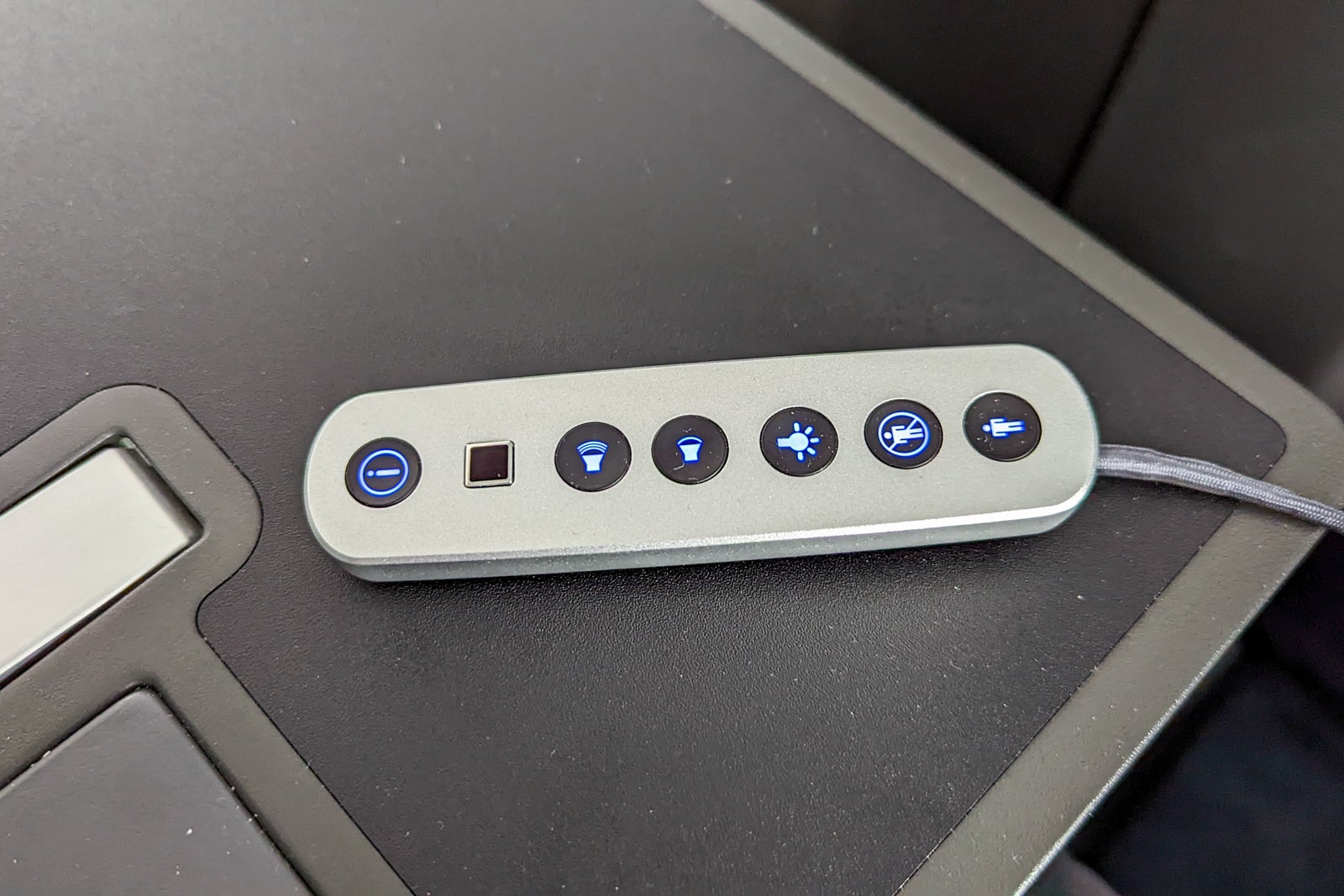 Wi-Fi was provided free for all business-class passengers by entering your Passenger Number Reference and surname on the login screen. Download speeds were an impressive 37 Mbps, which allowed me to work productively for several hours during the flight.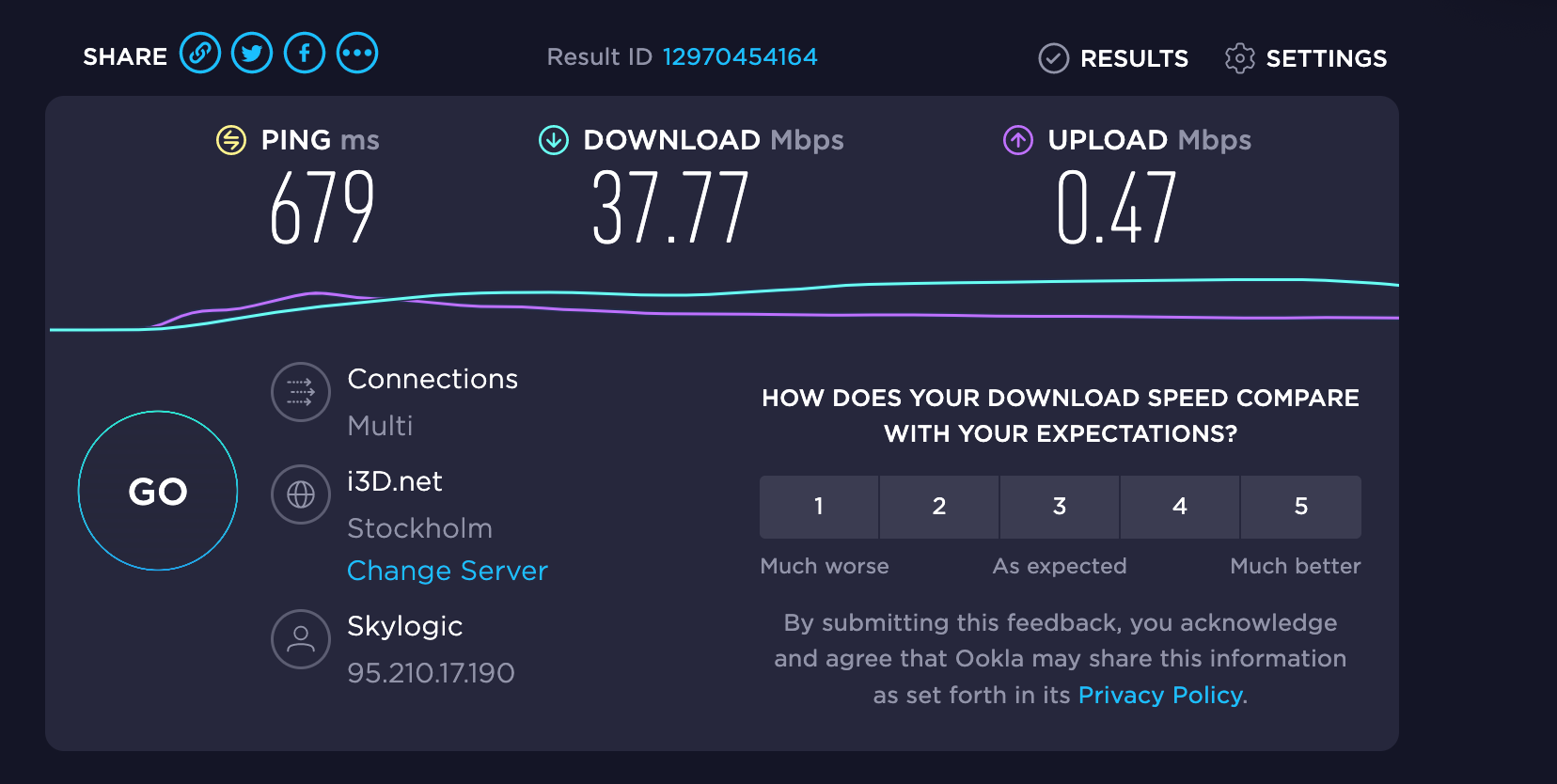 There was a single bathroom at the front of the plane for the business-class cabin which was a very tight squeeze, but with only 22 seats in the cabin, and a few empty, there was never much of a wait.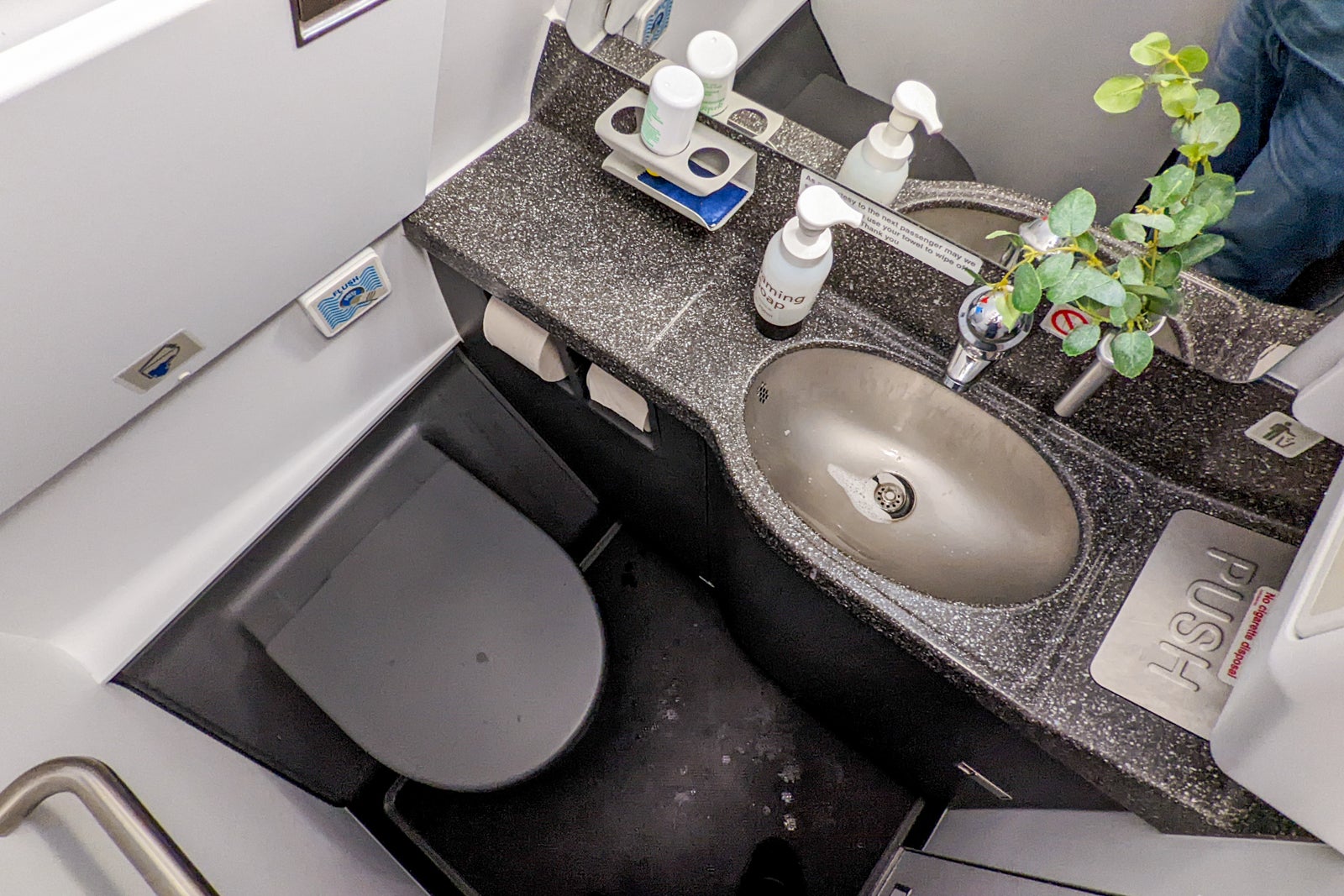 Food and beverage
The beverage menu was available on the inflight entertainment screens; however, no printed food menus were distributed which was disappointing.
Shortly after takeoff a drinks trolley was wheeled through the cabin and I selected a glass of Champagne and sparkling water. While the menu on the inflight screen listed the Champagne as Gosset Grande Reserve N.V., I was poured a glass of Joseph Loriot-Pagel Special Club 2012 instead.
This was served with a packet of salted cashew nuts, which felt like an elevated snack choice compared with the cheaper mixed nuts served to business-class passengers on some other airlines across the Atlantic.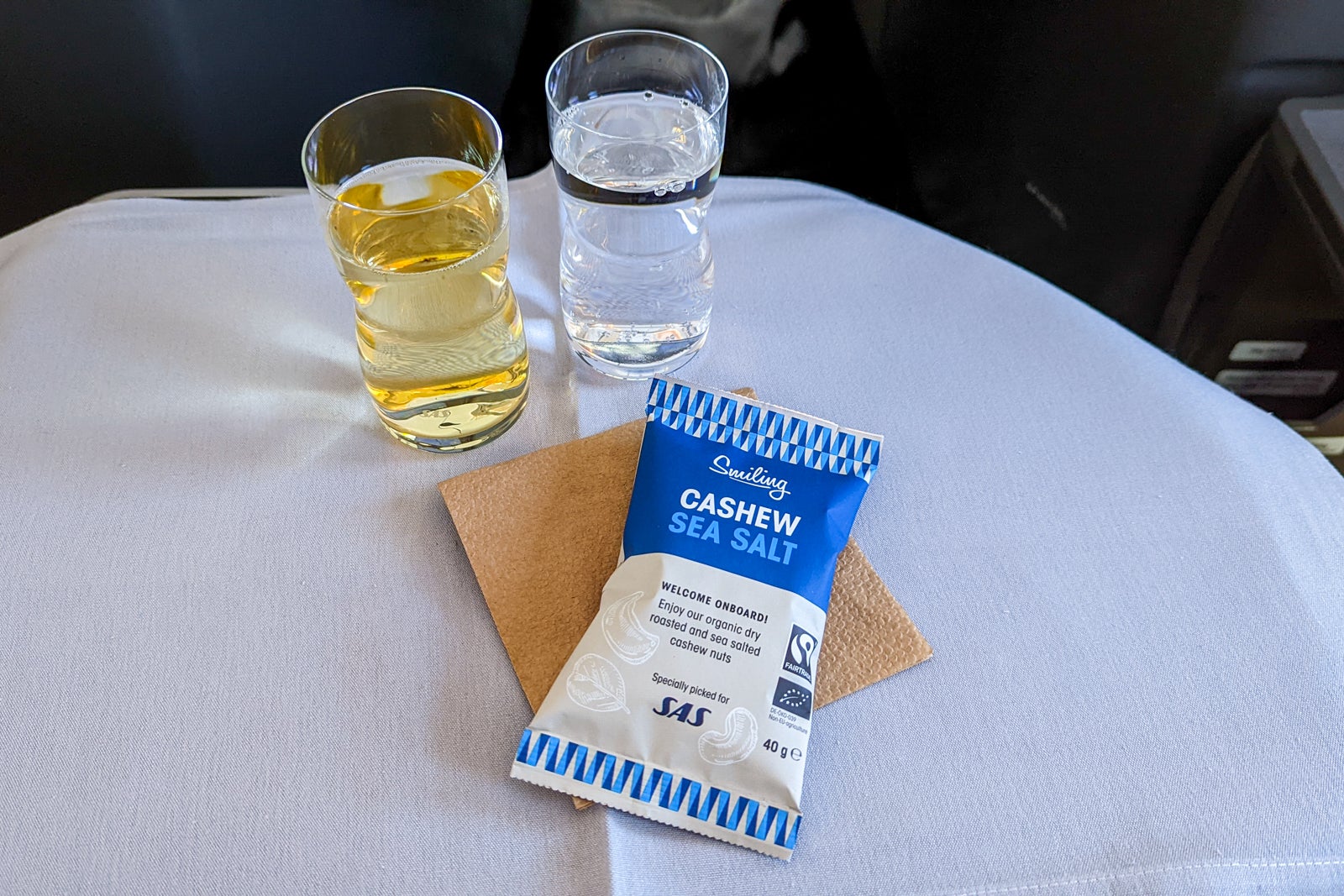 After a drinks service, the trolley appeared again, with the crew only announcing options between "barbecue beef or chicken with rice."
With only 22 seats in the cabin and a long flight ahead of us, this service could surely have been done from the galley for a more premium-seeming a la carte offering. A crew member revealed to me that SAS traditionally served business-class meals from the galley (like in a restaurant), but this was canceled during the pandemic and has not yet resumed.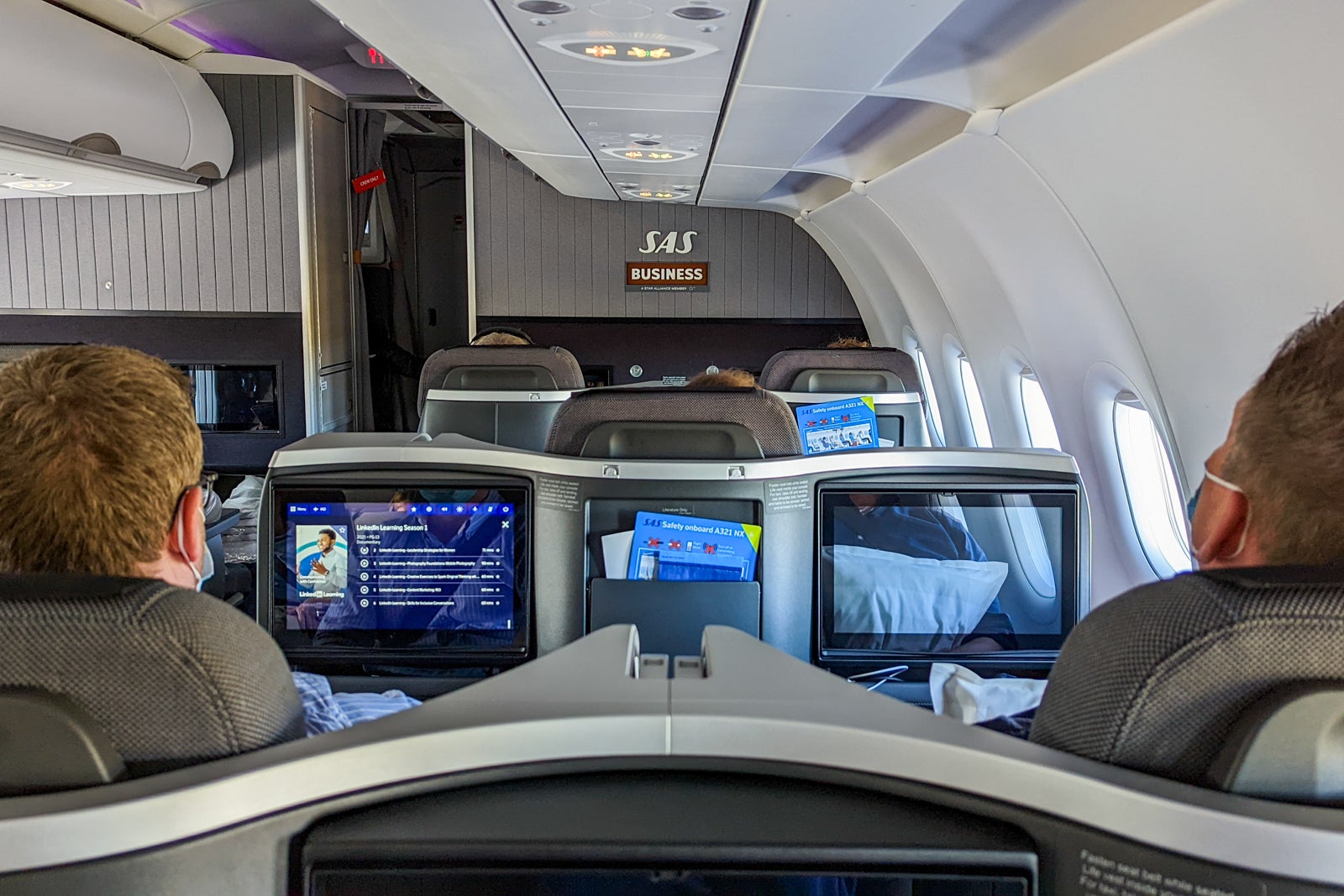 I chose the beef, which was served on a single tray with the rest of the meal, each plate with covers still on. To start there were slices of cured salmon with horseradish cream and pearl couscous.
The main course was tasty — the slices of soft barbecued beef had a noticeable smokey flavor in a rich sauce and the mixed beans were a great accompaniment. The tartness of a glass of Vickery Eden Valley 2017 Dry Riesling from my home state of South Australia cut through the richness of the meat.
I don't have a real sweet tooth but the chocolate tart for dessert was a nice way both in presentation and taste to finish a high-quality business-class lunch.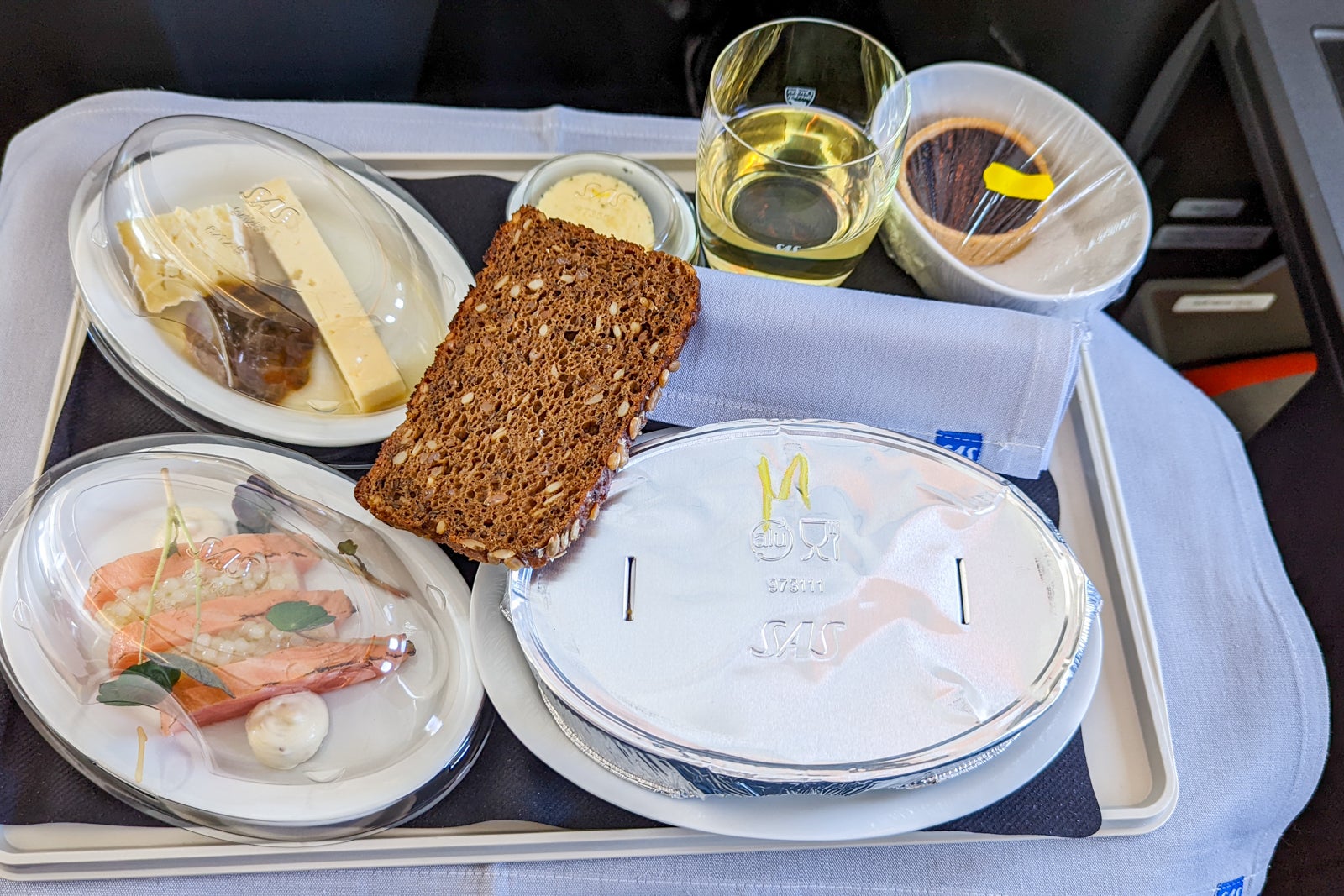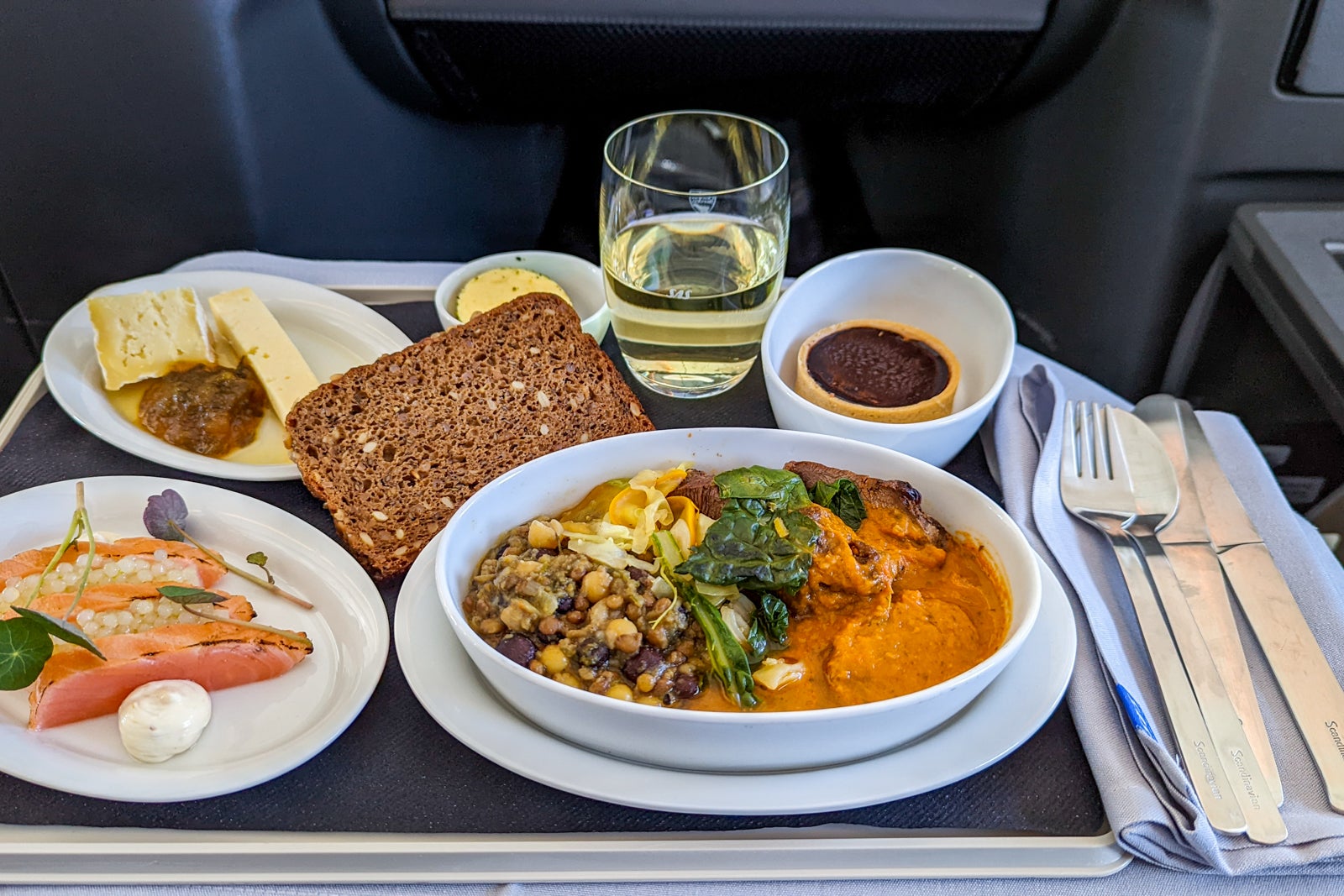 A light meal was served around two hours before landing and consisted of slices of cured pork on dark rye bread. Having eaten similar dishes on visits to Scandinavia, I enjoyed it. The meager fruit salad served on the side with only three pieces of fruit, two of which were melon, could have used some upsizing, however.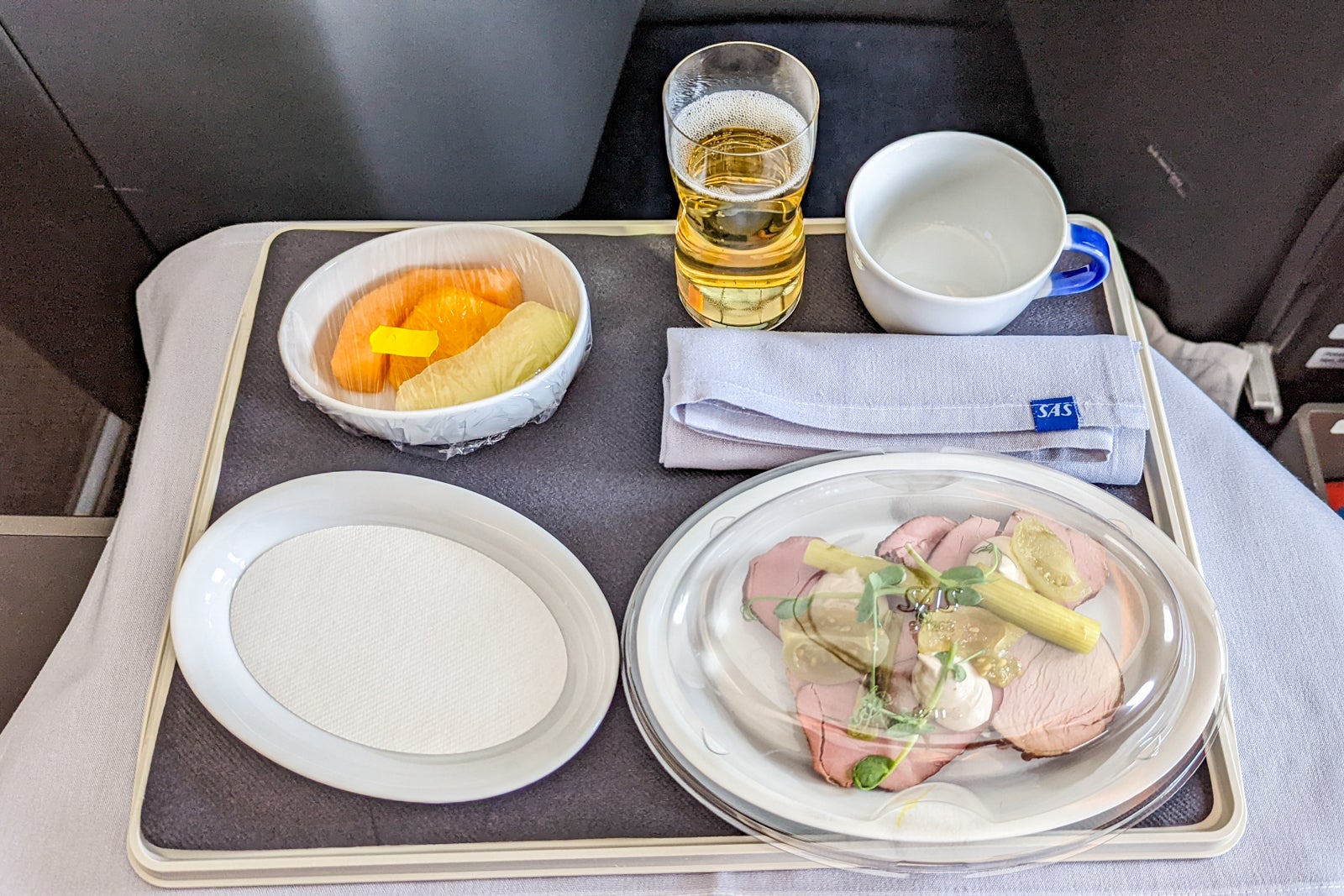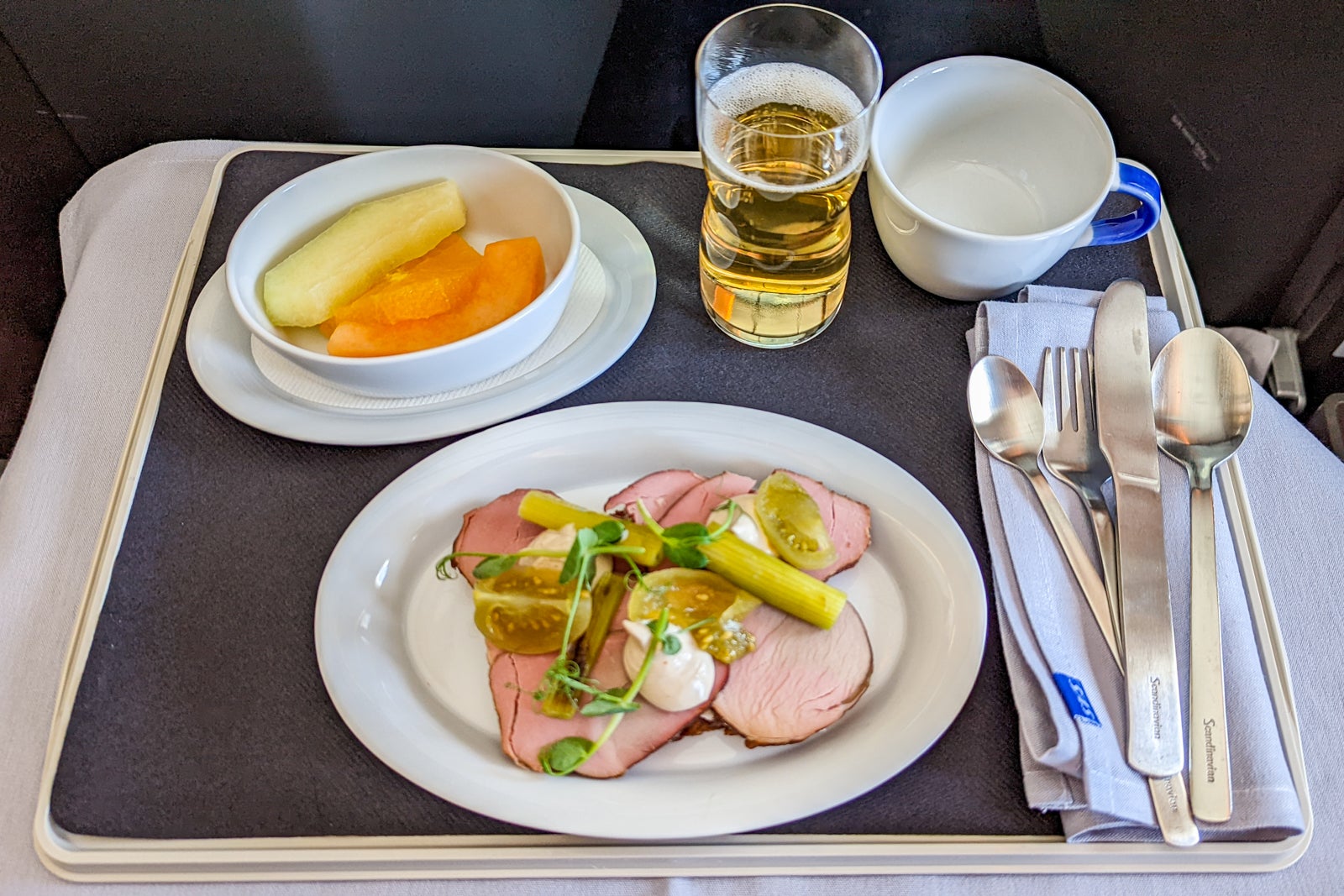 Service
The SAS crew members on my flight to Washington were quite reserved. This may have been because I was on one of the first long-haul flights on this unique aircraft, and they were still adjusting to the service processes.
Most of the passengers in the business-class cabin appeared to be Danish and conversed with the crew in Danish throughout the flight. The crew members continually addressed me in Danish but switched to English when I answered in English. They were still addressing me in Danish as they secured the cabin for landing at the end of the flight, even though I clearly didn't speak the language, which I found frustrating.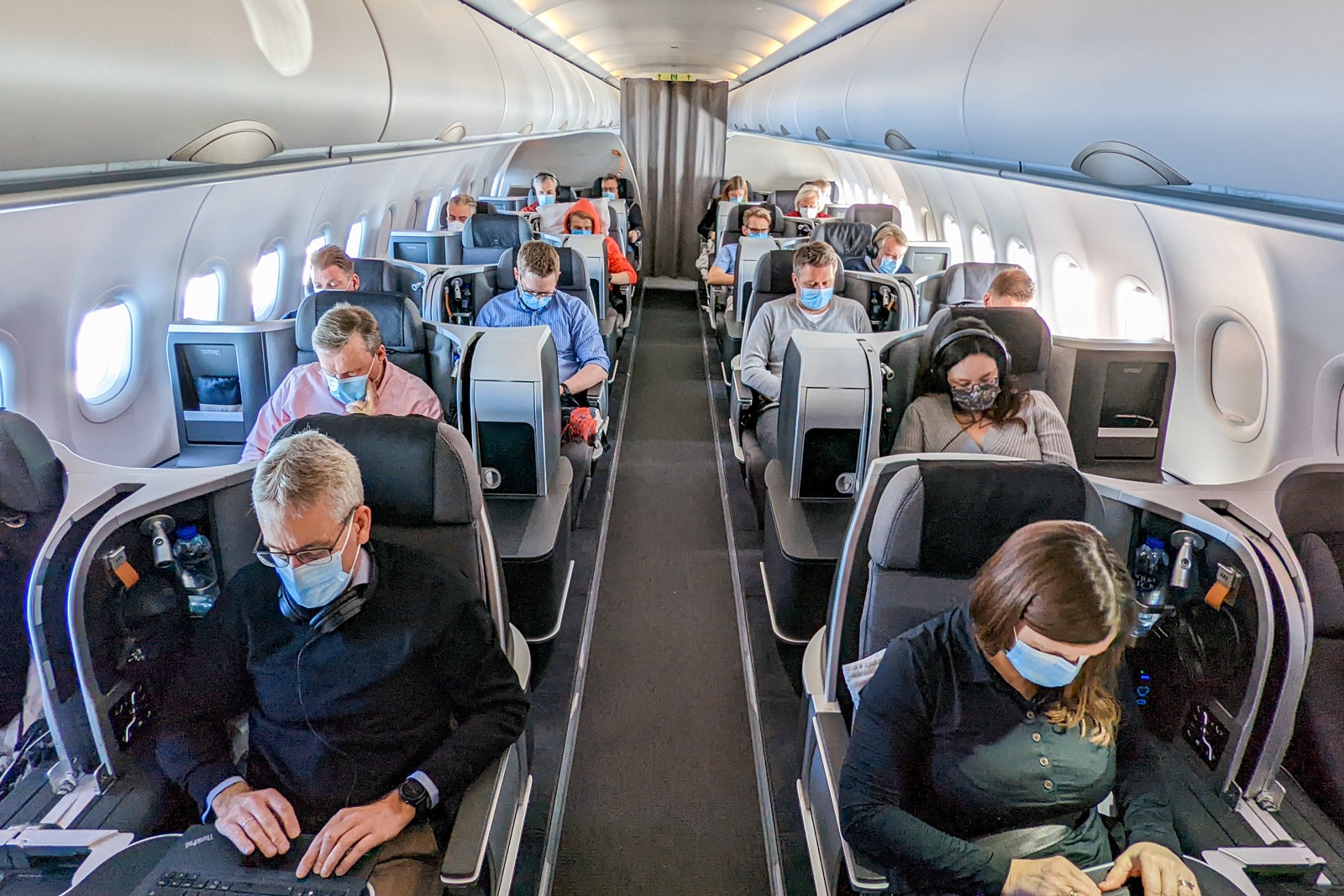 One of the crew members donned a chef's jacket for the main lunch meal service, similar to what you will find on Turkish Airlines. Given there was zero cooking happening on the flight, with the "chef" not even removing the covers of the plates as he took them out of the trolley, I didn't feel this enhanced the meal service.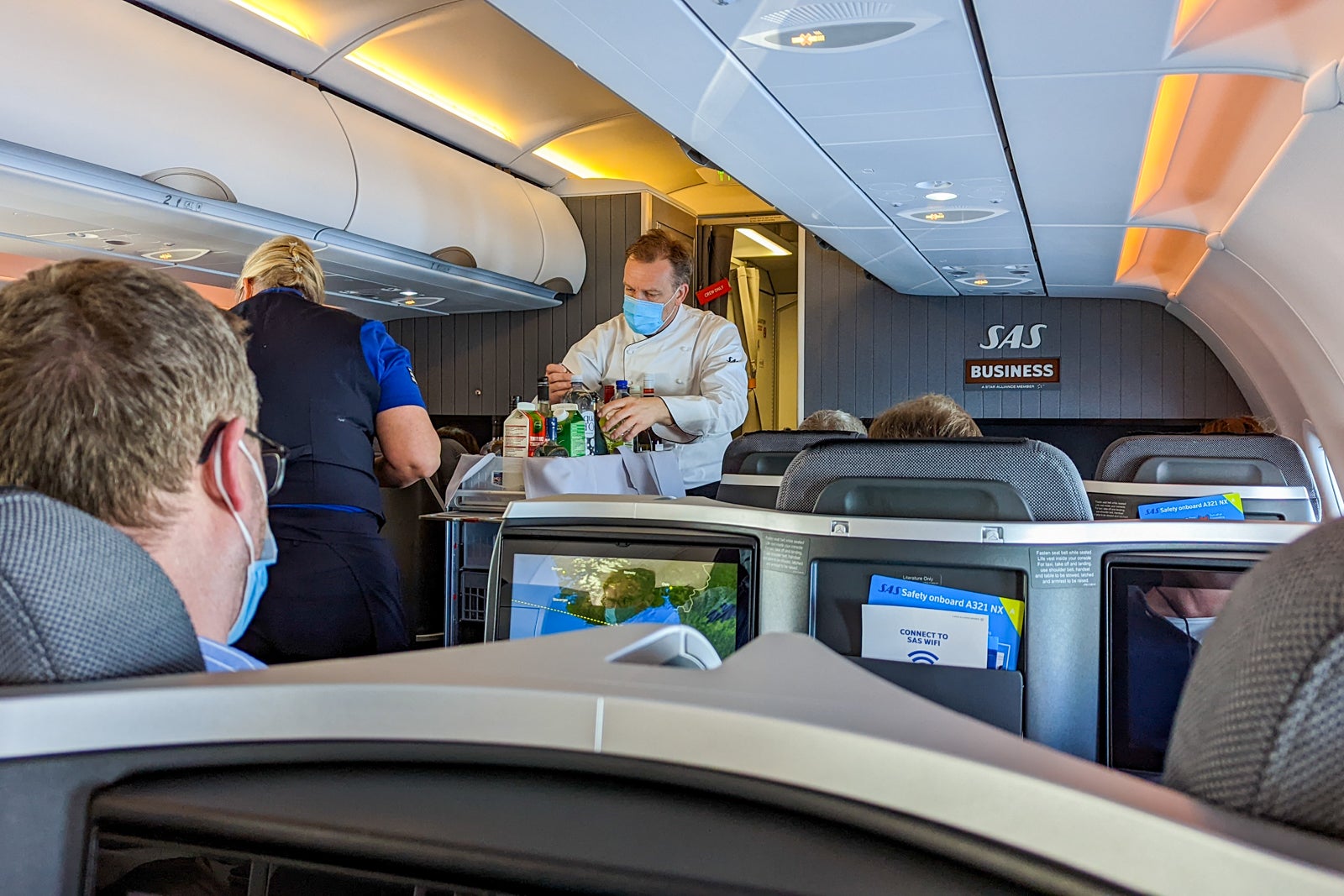 Overall impression
It was certainly a unique experience crossing the Atlantic in a narrow-body aircraft and the small business-class cabin did give off some private jet vibes.
Regardless of the seat, though, I think I still prefer a wide-body for the feeling of extra space and more options for stretching your legs without blocking the crew and other passengers.
The meals were delicious, the service not so much, and the lounge in Copenhagen is not worth filling up your passport to visit in transit. SAS business class was a pretty middle-of-the-road product — not great, not terrible. At least on SAS A330 and A350 wide-body flights in business class, all passengers will have equal direct aisle access and sufficient storage thanks to the Thompson VantageXL seats those aircraft have. Yes, the name is similar, but as the XL suffix would suggest, they provide more room for passengers. I would seek out those aircraft next time to guarantee these important features.
With my carefully selected solo seat I had more storage than I knew what to do with but felt positively guilty enjoying so much space and privacy as the passengers directly in front and behind me were squeezed in pairs in what struck me as a very outdated seat in this shiny new aircraft. This cabin layout is essentially two different classes in one — those in the even rows enjoy a great experience while the pairs around them suffer.
I'm stunned SAS does not charge extra to select these lucrative single seats as I would happily pay a surcharge for what is a significantly better seat. With only six throne seats in a cabin of 22 business-class seats, the SAS A321LR business-class experience becomes a game of thrones — those lucky enough to secure these special seats, and those who lose out and suffer in the unfortunate couple seats around them.
If you can't secure one of these seats when booking I would pick another airline across the Atlantic.
Featured photo by Ben Smithson/The Points Guy.