23 Gifts to Give Your Organized Friend - Starting at Just $8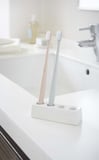 Any self-proclaimed neat freak will love these gifts that will improve their organization. Whether it's a stylish under-the-bed storage container for seasonal clothes, a chic jewelry holder for all their favorite pieces, or a minimalist toothbrush holder that keeps their brush clean and stylish, the options are endless!
Give the gift of a tidy space this spring, and your friends will kiss the (obviously polished) ground you walk on. After all, an organized home is a happy home, right? Shop our top quirky, cute, and useful organization gifts for order-lovers ahead.