18 Company Swag Ideas Employees Really Want in 2020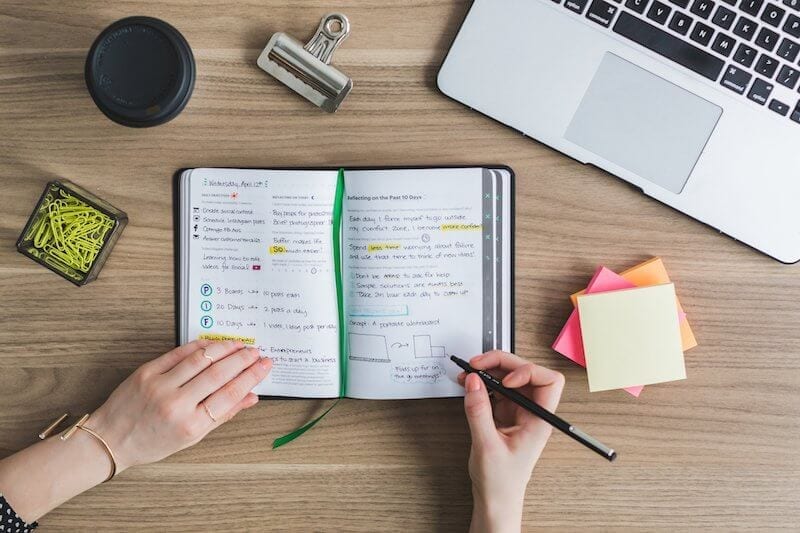 Some people say it's the thought that counts.
Those people were not talking about company swag…
Lame, generic corporate swag gifts could show your employees you don't know them, doing more harm than no swag at all.
Pro-Tip: Do some of your employees work remotely? Don't leave them out when it comes to company swag – remote employee swag kits drive engagement and culture building virtually!

We recommend checking out Swag.com's new WFH kits where you can customize your branded swagged out items to send directly to their homes as a welcoming gift or just because you care!
Plus, company swag nobody wants is a giant waste of money. Awesome, creative gifts, on the other hand, lead to good vibes and gratitude. Here's your guide to the best company swag ideas that employees really want.
1. Water Bottles
Custom Water bottles are the hottest employee swag these days. Everyone loves having a great water bottle on their desk to keep hydrated throughout the day. Water bottles come in a variety of styles and colors, so you can really match your brand's look and feel to the right product. 
Why employees love it: A staple for their desks or on-the-go. Water bottles are must-have accessories and are an eco-friendly option to stay hydrated throughout the day.
Our Favorites: 
The Bali Bottle – We love the minimal and sleek look of this bottle. It has an 18oz glass bottle with a bamboo lid and comes in eye-catching colors.
The Silo Bottle – We are obsessed with the color options of this bottle. Besides its attention-grabbing look, the 16.9 oz bottle feels great in your hand and keeps drinks cold or hot for hours
2. Tech Accessories
Our tech has become an extension of ourselves. Giving your employees swag that will help them use and manage their technology is a surefire way to create good feelings.
Tip: Before you pass these out to the whole company, get a sample and test these to make sure it works as expected and with their preferred devices.
Why employees love it: Tech accessories can be awesome and helpful, but they're often items many people would never think to get themselves, making them perfect for company swag.
Our favorites:
Kickstand Phone Wallet

– The kickstand wallet is a 2-in-1 cell phone display stand and credit card (or keycard) holder. Touch the middle, and you will have a stand for your phone! 
The Car Clip

– Help employees stay safe and hands-free on their commutes by giving out branded cell phone car mounts. This simple, yet incredibly thoughtful, company swag is available in bulk, and you can customize colors and artwork
3. Fitness Gear
Regular exercise can boost our overall physical and mental health and mood, but can also make for happier and more effective employees and a better work environment for all. So, support and encourage your employee's fitness with some company swag. 
Why employees love it: Employees that need encouragement will appreciate the support. Those that already have a fitness routine will appreciate the extra swag. 
Our favorites:
Branded Yoga Mat and Case

– With this yoga mat and case, when your employees hit the mat for some feel-good action, they'll have their beloved company top of mind.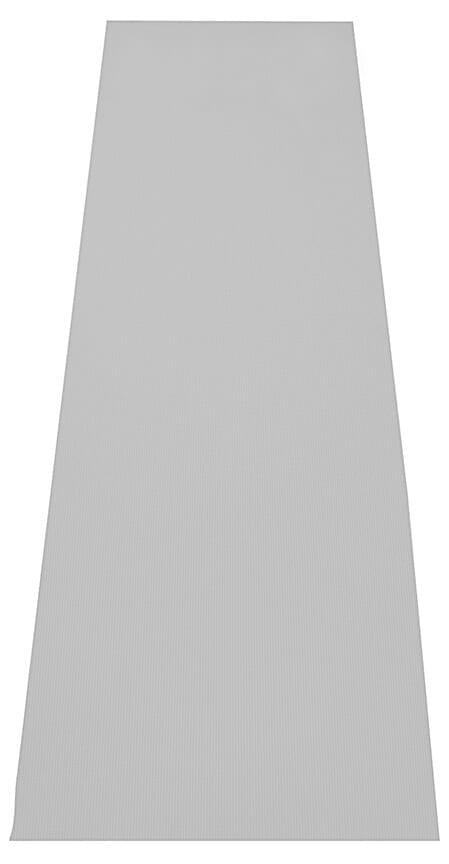 Jogging Phone Holder

– Spend your workout listening to music hassle-free with a high-quality neoprene with an adjustable elastic armband to hold your phone.
4. Eco-Friendly Products
Giving your employees swag that is eco-friendly is a classic win-win. It helps you reduce waste (and costs) of disposable products in your office and it makes them feel good about doing their part to help.  Apart from the reusable water bottles above, there are many other eco-friendly options available.
Why employees love it: Choosing eco-friendly products for employees helps them around the office will make their life easier and make them feel good about making a green choice. 
Our favorites:
Reusable Straw Set

– No plastic necessary with this eco-friendly, reusable stainless steel straw set! This 5 piece set includes two 6mm diameter stainless steel straws (curved and straight), one wider 12mm diameter straight straw, one cleaning brush, and one cotton canvas drawstring sleeve
ECO Hemp Market Tote

– This bag is made from a mix of Hemp and  Cotton. A great eco-conscious alternative to plastic bags.
5. Portable Chargers and Power Banks
Always. Be. Charging. Give your employees something that will help them stayed charged when on the road or during their commute. There are so many options of chargers and power banks, so you can be creative and give them something fun and memorable that will keep the juice flowing.
Why employees love it: Because no one likes being low on battery, whether they are traveling for work or out on a weekend, these chargers will get a lot of use.
Our favorites:
Basic Square Charge

r- Simple, no-nonsense charger and available in fun colors. This reusable power bank charges via USB cable.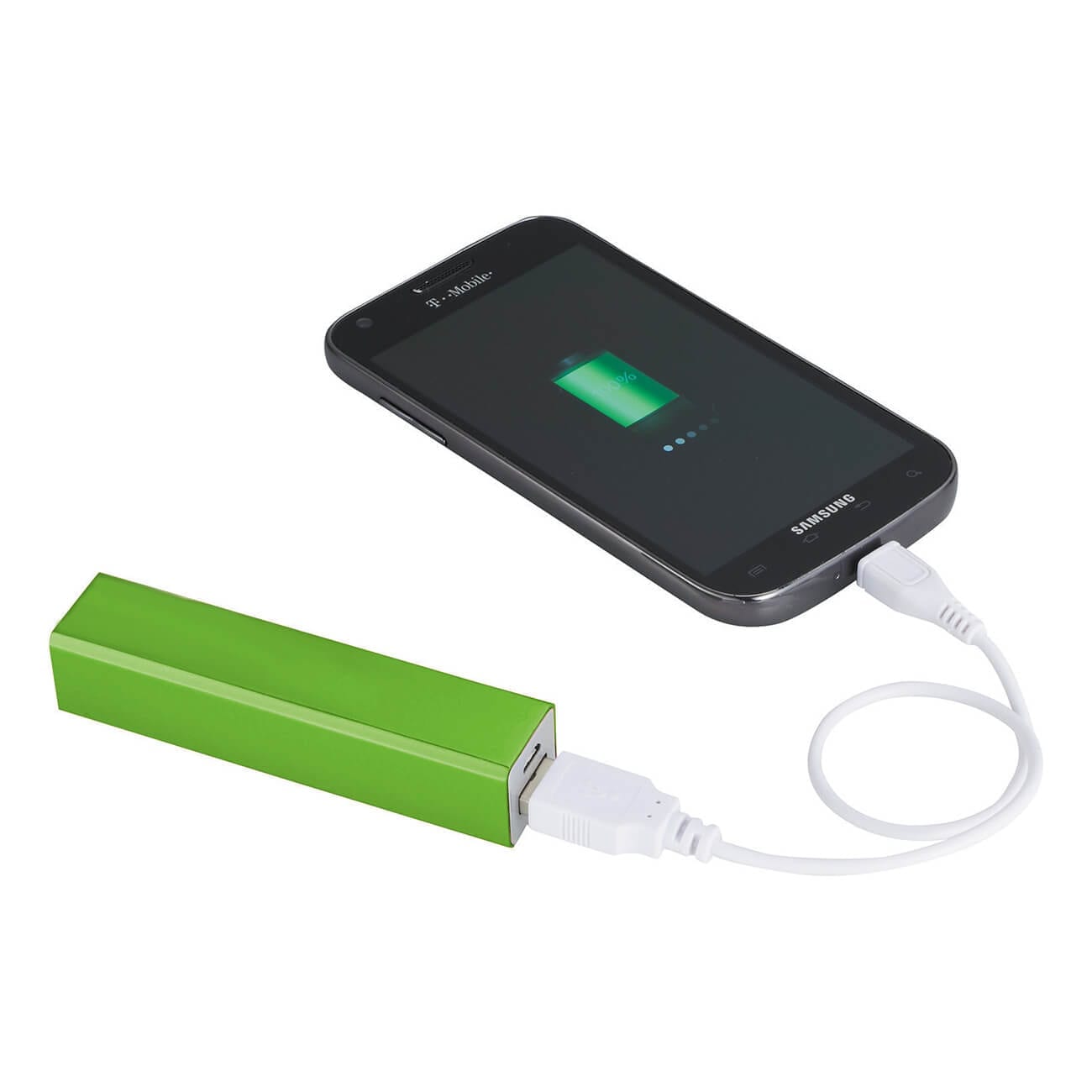 Sequoia charger

– The Sequoia power bank has an appealing all-natural wood finish and a customizable metallic gold metal backing. It is eye-catching and employees love the look.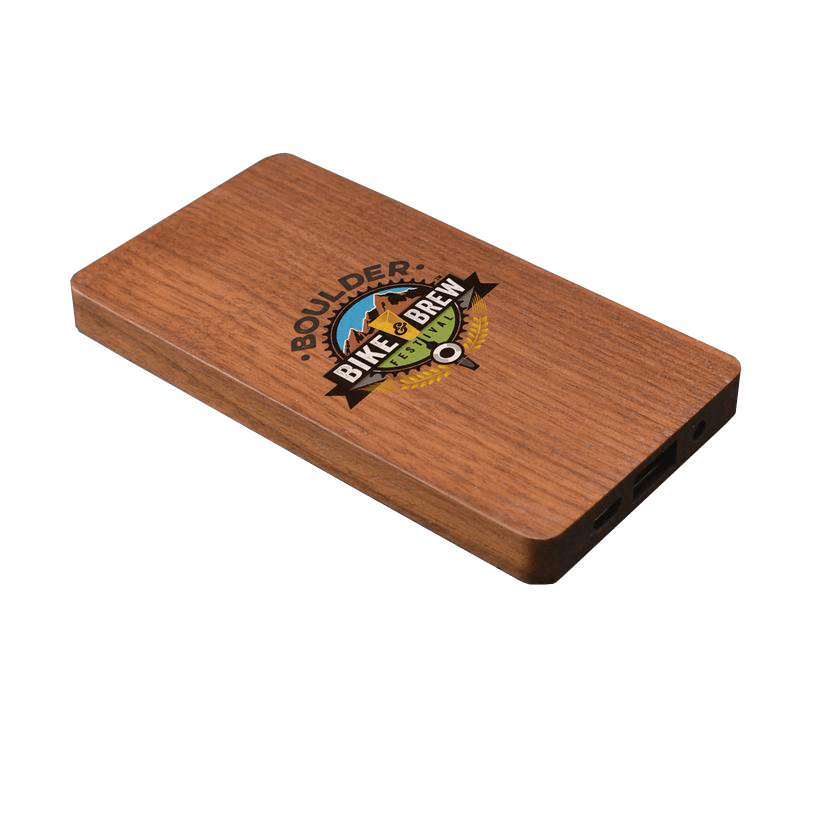 Luminous LED Power Bank

– If the subtle wood finish of the Sequoia charger is not your thing, the Luminous Power Bank might be what you're looking for.

The Luminous power bank features a brilliant, full front side LED display to showcase your brand in lights!
6. Wireless Chargers
Portable chargers are great, but what about something for your employee's desk or nightstand at home? Wireless chargers are great, just place your enable device on it and that's it. Not all employees will have compatible devices, but those that do will love this swag item.
Why employees love it: Wireless chargers are so easy and they will keep their desk clutter-free.
Our favorites:
Orbit Charger

– This charging pad is simple, looks great and can be fully branded. It is a Qi-enabled wireless charging pad for Qi-enabled mobile phones.
Kingston Qi Power Bank

– This wireless charger pad is great looking with leatherette design, and sleek-matte silver trim finish. Even the designers will like having this on their desk.
7. Lunch Swag
Another great swag item for employees that is often overlooked are items that make it easier for your employees to bring lunch from home. Custom Lunch totes and boxes are great ways to give them something that will can their mornings easier and that they will use often.
Why employees love it: Bringing lunch from home can be a big money saver and a healthy option for employees. This swag can make it easier to plan and pack lunch. However, be careful or the office fridge will be full of the same containers. You might want to leave a marker and some tape close by for employees to label them.
Our favorites:
Lunch Tote

 – Basic neoprene lunch tote makes it easy to pack up your lunch and head out
Lunch Box

– Insulated food containers with folding handles allow you to carry like a classic lunch box.
8. Self Care
These gifts are great because they give employees items that they like to keep in their desks when needed. Never know when you are going to need a nail clipper or tweezers or just some clean hands.
Why employees love it: Trinkets like these are usually looked over… until… that one day comes when you absolutely need that branded hair clip!
Our favorites:
Personal Care Kit

– Personal Care Kit is a zippered case with an open-top pocket on front cover. Includes a personal mirror, fingernail clipper, toenail clipper, cuticle tool, nail file, scissors, and tweezers.
Hand Sanitizer

– Nothing fancy about this one, just a basic bottle of hand sanitizer to keep those flu-season germs away.
9. Sneakers
Give employees a huge burst of company pride with some customized shoe swag. These are really fun gifts that make a big impression.
Why employees love it: Custom kicks are awesome; custom kicks you don't have to pay for are absolutely lovable. This company swag boosts appreciation & gratitude long-term, as many employees will wear shoes multiple times a week for a year or more.
Our favorites:
Slip-on Sneaker

– Classic 'Vans' style slip-ons. These can be fully customized for a fun sneaker option. 
10. Games and Fun
Game nights are great for team building. Host an unforgettable company casino nights by giving everyone a deck of playing cards branded with your logo and colors. Or have a contest to see who can be the first to solve a Rubik's Cube.
Why employees love it: Playing cards pack big fun into small, convenient packages. Employees will love having a go-to card deck around when they get an urge to play solitaire…or practice magic tricks. Or fumbling with the Rubik's Cube reduces stress as well as any squishy ball, of course, unless you get obsessed with solving it 🙂
Our favorite: 
Playing Cards

– Add your logo to this classic deck of playing cards. Employees can always use an extra deck of cards.
Rubik's Cube

– Customizable classic

9 panel Rubik's cube. Fun for a break, something to fidget with while on a long conference call or employee's to give kids.
11. Notebooks
Nothing unique about this one, but it is always one of the most popular pieces of office swag. Everyone needs a good notebook to keep notes, track to-dos or just to doodle.
Why employees love it: Not everything is in the cloud. People still love to keep notes. Having a stash of these notebooks will make it easy for them to grab one when needed and to keep their laptops and phones closed during meetings.
Our favorites:
The Hard Cover

– The classic hard-cover. The most popular notebook, nothing will ever replace it.  Comes in a variety of colors with options for screenprinting or deboss your logo.
Eco Spiral

  – While the hardcover is the classic, sometimes you just want a good spiral notebook where you can easily rip out pages or fold over the cover. This version is made from 90% recycled materials and organic, soy-based inks. It's very environmentally friendly!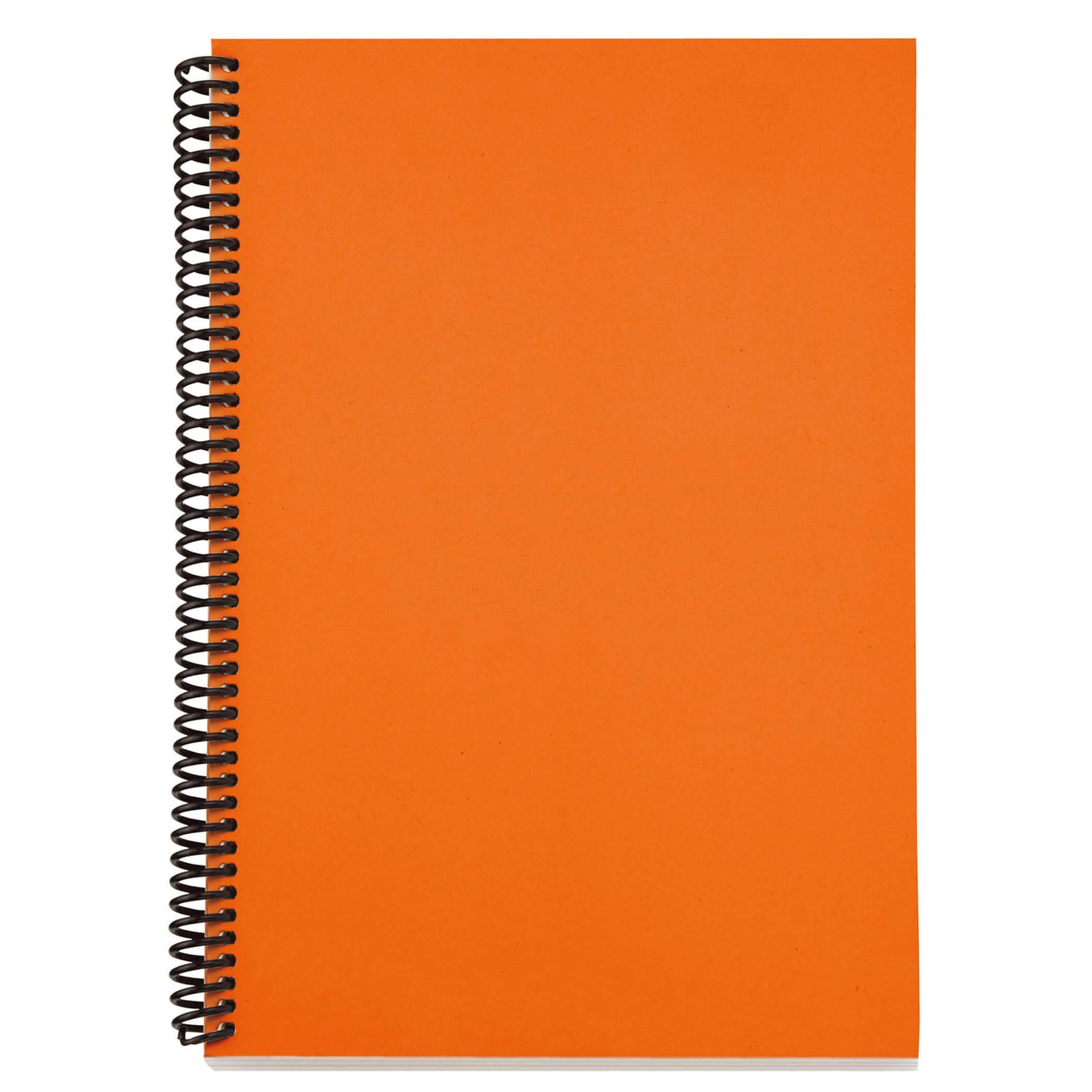 12. Happy Hour Accessories
Your team works hard, give them a few things that can help them unwind at Happy Hour or over the weekend.
Why employees love it: Wine, beer, Happy Hour. What's not to love?
Our favorites:
Wine & Growler Tote

– This is not your regular tote. This tote is perfect for the wine or beer aficionado and is made to hold two wine bottles or a single growler. 
Cece Mini Tumbler

– These are the perfect for pouring that wine, beer or even a cocktail for a drink outdoors or at a company outing or tailgating event. It keeps your drink cold and has a lid as well.
13. Sweatshirts (for that cold office)
The temperature in offices can be temperamental.  So often it is too cold when the AC is blowing, or maybe your desk is near a drafty window? Having an easy to put on and take off sweatshirt is crucial. Be the hero and provide your employees with a zip-up that will keep them warm.
Why employees love it: Who likes to be cold?  Who likes to carry a sweatshirt to the office in the summer?  Give them one that they can keep at their desk and they will always have warm thoughts about the company.
Our favorites: 
Bella zip-up

– We love this hoodie. It is a great unisex option, is super soft and comes in a bunch of colors. 
Ogio Women's Zip

–  This hoodie is more fitted and stylish and is very breathable. But the best option is the set-in sleeves with shaped cuffs and thumbholes for warmth. Keep those hands as warm as possible while typing.
14. Stickers, Patches
Fun things come in small packages. Employees love decorating their laptops with fun stickers. A patch can be a fun way to brand their favorite bag or even their favorite jean jacket 🙂
Why employees love it: This is a great way to show some creativity and empower your employees to be an individual. Stickers and patches are perfect for anyone that wants to turn their generic company swag into something more unique.
Our favorites: 
Custom Vinyl Stickers

– These are fully custom stickers that can be die-cut into any shape. Create a few versions and give employees options to choose from.
Embroidered Patches

– Get your logo embroidered as a custom-made patch. You can represent your brand wherever you go whether on your clothes, bags, and more!
15. Rain Gear
Commuting during the rain is never fun. Give your employees some swag to make it a little easier and manageable. One can never have too many Umbrellas. A good lightweight raincoat for the unexpected storms is also a must-have.
Why employees love it: Nobody likes being stuck in the office unprepared for rain. A go-to umbrella or rain gear is always welcomed. 
Our favorites:
Fold-up Totes Umbrella

– The best commuter umbrella. Folds up small to fit into a bag, auto-opens and is sturdy to handle those windy storms. Comes in fun colors too 
Independent Trading Windbreaker

– These windbreakers are great for keeping in your bag or desk for that unexpected storm or chilly evening. Lightweight and water-resistant but also stylish and fun. These also come in a variety of fun colors.
16. Winter Accessories
If commuting in the rain is not fun, commuting in the winter can be even worse. Give your employees some gear to help keep warm during those cold trips.
Why employees love it: Snow was fun when you were a kid… not so much as an employee! Helping your employees keep warm is a strong value-add.
Our favorites:
Fully Custom Beanie

– These beanies can be fully customized, so you can create a fun, eye-catching hat for your team to wear.  
Tech Gloves

– These gloves are a must-have in today's world where we are all tied to phones. They allow you to use your touchscreen while wearing them and are a step above typical touchscreen gloves, these knit gloves are fully conductive throughout, not just the fingertips.
17. The Classics
Even with all these creative and useful swag ideas, you can't really go wrong with the tried and true classics. Tee-shirts and hats are still things that your employees love to have. The most important thing when choosing these classic swag items is to focus on quality. Give them a soft tee-shirt that fits well and they will love wearing it. Same with a hat, a good fitting high-quality hat is always popular. 
Why employees love it: These items are classic for a reason. A great tee-shirt and hat will get lots of use. Whether to the gym, the market or a weekend brunch these really are must-haves.
Our favorites:
Swag.com T

– This tee-shirt is super-soft and has a great fit. It is a great unisex option and comes in a variety of colors. 
Dad Hat

– This is a hat that is 100% dad-approved, but it is great for everyone. It is 100% eco-friendly cotton.
18. Remote Employee Swag Kits

More and more companies have open the doors to remote employment options and/or flexible working from home arrangements. These types of company-wide work from home policies gives freedom to a workforce to focus on results and productivity wherever that may be. Remote employee swag kits are a great way to build remote team culture and engagement.
Why remote employees love it: Christmas is a favorite holiday because people love opening presents – we are hardwired to love the excitement from a young age. Think of remote employee swag kits in the same way. Getting a pair of branded socks in the office is cool… but… getting a box full of mystery and intrigue directly to your doorstep is next-level cool.
Our favorites:
Swag.com WFH Kits – these are the hottest thing right now in the company swag game and for good reason!
What's the best company swag you ever received? Let us know in the comments below!
Office How To's Resources:
The post 18 Company Swag Ideas Employees Really Want in 2020 appeared first on SnackNation.